Visit any major truck stop in the USA and you'll see 5-Hour Energy shots for sale, along with other types of products designed to keep users alert. We are asking professional truck drivers for their reviews of this product below.
Ingredients in the 'Shots'
As of the time this page was first written, the 5HourEnergy.com website stated:
"5-hour ENERGY® shots contain a propriety blend of ingredients like B-vitamins, amino acids and nutrients – all with zero sugar, zero herbal stimulants and four calories. Regular Strength 5-hour ENERGY® shots contain about as much caffeine as a cup of the leading premium coffee. Extra Strength flavors contain about as much as 12 ounces of the leading premium coffee, while Decaf 5-hour ENERGY® shots contain as much caffeine as just a half cup of decaffeinated coffee."
5hourenergy.com/facts/faqs (no longer online)
Photos of the Panels of the Label
The front panel of the label.

The Nutrition Facts panel.

The Caution panel.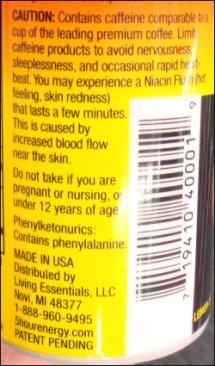 Flavors of the product: the one show above is Lemon-Lime.
Prices of the Product
Most (if not all) of these products we have seen for sale at truck stops are priced at 2/$7 (or $3.50) each.
However, we have seen them priced for less in other locations. Compare the costs as shown in the photos below:
A display of 5-Hour Energy shots at a truckstop. Notice the price: 2/$7 (or $3.50 each).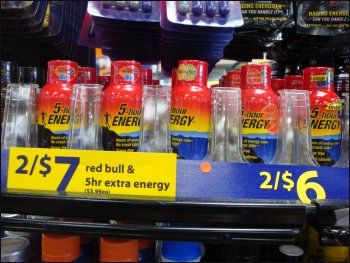 A bowl of 5-Hour Energy shots at a Staples office supply store in South Carolina. Notice the price: $2.99 each.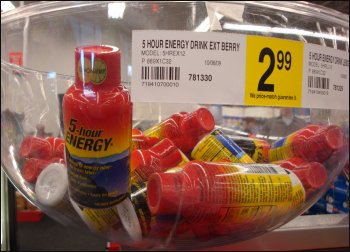 According to our favorite online Percentage Increase Calculator, the difference in cost between these two locations is over 17%. There may also be discounts for products for sale in multi-packs.
How It Works
On rare occasions when he has had to take a load to a customer late at night, Mike has consumed this product. He says that it helps, but usually "wears off" for him at about the 4.5 hour point.
Alternatives
There are recipes for folks who wish to make their own energy shots and drinks.
We prefer a different "shot" to help improve cognitive function.
Warnings About 5 Hour Energy
A November 14, 2012 article in The New York Times implicated 5-Hour Energy in the deaths of 13 people over the last four years because it is "a highly caffeinated energy shot." Since 2009, the energy shot "has been mentioned in some 90 filings with the F.D.A., including more than 30 that involved serious or life-threatening injuries like heart attacks, convulsions and, in one case, a spontaneous abortion" according to a summary of records from the F.D.A.
A WebMD article that specifically cites the product featured on this page asks the question: "Are Energy Shots Safe?"
If you have had serious or life-threatening injuries after having consumed this product, please let us know.
Requesting Your Review
If you are a professional truck driver and you have consumed one or more 5-Hour Energy shots, we invite you to review the product on this page through the form below, answering questions such as these:
Which flavor and caffeine level of this energy shot did you drink and how much did you pay for it?
What are the top 3 reasons why you bought and drank one?
Did you drink the product as part of your regular regimen or in an emergency?
How would you rate the quality and taste of the product?
Do you think the product was worth the price you paid for it?
How did this product save you money?
Would you buy this product again and why?
---
---

Return from 5-Hour Energy: Reviews from Professional Truck Drivers to our Product Reviews page or our Truck Drivers Money Saving Tips home page.
---