To hold his trucking paperwork, Mike opted to use an aluminum forms holder after numerous 3 ring binders failed to last.
Every professional driver has certain important papers that must be kept orderly, up-to-date and clean, such as these:
log envelopes,
log sheet carbons,
load sheets needing to be processed,
bills of lading and load-related papers,
completed long form DOT physical exam,
completed drug screens,
telephone numbers for Canadian freight brokers,
blank notebook paper and
personal materials.
Our Experience
For years, we as a team and then Mike when he drove solo had used 3 ring binders to hold our trucking paperwork. We even used "sheet protectors" in which to store the paperwork that we did not have to access as often but which we wanted to keep clean and neat.
After a few months of use, however, the notebooks just seemed to tear up. Vicki thought she got smart when she noticed a more expensive "heavy-duty" binder at a local office supply store. She bought a green one to at least attempt to match the color of the logo used by Mike's trucking company.
The rest of this page concerns Mike's use of paperwork holders when he drove solo.
Photos of a 3-Ring Binder After Much Normal Trucker Usage

This photo shows the label on the spine of the 1-1/2″ heavy duty "reference" 3 ring binder that Vicki bought.
Of course, this is after the notebook had been used for quite some time.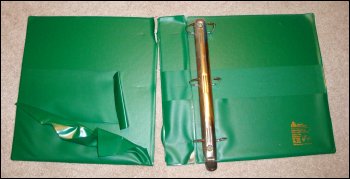 The inside of a well-used heavy duty reference 3 ring binder shows the front cover almost completely ripped off and the two front pockets badly torn. All of this damage took place during normal use in the truck.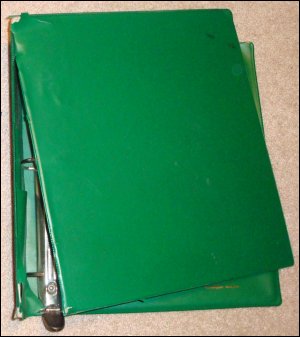 The very well used heavy-duty 3 ring binder, folded (as it would normally have been stowed in Mike's truck).
Is it now broken beyond repair?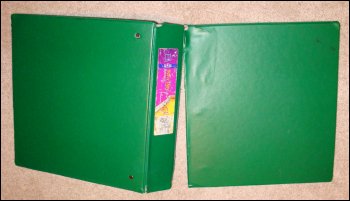 The very well used heavy duty notebook, opened up to show the front cover almost torn off.
Care of Use
Mike was careful in using this binder to extend its life as long as possible.
However, the sheer amount of use that it underwent — being stored in the overhead cabinet, removed from storage, opened, closed, and having things being put into it and taken out of it on a daily basis — meant that it was going to eventually fail. The cover, after all, is just thin plastic.
Looking Ahead and Evaluating Options
The path forward was clear. We needed something sturdier, not made of paper and thin plastic, but of metal, wood or hard plastic.
We had always shied away from getting an aluminum forms holder because of the cost. After all, how many binders can one buy for the cost of one of these?
A regular 1-1/2 inch binder (nothing fancy) costs about $3 apiece.
A heavy-duty binder cost about $8 each.
The forms holder cost about $25 at the time we bought one.
Forms Holder Options
There are three basic styles of aluminum forms holders on the market:
top hinged,
side hinged and
bottom hinged.
Mike considered carefully his needs and chose one that opens at the bottom and has a clip at the top on the outside.
The dimensions are 8-1/2″ x 12″; the storage compartment holds over 30 forms; and inside there is a pen and pencil tray.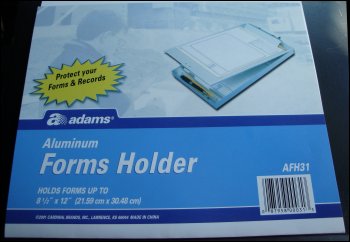 Here are images of the package label, front and back.
Note that inside the yellow sunburst this wording appears: "Protect your Forms & Records."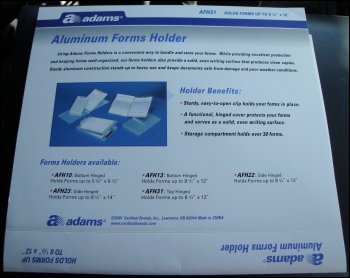 The wording on the back is as follows:
"Using Adams Forms Holders is a convenient way to handle and store your forms. While providing excellent protection and keeping forms well-organized, our forms holders also provide a solid, even writing surface that produces clean copies. Sturdy aluminum construction stands up to heavy use and keeps documents safe from damage and poor weather conditions."
Forms Holder Benefits
The holder benefits are listed on the package as follows:
"Sturdy, easy-to-open clip holds your forms in place." [This refers to the clip on the outside, similar to the one you'd find on a clipboard.]
"A functional, hinged cover protects your forms and serves as a solid, even writing surface."
"Storage compartment holds over 30 forms."

This photo shows Mike's aluminum forms holder resting on top of the dash mounting for a CB radio, underneath which you can see a white and black pen tucked under the tie-down webbing.
He does not need to store pens there any more because the forms holder has a built-in penholder.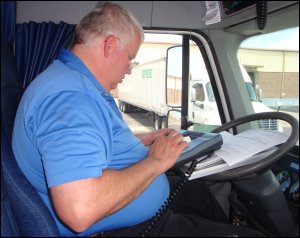 In this photo, Mike uses the aluminum forms holder as a base for doing his paperwork and upon which to rest the QualComm mobile communications terminal when he has to send a message to his company.
Mike has found that the manufacturer's claim that the forms holder provides "a solid, even writing surface that produces clean copies" to be completely true.
Here, you see him writing down information associated with the load — on top of the device..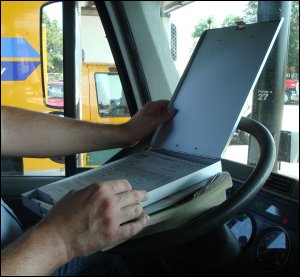 This photo shows what the inside of the aluminum forms holder looks like, with plenty of storage for paperwork, pens, pencils and rulers.
Mike writes down information from the QualComm MCT into his load assignment notebook, using the aluminum forms holder as a solid, desk-like surface.
When Mike makes a call to his company about a load, you can rest assured that his aluminum forms holder is somewhere nearby.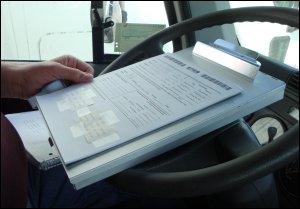 Mike has prepared the paperwork shown on top of the aluminum forms holder so that it can be scanned and he can get paid.
He also uses the surface as a base upon which to complete his log sheets at each change of duty status.
Conclusion
Never in all the time that Mike has used an aluminum forms holder in which to store his trucking paperwork has it ever gotten lost or mussed.
He is able to keep it in perfect order.
Because of the space limitation within, however, he must occasionally purge older paperwork, which he keeps for a limited amount of time in a portable file box before shredding it.
You may wish to read more about record keeping.
---

Money saving tip: Most people go looking for 3 ring binders and aluminum forms holders at office supply stores. You can sometimes find them in truck stops.
Compare prices to get the best deal. We found that used devices are also available on eBay, but in some cases, used units are listed for more than you can find them for brand new.
Also, compare features. For example, if having a really strong clip that holds up to 1″ of papers is important to you, make sure the product you're considering has it before you buy it.
Compare the thicknesses of aluminum between brands to make sure you get a device that will withstand the treatment it will receive in the course of your work.
One brand of forms holder boasts of having "an antimicrobial agent that effectively reduces the formation of bacteria and fungi." If you don't need features like this, don't overbuy.
The importance of keeping your paperwork neat and clean is so that you can get paid for your work. Weigh your options before you buy.
Finally, look to see if you can get an aluminum forms holder locally at a good price, to avoid paying shipping charges.
If you're in the market for one of these around the time that students go back to school and when a "sales tax holiday" is in progress, see if this device qualifies. Every little bit of savings helps.
---
Return from An Aluminum Forms Holder vs. a 3 Ring Binder in Trucking to our Truck Drivers Product Reviews page or our Truck Drivers Money Saving Tips home page.
---