As a professional driver, you have limited time and space for record keeping.
While you're not an accountant, setting up a system whereby you keep records organized and up-to-date will help you save time and effort — and maybe even money — later.
Many of us have heard the stories about people who have taken a shoebox containing a year's worth of unorganized receipts to their accountants at tax time.
They let their accountants sort through the mess. Of course, the accountants end up charging their clients to do (some of) the organizing for them.
But they may not have the time to do as thorough of a job as clients would like.
Plus, because they're time-crunched, they may not help you find all of the tax deductions to which you may be entitled.
Sure, it's easy to throw receipts on your truck dash, thinking you'll deal with them "later."
Let us encourage you not to procrastinate.
Take just a few minutes every day to deal with your paperwork.
You have to work on your log book anyway; so why not work on your record keeping at the same time?
Record Keeping and Organizational Helps
One of Vicki's favorite organizational heroines is Emilie Barnes, the author of a book entitled "The 15 Minute Organizer" — which is shown here from Amazon.com, with which we have an affiliate relationship.
In the book, Emilie described how to do tasks in 15-minute chunks of time.
The thought of doing an unpleasant task is not quite so unpleasant when you think that you'll spend only 15 minutes doing it.
Vicki says that she's had amazing success when using Emilie's tip of setting a timer for 15 minutes and pushing hard to see how much she can get done before the alarm goes off.
Call it a game or a mental strategy, but it works on all sorts of tasks from cleaning to organizing.
The Price of Being Disorganized
Did you know that you'll pay a price for being disorganized?
It's called your time.
And it can cost you money, too.
If you've ever
spent too much time looking through mounds of paper to try to find a specific document or folder;
let newspapers, magazines or anything needing to be read pile up;
missed an appointment, deadline or expiration date; or
had to pay a late fee or penalty because you didn't send in a payment on time;
you understand why having a good record keeping system is important.
Types of Records to Keep
Depending on your situation, your own personal record keeping will need to be set up to file things like:
receipts;
load assignments;
log sheets/books;
settlement sheets;
financial statements;
tax records;
tax returns;
insurance policies;
health records;
truck maintenance and service records, etc.
Organizing Receipts From the Road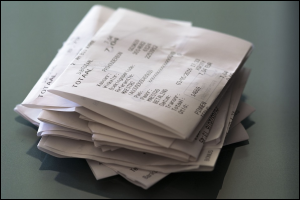 In the days when Vicki wasn't riding with Mike full time, he kept receipts from purchases he'd made on the road during the week in his wallet.
They were cleaned out when he came home.
When he started driving locally, they were cleaned out more often.
Vicki organized the receipts by date and entered the information into the spreadsheet containing our personal budget.
She designed the spreadsheet so that all truck-related expenses are recorded together in one place.
As we stated on our "Budgeting and Personal Finances for the Professional Driver" page:

"If you are running your own trucking business — or are just thinking about it — you will want to keep your personal finances separate from your business finances."

If you are an owner operator, you'll need to determine which records are personal and which are business. Assign your expenses (and receipts) to the correct record keeping system, but not both.
Each day on the road, Mike sets aside time for record keeping.
If he has eaten a meal in a restaurant, the price of the meal plus tax is printed on the receipt.
We write in the amount of the tip separately.
OK now, we're going to look at records only in connection with your loads.
Trucker's Record Management: How to Set Up a Record Keeping System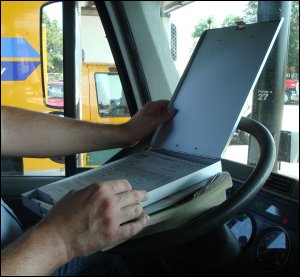 In the days when Mike had a regional truck driving job, he stored the following things in his aluminum forms holder:
log book/sheets and log ruler,
bills of lading for his current load,
bar coded TRANSFLO and Trip Pak trip sheets,
truck-related receipts for such things as CAT scale tickets,
older scanned trip information on trips that have not yet been paid, and
ballpoint pens.
He also had a spiral-bound load assignment notebook.
By keeping records all together in one place, it was easy to submit the receipts for all reimbursable expenses — with the appropriate load's paperwork — to his trucking company.
(He never submitted a receipt for one load with another load's paperwork.)
Not only that, but he wrote down in his load assignment notebook all of the expenses he incurred during the time he handled that load, so that he could check his settlement sheet for reimbursement.
Mike worked out this method of record keeping on load assignments:
After receiving information on a load via QualComm, he transcribed the following data on a new page in his load assignment notebook:
Date load assigned;
Preplanned load (yes or no);
Load/PRO number;
Shipper name;
Shipper address;
Shipper city and state;
Shipper telephone number;
Load pick-up date and time;
Load P.O. (purchase order) number;
Bill of Lading number;
P/U (pick-up) number;
Additional info;
Consignee name;
Consignee address;
Consignee city and state;
Consignee telephone number;
Load delivery appointment date and time;
Loaded miles, empty miles, total miles;
Scales;
Fuel location;
Route;
Local directions;
Extra pay; and
Date paid.
We've formatted this information into a load assignment notebook page document — available through our Free Downloads page — which you may download, print and use.
Whenever Mike's settlement sheet came in, he checked to see whether or not he was paid for all miles, reimbursements and extra pay.
Record Retention: How Long to Keep Records
Do not shortchange yourself on record keeping by failing to keep records for the proper length of time.
You may wish to see the Internal Revenue Service document on record keeping.
Some professional drivers prefer to use the accounting services of a full-fledged accountant.
That's fine.
You may be able to speed things up by using the year-end tax plan found in Microsoft's Office Online Template.
There are other sorts of records you can keep, like an exercise log, a food inventory sheet, etc.
Feel free to modify a system that has already been created — or create your own from scratch — so that it will meet your needs.
Just be sure that you save the right records for the right amount of time.
How to Organize Your Records
Vicki uses an expandable file folder like the one shown for all receipts, especially those that can be kept for tax deductions.
If the file becomes excessively thick, requiring a larger file folder, an expanding file might be used.
We recommend that as a receipt is obtained, you write down a general category and perhaps a sub-category so that you will know how it may affect your taxes.
For example, if you purchased a pair of gloves for use in your truck driving job, you might write down "Truck Expense: Gloves" on the receipt.
One of the most common purchases that we used to make prior to getting and using our portable ice maker in the truck was bagged ice.
So we would always write "Ice" on the top of the receipt and keep it with all of the other "Ice" receipts for tax purposes.
---

Money saving tip: You don't have to spend big bucks to set up a record keeping system.
No matter what record keeping system you use, organize it with sections that make sense to you.
If you will invest just a few minutes every day in maintaining your record keeping, you can save a lot of time and money later on.
In our expandable file, we keep our receipts separated by month for the current month and the previous 11 months.
Depending on their nature, we remove receipts older than 1 year either to another file or to the shredder.
The kinds of receipts we remove to another file are for large or important purchases (such as an inverter).
Many receipts and records contain personally identifiable information like a credit card number or signature.
We strongly recommend that if you are discarding paperwork you no longer need for record keeping that you shred it with a cross-cut shredder.
Do not just throw your receipts in the trash because to do so may give rise to identity theft.
---
Return from Record Keeping Basics for Professional Truck Drivers to our Budgeting page or our Truck Drivers Money Saving Tips home page.
---