We addressed snow removal from large trucks and received https://truck-drivers-money-saving-tips.com/uc-roof-rake/ about the Big Rig Rake.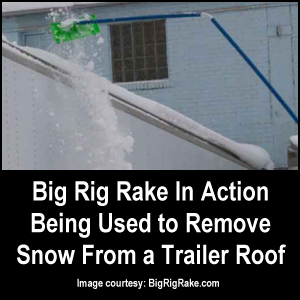 When Vicki visited their website, BigRigRake.com, there was some information she was seeking that she didn't find.
So, she sent an email to them.
They had difficulties getting email to and from us.
However, Sara Stemper persevered and sent us a reply through the Contact Us form on our site.
Below, you will see her response.
We have taken the liberty of adding formatting only so that it is easier to read (as a Question and Answer format should).
---
The Big Rig Rake's handles are said to be made of fiberglass, but I do not see a description of what the rake head is made of. Is it plastic, fiberglass or something else?
The Big Rig Rake head is made out of a heavy duty cold weather plastic.
Although I see the Big Rig Rake listed on Avalanche-Snow.com's website here
http://avalanche-snow.com/product/big-rig-rake/,
I don't see that product listed by name on their Products page:
http://www.avalanche-snow.com/eShop/10Browse.asp [link no longer works],
unless it is the same as the Snow Rake! Deluxe 20:
http://www.avalanche-snow.com/eShop/10Expand.asp?ProductCode=SRD-20 [link no longer works].Are they the same product other than the size (width) of the rake and the price?These items are 2 separate products. The reason we have the Big Rig Rake on the Avalanche website is to direct traffic to our new site for the Big Rig Rake.
How effective is the Big Rig Rake in removing ice from the tops of truck trailers — or does it remove only snow?
This product is very effective at removing snow build up. This rake does not remove ice, only snow.
Does the Big Rig Rake come with a warranty or money-back guarantee? If so, what is it? (I didn't see one listed.)
Yes, Avalanche Manufacturing warrants this equipment to be free from defects in material and workmanship under normal use and service. This warranty is extended to the original purchaser for a period of 6 months from the date of purchase and is applicable only when the equipment is assembled and operated in accordance with factory recommendations. The warranty does not extend to damage or wear caused by misuse, abrasion, corrosion, negligence, accident, faulty assembly or tampering in a manner to impair its normal operation.
Does your product come with instructions for use and maintenance?
Yes, the instructions are very easy to follow, as the product is all snap assembly. This product also comes with a easy storage bag.
What is the average lifespan of the Big Rig Rake: 5 years, 10 years, other?
We do not have a specific life span, as this product will uphold as long as it is taken care of.
Do you offer bulk pricing? If so, what are the price breaks based on number of products ordered?
We do offer bulk pricing, the pricing is determined on the quantity needed by the customer.
What major trucking companies are currently using your product?
As of right now we have started a business relationship with Uhaul and Aurora Parts in Illinois.
---
We very much appreciate Sara following up with us. Our only comment regarding this product is that Vicki likes to see consistency. Here is what Vicki observed:
1. The Big Rig Rake's head is plastic (no mention of this on the BigRigRake.com website) and the handles are fiberglass (as noted on their website and the Avalanche website). (link)(link)
2. The Snow Rake! Deluxe 20 has a plastic head and metal handles (the metal of which is not identified on their site). (link) Amazon.com's listing of this product identifies the metal in the handles as lightweight aluminum.
3. While other similar products may have
a metal head,
wheels on the head to prevent roof damage,
a slight bend in the handle section permanently attached to the head, and
easy-to-release buttons (or pins or snaps) to connect the handle sections together (to keep the sections from separating during usage),
Vicki has found no snow removal tools except this one that has the handle angled for removing snow from horizontal roofs (the kind found on truck trailers).
This link is provided by Amazon.com, with whom we have an affiliate relationship.
Disclaimer: This is not a review of this product. We have not used this product, will probably never use this product, nor are we likely to ever use a snow removal tool (as our home state is South Carolina). However, we felt compelled to provide the answers we received.
If you have used this product, please provide a product review.
---

Money saving tip: With more and more states passing laws that require that snow and ice be removed from the tops of all vehicles, having a lightweight and portable tool with you to remove snow from the top of your truck might be advantageous.
Compare the cost of such a device plus the cost of your time to use it with the cost of a ticket for failure to remove snow from your vehicle.
Please note the limitations of any portable "snow removal" product like the one featured on this page: they are for snow removal, not ice removal.
For ice removal, you may have to use the kind of permanently installed system shown on our snow removal page.
Be careful while using this product that you do not injure yourself from material coming off the roof of your truck or trailer.
Depending on the amount of snow on your roof, it may take two or more passes to remove it.
Also, be careful stepping on or standing on snow that has fallen on the ground from the top of a truck. You don't want to twist your ankle, slip or fall.
---
Return from Big Rig Rake Answers Questions About Their Snow Removal Tool to our Truck Operations page or our Truck Drivers Money Saving Tips home page.