It started with a tweet. We responded. In essence, where is free truck parking available on shippers' and receivers' properties where professional truck drivers may take their 10-hour breaks?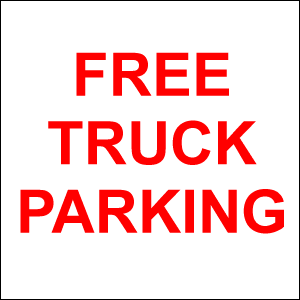 That's what we wanted to know.
Then we thought, why not provide such a list ourselves?
Because there are lots of locations where we've never been and are not likely to go, we're asking you to tell us which customers have been kind enough to provide space so that you can fulfill your Hours of Service (HOS) requirements for 10 hours in the sleeper berth.
Parking for Any Driver Any Time? No!
We must make a distinction: we are not requesting that drivers report locations so that they will suddenly become mini truck stops for any driver to park overnight or for a rest break. No.
If a driver comes onto a shipper's or receiver's property, it should be only in connection with the load that he/she is currently under
before pick-up/delivery,
while being loaded/unloaded, or
after pick-up/delivery.
Please report through the form below each location of a shipper's or receiver's property where professional truck drivers can obtain truck parking for free so as to take an HOS break.
We'll give credit to the first person to report each location unless an update is required. The list appears below the form.
Disclaimer: For purposes of this page, free truck parking is different from being forced to spend wait time in a dock while loading or unloading.

What we mean here is a separate location away from the docks where drivers can sleep to fulfill their HOS requirements for a 10-hour sleeper berth break.

Submissions through the form on this page are subject to verification and being updated.

While we strive to provide accurate data at all times, situations sometimes change.

Therefore, to safeguard yourself, please ask (do not assume) that you may park for free on a shipper's or receiver's property.
If You're Offered Truck Parking for Free, Be a Good Guest
If free parking is made available for your rig on a shipper's or receiver's property, all care should be taken to make sure that the hospitality is not withdrawn.
Remember, shippers and receivers are not obligated to provide it. Each professional truck driver is a guest and should act like one.
We strongly recommend that acting like a guest includes:
parking your bobtail or rig properly in only one spot,
not littering, and
using only your own portable toilet or a freely accessible restroom facility to take care of your elimination needs. (If the latter is used, the courteous thing to do is to clean up after yourself. In fact, drivers would do well to leave the facility just as clean — if not cleaner — than they found it.)
Shippers' and Receivers' Bragging Rights?
If you represent a shipper or receiver and you have a place on your property where truckers can park for free — that meets the aforementioned criteria — you now have the opportunity to showcase your company and property as trucker-friendly.
We sure do appreciate your commitment to providing a quiet place on your property where drivers can sleep and think that you should be rewarded with a bit of free publicity here.
In fact, we hope that this feature of our site starts a new trend among shippers and receivers of wanting to provide trucker-friendly facilities.
Feel free to use the form below to let us know about free truck parking on your property. Thanks in advance.
---
---
The List of Free Truck Parking Locations at Shippers and Receivers
We are ready to populate the list of free parking locations for large trucks at shippers and receivers by state within the USA and by province in Canada (both alphabetized) below.
We appreciate your helping us to help truck drivers save time and money in this way. Simply fill in the form above and submit. Thanks.
United States of America
No state or city listed: BJs Wholesale, thanks to @Break1_9 (ref)
---
U.S. State
City (alphabetical)
Free Truck Parking Location
Thanks to
Alabama
Alaska
Arizona
Arkansas
California
Colorado
Connecticut
Delaware
District of Columbia
Florida
Georgia
Hawaii
Idaho
Illinois
Indiana
Iowa
Kansas
Kentucky
Louisiana
Maine
Maryland
Massachusetts
Michigan
Minnesota
Mississippi
Missouri
Montana
Nebraska
Nevada
New Hampshire
New Jersey
New Mexico
New York
North Carolina
North Dakota
Ohio
Oklahoma
Oregon
Pennsylvania
Rhode Island
South Carolina
South Dakota
Tennessee
Texas
Utah
Vermont
Virginia
Washington
West Virginia
Wisconsin
1. Beloit
2. Eau Claire
3. Sheboygan
1. Patch Products
2. Menard's DC
3. PigglyWiggly GroceryWhse
1. @TurkTrucking (ref)
2. @TurkTrucking (ref)
3. @TurkTrucking (ref)
Wyoming
Provinces of Canada
| Canadian Province | City (alphabetical) | Free Truck Parking Location | Thanks to |
| --- | --- | --- | --- |
| Alberta | | | |
| British Columbia | | | |
| Manitoba | | | |
| New Brunswick | | | |
| Newfoundland and Labrador | | | |
| Nova Scotia | | | |
| Ontario | | | |
| Prince Edward Island | | | |
| Quebec | | | |
| Saskatchewan | | | |
---
Return from Free Truck Parking for Truckers at Shippers and Receivers to our Truck Operations page or our Truck Drivers Money Saving Tips home page.
---