Professional truck driver Mike Simons used a Bubba Keg for years to make sure that he consumed enough drinking water to keep himself hydrated and avoid the problems associated with dehydration.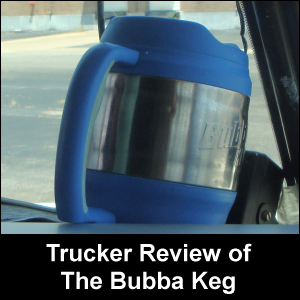 We said that in past tense because he used this device when he drove long haul and regionally.
The type of truck he had then allowed him to carry ice in an ice chest and water to refill his cup as needed.
When he transitioned to having a local truck driving job, he started carrying a one gallon jug with him each day to drink from in his day cab.
Still, we want to focus on this insulated mug.
We'll describe its insulation, its lid and its dimensions and other things in this review.
We have had a number of large insulated cups over the years.
Some of them didn't "hold the cold" very well.
While we haven't done any time studies, in our opinion, the Bubba Keg keeps icy drinks cold for a long time.
This is important on hot summer days, even when one has air conditioning in one's truck.
The Lid
The sealable lid has an opening on only one side.
When we first got the Bubba Keg, Vicki twisted the lid into place after filling it with ice and water.
However, the lid appeared to have the opening on the side away from where she wanted it to be for a right-handed user. Argh!
But she learned that the lid had been constructed in such a way as to allow the opening to be accessed from either side of the cup! Cool!
Shown here, the Bubba Keg has the lid on and the drink cover open.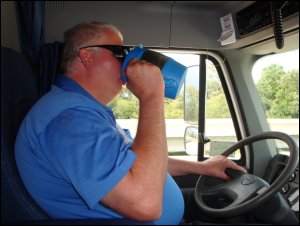 The drink cover on the lid is easy to open (lift up) and close (refit into the lid).
At left, Mike Simons is drinking water from his Bubba Keg behind the wheel of his truck.
In Vicki's opinion, one negative to this product is that there is no plastic straw through which to sip the contents. (Her cup has a straw.)
Without a straw, this insulated cup requires the user to tip it to drink from it (as shown here).
Obviously, the act of tipping the cup in transit could pose a problem for professional drivers who want to keep both hands on the wheel and both eyes on the road.
(Please note that we have written separately about eating while driving.)
One alternative is to insert a long plastic straw through the drink cover opening; however, one would also probably want a way to keep other contaminants (such as road dirt) from slipping through the opening around the straw.
Larger Bubba Kegs have larger lids that may be a challenge for drivers (or home support team members) with smaller hands to open.
When Vicki has had this problem, she opens the drink cover and grasps the indention in the lid for extra leverage.
This tactic has worked every time.
Handle

Notice the good strong handle on this model.
Not only is it break-resistant but it is molded so that the handle will fit easily in your hand.
Vicki's water jug doesn't even have this!
Capacity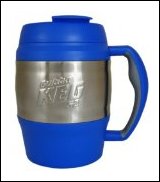 Mike's Bubba Keg has a capacity of 52 ounces.
At not quite half a gallon, the capacity is still better than six 8-ounce glasses of water.
Except on really hot summer days when he needs more water, the amount of water in the filled cup has usually been enough to tide him over for all or most of a driving shift.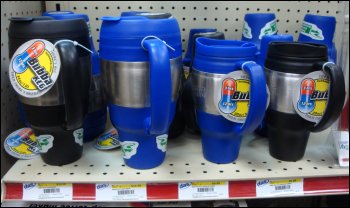 Since Mike's insulated mug will not fit in the drink cup holder on his truck's dash, he has set it on the floorboard next to the driver's seat for easy access.
(Note: he never drove with his mug on the truck's dash.)
Only when he has accidentally kicked it has it ever tipped over.
You will need to determine if reaching for a cup on the floor could be a distraction.
If it is, you will need a different model of cup.
As shown here, Bubba Kegs also come in 20-ounce and 34-ounce sizes, the bottoms of which can be set down into the drink cup holder of many large trucks.
You can sometimes find these on sale at truck stops.
The prices may or may not be higher than those sold online.
Insulation and Holding Temperature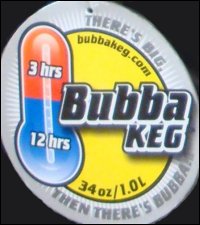 When you drink a beverage at a preferred temperature, you probably want for the cup to hold it at that temperature until you're finished drinking it.
You don't want to be forced to drink the beverage either more quickly than you desire or at a warmer or cooler temperature than you want.
Mike has only ever used his insulated mug for ice water.
However, the cup is also perfect for holding hot drinks like coffee and tea.
Some drivers like to "nurse" their coffee a long time.
If this sounds like you, then notice that this label from a Bubba Keg sold in a truck stop indicates that it keeps
hot liquids hot 3 hours and
cold liquids cold 12 hours.
Distinctions Between Models
Besides having a smaller capacity, we point out that the 20 ounce cup has a different sort of "lip" on the lid than its larger brothers.
Notice from the photo here (with inset) that this cup's lid has a slightly raised edge.
This is possibly for easier drinking.
Each model still looks like a beer keg (a fact that some drivers may object to).
On the Road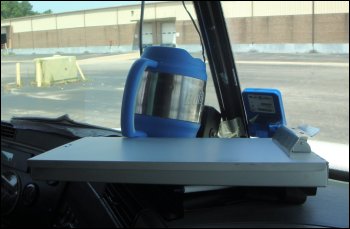 Mike thoroughly enjoyed using his cup on the road.
He strongly recommends the 52 ounce size although others might enjoy a smaller size.
He notes that during the winter months, he has to make a conscious effort to drink water regularly.
Comparing Costs
Based on our research, Bubba Keg products are available for less money online than they are sold for in truck stops.
For your convenience, we are listing three sizes of these cups (in the color black, although other colors may be selected) through Amazon.com, with which we have an affiliate relationship.
52 ounce

34 ounce

20 ounce

Your Review is Welcome
Should you buy and use a Bubba Keg, please feel free to submit a product review of your own.
---
Return from The Bubba Keg: A Review for Professional Truck Drivers to our Product Reviews page or our Truck Drivers Money Saving Tips home page.
---