You don't have to wait to visit a truckstop restaurant to have mouth-watering barbeque pork.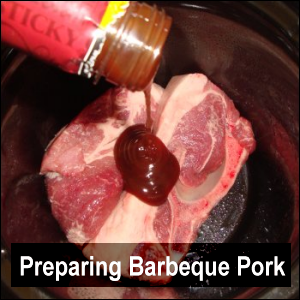 You can fix it right in your truck and it is so easy you might not believe it.
The most common cuts of pork we are familiar with are pork chops, pork loin, bacon, ham, and ribs.
There are different kinds of rib cuts.
According to Wikipedia, "Country-style ribs are cut from the blade end of the loin close to the pork shoulder. They are meatier than other rib cuts. They contain no rib bones, therefore are not technically ribs."
Did you catch that part about country-style ribs being "meatier"?
That's why Mike likes this cut for making barbeque pork.
Oh, and that statement about country-style ribs not containing any rib bones?
Well, as you'll see in a photo below, in the package we bought there certainly were bones (even if not from ribs) in some pieces of meat.
However, by the time the pork is cooked, the meat will practically fall off the bones because it is so tender.
Barbecue vs. Barbeque
Just so that you know, we don't really mind if you call this dish "barbecue pork" (with a "c") or "BBQ pork" (as an abbreviation) because what we're concerned about is the end result (good food).
Naturally, you will want to select a package of pork ribs that will fit in your crock pot.
We recommend fixing the whole package at one time.
Furthermore, we like to stretch a batch of meat into a number of meals.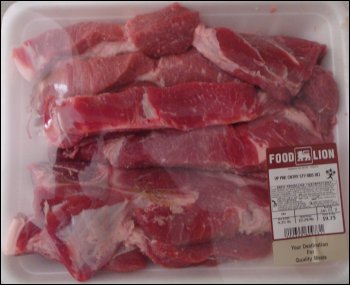 We purchased this 4.25 pound package of country-style pork ribs at $2.29/pound (total of $9.73) at a Food Lion in South Carolina.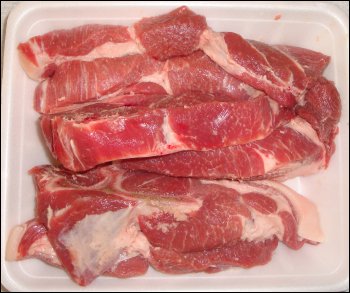 Without the packaging, you can see how meaty these country-style pork ribs are.
There are six pieces of meat on the tray.
We figured we could make 3 meals for two or 6 servings from this amount of meat.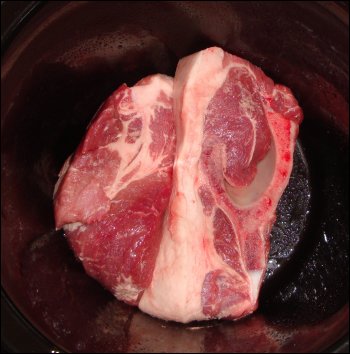 After spraying the crock with non-stick spray, Vicki layered the first two pieces of meat in the bottom.
If you look on the right hand side, you will see that that rib has a bone.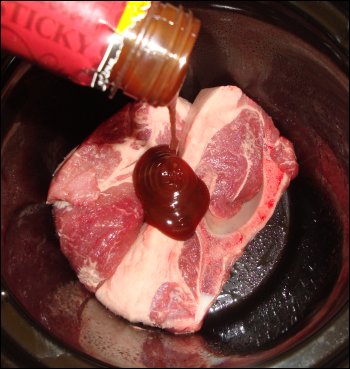 Vicki poured some commercially prepared barbeque sauce on top of the first two ribs.
If she had wanted to do so, she could have prepared barbeque sauce from scratch.
There are lots of recipes online for free.
She followed suit by layering two more ribs and more sauce…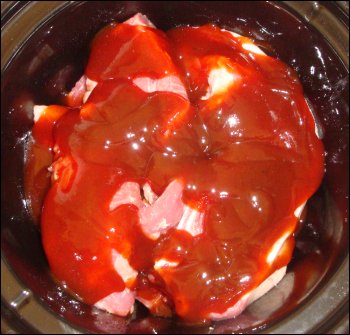 …then, the third layer of ribs and sauce.
Not shown here is the little bit of sauce that came out of the bottle after Vicki swirled water in it.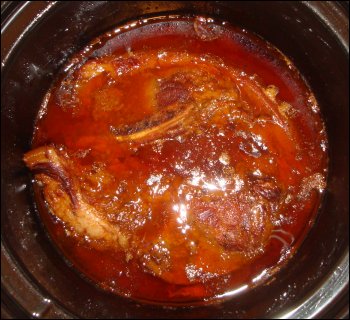 Well, the barbeque pork smelled so good and we were so hungry that we forgot to take a picture of the crock pot with the top layer of ribs in it.
Here is what the meat in sauce looked like at the second layer.
To recap, here is a cutaway illustration of a crock pot with country-style pork ribs layered with barbeque sauce where the arrows are pointing.
Vicki chose to layer the ribs in criss-cross fashion.
We put the crock pot on low at about 11:15 a.m. and let it cook until we were ready for dinner at about 6:30 p.m. (over 7 hours).
The meat was SO tender and delicious!
Equipment
Tongs (to remove the first layer of ribs);
Large slotted spoon (for dipping out the second and third layers of ribs);
Plates and utensils; and
Covered storage bowl for leftovers.
The Cost
Here is our calculation of the cost of this meal at the time that we prepared it.
This does not take into account side dishes that we prepared to go with the entrée.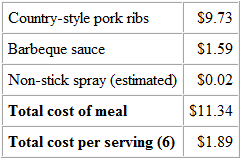 Incidentally, some folks are partial to barbeque beef.
Mike prefers the taste of barbeque pork.
Granted, this page covers only the entree part of a meal.
We also prepared instant potatoes and a salad to go with it.
Some folks like to have potato salad and a hot green vegetable with their barbeque pork.
Rice also goes well with this entree.
---

Money saving tip: Although there are different styles of ribs, we prefer the one with more meat on the bone and less bone. (After all, it is the meat we eat, not the bone.)
Larger packages of meat may sell for less per pound, but you need to determine what you can prepare based on the amount of room in your cold food storage device (compact refrigerator, thermoelectric cooler or ice chest) and crock pot.
Think not just for a meal today but how you can fix leftovers for, say, two other meals to eat in a timely fashion.
Fresh and frozen meat including pork has a freshness expiration date.
Some folks like to purchase meat that is a little older that has been reduced in price.
Unless you are able to fix your barbeque pork immediately, we don't recommend this option.
If you can catch the meat on sale at a grocery store, great!
There are different flavors of commercially prepared barbeque sauce.
Obviously, the sauce influences the end product, so you'll want to choose one that tastes good to you.
You may need to experiment a bit to find one you like.
We personally prefer a hickory honey flavor BBQ sauce.
Making your own barbeque sauce may help you save money.
This might be something that your home support team can do.
We found that it was easy enough to clean the crock pot after spraying it with non-stick spray so that we did not need to use a slow cooker liner.
There are some commercially prepared portions of barbeque pork or beef — which have already been cooked with a sauce — for sale in the refrigerated or frozen food sections of grocery stores.
Some are smaller in size (like only one meal's worth) than what you can prepare yourself in your truck.
Also, pre-cooked barbecue pork can be more expensive on a per-pound basis than your own preparation.
However, if you're looking for convenience or ease of clean-up, these are still probably less expensive than a truckstop restaurant meal.
Beware: if you cook barbeque pork in a crock pot in your truck, the smell may be so good that it may distract you.
Just keep your mind on doing your job until you can park safely! 🙂
---
Return from Barbeque Pork: An Easy Crock Pot Entree in Your Truck to our Food and Recipes page or our Truck Drivers Money Saving Tips home page.
---