Some professional truck drivers want a local truck driving job as opposed to regional, coast-to-coast, long haul or even international driving jobs.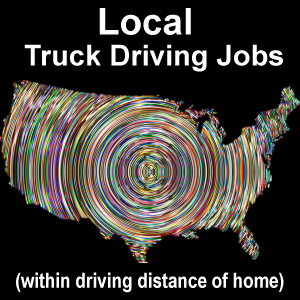 Although qualifications can vary (and some companies may be willing to hire you right out of truck driver training school), your best opportunity to land one of these jobs is if you've got trucking experience and a clean driving record.
In fact, you can find and land one for free.
Mike was able to find one — even in an economic downturn — that allows him to be home every night and off on weekends.
Opinions about local trucking work vary.
Toward the end of January 2011, Mike met another driver at a receiver's location who told him that from his perspective, Mike had landed a "dream job" that allows him to use his CDL but have the best possible home time.
On this page, we discuss a bit about local driving jobs and tell you how Mike found his…
The Nature of the Lifestyle
The first thing you need to determine is whether or not you really want to have a local truck driving job.
Some drivers are so used to life on the road or saving money by living in their trucks that the transition might be too difficult.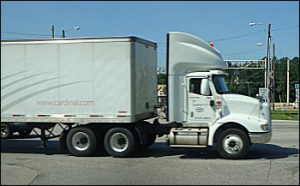 These tractors are used for making local deliveries and not for being away from home overnight.
The tractors are nicknamed "day cabs" because they do not have a sleeper berth for overnight sleeping.
The Nature of the Equipment
Getting a local truck driving job may require you to make a change in the type of trailer you pull. Local drivers usually drive day cabs, which often don't have the same luxuries as trucks with sleeper cabs.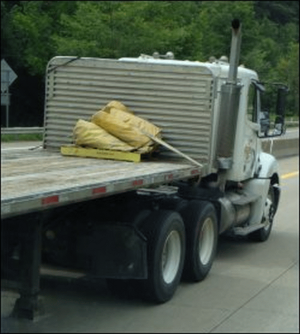 The tractors pulling flatbed trailers pictured here are both day cabs.
Besides the rails on the trailer on the right, there is also a forklift on the back.
Except for the brief time that Mike pulled tankers, all of his experience up until getting his local job was pulling either dry or refrigerated vans.
Mike says that he hauled a leaf-spring type flatbed trailer (instead of the air ride type he was used to) and that the tractor can "beat you to death" if you travel over rough roads.
Of course, equipment varies and you would do well to review the kinds of questions we ask on our recruiters page.
If you have settled that in your mind, fine, you're ready to press on.
Depending on the equipment used by the company being considered, LTL loads could require either a long trailer or doubles/triples.
The doubles pictured here are typically used by LTL trucking companies.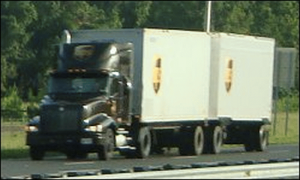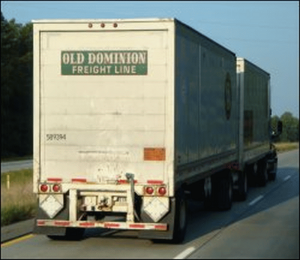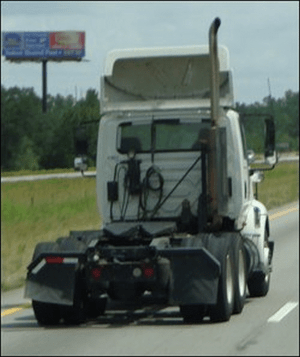 Daycab tractors like these bobtails are used by LTL companies to pull doubles and triples that are connected by converter gears (dollies).
If you're uncomfortable working with converter gears between small trailers, you might want to reconsider your options.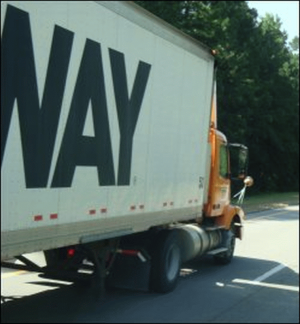 Some local truck driving jobs require drivers to "slip seat."
If you are uncomfortable continually changing trucks, you might not want to pursue this kind of job.
Of course, there aren't nearly as many opportunities to personalize a daycab as there are a tractor with a sleeper cab.

The Nature of the Job Requirements
Some products — such as those that are moisture-sensitive — require drivers to tarp loads whenever it is raining.
Not only did Mike learn how to safely get up on and down from a flatbed trailer, but he learned how to tarp a load and operate a forklift in his local truck driving job!
So, he expanded his job skills on this job.
Many LTL (less-than-truckload) jobs require drivers to do lots of local pick-ups and deliveries. If this will drive you crazy, don't apply for such a job.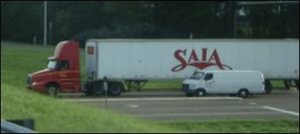 Some LTL trucking companies use long trailers to make deliveries.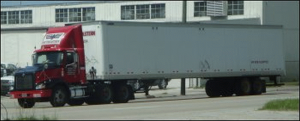 Also, some local driving jobs require drivers to drive a Class B truck or straight truck without sleepers.
If you won't be happy in a smaller truck, make sure you don't apply for such a job.
Consider ahead of time if driving a smaller truck for a period of time will hurt your ability to get another job driving a bigger truck later on.
A Downside to Having a Local Truck Driving Job
One downside to having a local driving job is what happens if you are making a delivery a few hours from home and you have a breakdown or get stranded due to weather or a traffic accident.
You are still required to abide by the Hours of Service rules.
If you're driving a day cab, you will have no sleeper in which to rest and you'll need to get a hotel/motel room for the night.
If this happens to you, make sure your company pays your hotel/motel bill.
The Nature of the Freight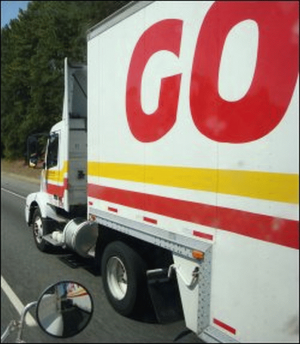 Much of the foodstuffs and beverages that are delivered to local grocery stores are delivered by drivers with a local truck driving job.
At far left is a daycab pulling a van with snack foods.
Next to it is a daycab pulling a van with soft drinks.
The weight of the freight obviously differs greatly.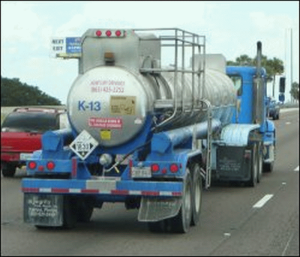 Also, some liquids and fuels are delivered by tanker hauled by local drivers.

Truck Driving Job Websites
There are many truck driving jobs listed on the Internet.
In fact, it seems that every time you turn around, there's another website with a plethora of driving opportunities.
(Many of these jobs might also be advertised on Twitter.)
You have to be very careful because not all of the listings are up-to-date.
You will always want to double check the ad versus what a trucking company or manufacturer has on its website (assuming it is large enough to have a website).
We once found a listing — supposedly a very new listing (at least according to the date) — for a trucking company that Mike was interested in hiring on with.
The trucking company had a terminal close to our home area, but we knew from the company's website that there was no such opening at that terminal.
Let the job searcher beware!
Also, most of the jobs listed on truck driving jobs websites are not local in nature.
Where to Find Local Truck Driving Jobs
The best way, in our opinion, to get a local truck driving job is — no big surprises here — local sources.
There are at least two ways to do this:
Put a free ad in a suitable online classified ad listing, stating your years of experience, type of rig you desire to drive, etc.Keep the number of characters in your ad at or under the maximum for a free ad.The drawback to this is that you may get calls or replies from other drivers looking to fill the job they think you have available (because they didn't read your ad carefully).If you submit your email address, you could also get spammed, so you might want to use a different email address (such as a forwarder) in your ad.
Look in the classified ad section of local newspapers for your area.You are more likely to find a local truck driving job (in our opinion) if you are near a major metropolitan area where there is plenty of industry.
You can find information for many newspapers around the world at Newspapers.com.
Select the country or state you're interested in searching and zero in on an area.
If you're looking for information in a large state (like Texas), don't be surprised if the results returned are for pages and pages of newspapers.
You can do a search on their site for a specific city within a state, but don't be surprised if you get all sorts of other search results.
A better way (in Vicki's opinion) is to do a search like this where you substitute the City and State (use the two letter abbreviation) of your choice:
City, ST classified ads
If you do this kind of search, you may come up with a whole bunch of websites for classified ad listings that are not specifically in newspapers.
This can be advantageous as the scope is wider.
You can also Google something like this, again where you substitute the City and State of your choice:
local truck driving job City, ST
When you find the appropriate online newspaper, you may have to scan around a bit to find the classified ads.
They can be labeled in all sorts of different ways such as "Classified Ads," "Jobs" or "Employment."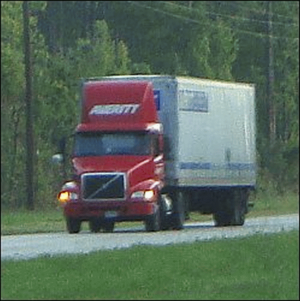 Also, some trucking companies that may be better known as being an
interstate,
over-the-road,
long haul,
truck load motor carrier
may offer a local truck driving job from time to time.
So don't overlook those.
Make Sure You Have a Good Match
If the company offering a job has a website, make sure to do your due diligence before applying.
We know of one driver who applied for what he thought was a local truck driving job (that he thought would let him be home every night).
Only after submitting his application did he find out that the job would require him to be away from home through the week with maybe the opportunity to come home on weekends!
Not good!
We have illustrated a "bad fit" of
– a square (which we are using to depict the driver's expectations of a local truck driving job)
– supposedly fitting into a circle (which we are using to depict the requirements of a job which are different from the driver's expectations).
The arrow with the strike through indicates that the square will not fit in the circle.
Again, make sure you get a good match.
Make Sure You Have Good Timing
Part of the trick to getting a local truck driving job if you are currently trucking with any other company is being able to schedule
A time to fill out a job application (assuming that the company needs you to fill it out in person) and
A time to interview that is convenient to both you and your prospective employer.
If your current company doesn't get you home very often, that can be a problem.
And you may not have vacation coming up at the time the job comes open.
One thing that you can potentially do — if your current company offers this flexibility — is to schedule an interview (or time to submit a job application) very close to an actual doctor's or dentist's appointment.
When he drove regionally, Mike usually scheduled his medical-related appointments at least 6 months in advance and let his driver manager know about the appointment at least 2 weeks in advance.
His driver manager would usually respond to let him know the first part of the week before the appointment so that he would not schedule Mike a load whose delivery appointment conflicted.
If you have a 9 a.m. dentist appointment already set, you might be able to schedule an interview at 11 and be done by noon so you can get back to your job.
Another potential idea is to conduct the interview via a video conferencing app such as Zoom.
As long as both parties have the capability to see and hear each other, a video conference interview could take place of one in person.
Don't Endanger Your Current Job
Some trucking companies are very sensitive about drivers who are looking around at other driving opportunities.
Depending on your company, if they catch wind that you're looking around for another job, you could find yourself out of the one you have!
When Mike was looking for a different company for which to drive at the end of 2010, it was interesting that one of them was sensitive enough about this to wait to contact his current company so as not to tip them off until the time was right.
What About Those Pay-in-Advance Recruiters?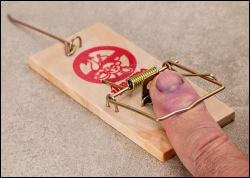 We do not at all recommend that you ever pay someone to find a job for you.
If you run across an ad in a local paper where there is a listing for which you have to pay for the rest of the information, we advise you to run the other way!
Mike has done that twice and we have regretted it both times.
Some companies that use pay-in-advance job lead services claim that they want pre-screened applicants.
However, we have found that those kinds of leads were either available for free somewhere else or the leads were inferior.
(They don't call some of these firms "head hunters" for nothing.)
In our opinion, there is plenty of free information online if you want a local truck driving job.
Other Sources For Finding Local Truck Driving Jobs
Besides local newspapers, there are also free job listings on places like
Monster.com,
HotJobs.Yahoo.com and
CareerBuilder.com.
However, we think your best bet for a local truck driving job is, again, through local sources.
What To Take With You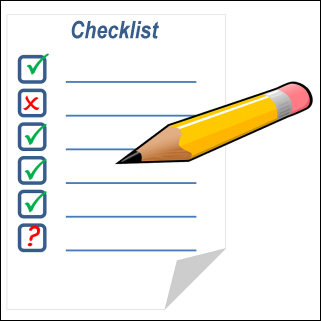 When you fill out your application and go to your interview, make sure you have with you
your accurate job history and
a current copy of your MVR (motor vehicle record).
Some applications ask where you've worked right down to the day (not just month and year).
Many trucking companies are interested only in the last 10 years of your employment history, whether or not you have recent truck driving experience.
It is best, of course, if your truck driving experience is recent.
Regarding getting your MVR, it is best if you can visit your state's Department of Motor Vehicles (DMV) and get one in person within hours or a few days of the time you apply for your local truck driving job.
If you can't get to the DMV, some states have forms on their websites through which drivers may request a copy of their MVR by mail.
For example, in our home state of South Carolina, the DMV has a page for Forms and Manuals, on which is listed a link to MV-70, Request for Driver Information.
Just fill in the information, make a check payable to the correct entity for the correct amount and mail it.
(Note: Make sure you read all of the instructions regarding any extra fee you must pay to have the report mailed back to you.)
Has This Been Helpful?
If this information has helped you land a local truck driving job, please contact us to let us know.
---

Money saving tip: Besides using local newspapers through which to find classified ads, you may want to contact specific manufacturers directly.
Some of them may be members of their local Chambers of Commerce, which may have a listing of businesses online.
In cases where you contact a manufacturer directly, you may actually beat the employer to the punch by being ready for a job before it is announced!
Be sure to read information about potential employers before you fill out an application.
Some employers are workhorses and don't mind riding you for 60 hours of work per week or more.
During the time you do your due diligence about a job, make sure to find out how you will be paid.
Local truck driving jobs generally will not be able to pay much if you are being paid by the mile.
However, if you are being paid by the hour, you will be paid for all of your time (including, for example, tarping), not just your mileage.
Make sure to find out if their drivers qualify for overtime pay and, if so, how much that is per hour.
Should you be hired to do an hourly-paid local truck driving job, be diligent to do your work as efficiently as possible.
Employers know about how long it takes for each task, each trip, loading and unloading, etc.
If you "pad" your trips, you could be replaced with someone who won't.
Don't risk losing your job for this.
Do unto others as you would have others do unto you.
---
Return from Local Truck Driving Job: How to Find One For Free to our Truck Driving Jobs page or our Truck Drivers Money Saving Tips home page.
---