Written on October 10, 2018 by
Vicki Simons, President
NKBJ InfoNet, LLC
Truck-Drivers-Money-Saving-Tips.com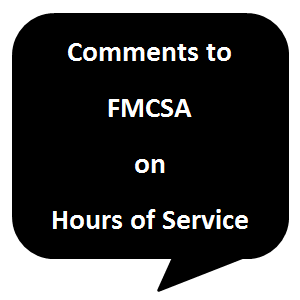 Having driven a commercial motor vehicle professionally for nearly 3 years; having been married to a man who has driven professionally for over 16 years; and having for nearly 10 years published information online that is geared to helping professional truck drivers save money (which is distributed to thousands of readers); I am commenting on the FMCSA's Advanced Notice of Proposed Rulemaking regarding Hours of Service of Drivers.
The American Transportation Research Institute (ATRI) published a report in October 2017, listing the "Top Ten" critical issues in the trucking industry, according to commercial drivers and motor carriers.
[atri-online.org/wp-content/uploads/2017/10/ATRI-Top-Industry-Issues-2017.pdf (no longer online)]
We read on page 23 that Hours-of-Service (HOS) is the 3rd highest concern of truckers and the 5th highest concern of motor carriers.
The Hours of Service regulations in and of themselves need to be addressed, but they are only one piece of the pie when it comes to trucker safety and productivity. I will address a number of these points, too.
In the January 2018 issue of The ATRInsider,
[atri-online.org/wp-content/uploads/2018/01/ATRI-January-2018-Newsletter.pdf (no longer online)]
we read: "Many of the concerns surrounding the ELD mandate derive from the lack of flexibility in the Hours-of-Service rules. …the lack of flexibility in the rules kept HOS as the number three industry issue in the 2017 survey. The top strategy identified by survey respondents for addressing the HOS concern was to push for flexibility in how drivers split their driving, on-duty and rest time. … Many in the industry believe that with additional flexibility drivers would be able to rest when tired and could provide an opportunity for drivers to adjust their driving schedules to avoid some of the worst congestion chokepoints."
I will share a true account of how my husband Michael was able to avoid a "congestion chokepoint" by timing one day's drive time, even though it did not agree with him. According to a February 2018 article,
https://www.businessinsider.com/the-10-us-cities-with-the-worst-traffic-2018-2
New York City is the 2nd most congested city in the USA. Some years ago when I was riding full-time with him, Michael needed to drive a commercial motor vehicle from Milford, CT, to Greensboro, NC, which required him to drive on Interstate 95 (I-95) through the New York metropolitan area. The run can be completed legally in one driving shift (11 hours), but only if one encounters no congestion. In order to accomplish this, he had to begin driving at 2 a.m. However, this very early morning time frame has never been in sync with his circadian rhythm. Had the Hours of Service regulations been more flexible, he would not have fought against his own body to drive during that time.
The FMCSA publishes a recurring annual report entitled "Large Truck and Bus Crash Facts"
https://www.fmcsa.dot.gov/safety/data-and-statistics/large-truck-and-bus-crash-facts
and the National Highway Traffic Safety Administration publishes a Fatality Analysis Reporting System, "Detailing the Factors Behind Traffic Fatalities on our Roads".
https://www.nhtsa.gov/research-data/fatality-analysis-reporting-system-fars
Let's look at a recent report.
If the Hours of Service regulations are intended to keep the motoring public (including truckers) safe, then why have fatalities among professional truck drivers reached their highest level in 29 years?
I do not believe that it is ever right for a professional truck driver to drive when he/she is fatigued. However, with a lack of adequate large truck parking in some areas of the country, truckers are caught "between a rock and a hard place" — meaning that in some cases, they must
either park in an unsafe area (risking an accident or a fine);
or they must continue to drive until they find safe and legal parking.
Again when I was riding full-time with my husband Michael, he once had a westbound load coming out of New Jersey. It was late in the afternoon and we wanted to park to have dinner and then proceed. We literally stopped at 7 different truck stops on our way west trying to find a place to park and eat. The first 6 were all full with not even a single empty truck parking space being available. When he was near the end of his Hours of Service time limit, he found safe and legal parking at the 7th truck stop, which was quite a distance into Pennsylvania. We were unable to eat dinner until after 11 p.m. which put a strain on both of us.
Some truckers feel pressure to push themselves in order to earn a paycheck. There are numerous issues contributing to this pressure:
Even though their work requires a great deal of skill, truckers are considered "unskilled labor".
askthetrucker.com/professional-truck-driving-requires-no-skill/ (no longer online)

Were motor carriers and all professional truck drivers not exempt from the Fair Labor Standards Act (FLSA),
https://www.dol.gov/whd/regs/compliance/whdfs19.htm
the latter would be fairly compensated for all time worked and not risk safety in order to earn a decent paycheck.

Trucker wages have not kept pace with inflation since the 1970s. The cover of the May 1977 issue of Women's World
https://www.facebook.com/truckerdesiree/posts/10152149647684351
shows that women were earning $500 per week ($25,000 annually) as professional truck drivers. If we put that figure — $500 in May 1977 — into the Inflation Calculator from the Bureau of Labor Statistics and compare it to August 2018 (the most recent month when statistics were available),
https://data.bls.gov/cgi-bin/cpicalc.pl?cost1=500.00&year1=197705&year2=201808
we find that a trucker would have to be earning a minimum of $2,090.76 per week ($104,538 annually based on 50 weeks' work per year) just to have kept even with inflation.
According to an August 3, 2018, article,
https://www.businessinsider.com/truck-driver-salary-ranked-by-state-2018-8
"America's nearly 1.8 million tractor-trailer truck drivers earned a median income of $44,500 nationwide in 2017, according to the Bureau of Labor Statistics."
My husband Michael reports that his top annual income in trucking over his 16+ year trucking career was about $40,000. Some people find that pay level way too low for the amount of responsibility that is required and the amount of time spent working.
Truckers are often delayed and yet uncompensated for a great amount of time at shipper and receiver locations. What kinds of loss are at stake? According to a February 7, 2018, article
https://www.ccjdigital.com/driver-detention-costs-carriers-and-drivers-big-bucks-contributes-to-crashes-report-says/
"In one of the first reports of its kind, the U.S. DOT has concluded that time spent detained at shipper or receiver facilities cuts truck driver pay by between $1.1 billion and $1.3 billion annually, in addition to crimping industry safety. An extra 15 minutes spent detained beyond the standard two-hour window causes industry crash risk to climb 6.2 percent, the DOT has estimated. That's an average of about 6,500 additional crashes annually, the report notes.
"Drivers see an average annual pay loss of between $1,281 and $1,534, the report concludes, and carrier income is cut by between $250 million and $302 million annually due to detention time, the DOT says."
This resource quantified how much time truckers currently work "for free":
http://www.askthetrucker.com/denham/congress.action.call.pdf
"Not only have drivers not had a significant pay raise since the 80's, but more and more uncompensated time performing non driving tasks are expected ( approximately 30-40 hours/wk uncompensated time). This includes jobs such as pre and post trip inspections, maintenance and loading and unloading (Detention Time)."
This situation of working in an uncompensated manner would not be tolerated in any other workplace or industry — and it should not be tolerated in the trucking industry where drivers' actions impact many others.
Were truckers not pushed to work during times when their productivity may be low (such as fighting heavy traffic); were truckers paid for all of their time when operating and being responsible for a commercial motor vehicle (including all detention time); were there sufficient truck parking to allow truckers to park whenever needed; and were truckers given the flexibility to work in accordance with their circadian rhythms; there would be a lot less angst in the trucking industry and I believe that both safety and productivity would increase.
The Electronic Logging Device (ELD) mandate was purportedly put in place so that all professional truck drivers were "on a level playing field" when it came to abiding by the existing Hours of Service regulations. The ELD mandate had barely begun when various sectors of the trucking industry began applying for exemptions and waivers, two examples of which are documented here.
https://www.fmcsa.dot.gov/hours-service/elds/electronic-logging-device-eld-exemptions-and-waivers
https://www.fmcsa.dot.gov/hours-service/elds/eld-hours-service-hos-and-agriculture-exemptions
Because there are a great many differences within the trucking industry regarding
Types of tractors and trailers;
Types of freight;
Types of trips/routes;
Types of weather encountered;
Types of terrain; and
Types of drivers (including but not limited to local, regional, long-haul, solo drivers, and team drivers);
there can be no "one size fits all" approach to fixing the Hours of Service regulations.
On August 1, 2013, I wrote a guest blog
https://arpcotransportservices.wordpress.com/2013/08/01/the-new-hours-of-service-rule-impact-on-truckers-finances-numerical-fallacies-and-common-sense-questions/
in which I picked apart both the rationale behind and the 2013 change to the Hours of Service regulations. Here is the last paragraph from that guest post:
"What will it take to demonstrate whether the new HOS rule is about safety or control? I re-state what we asked through our blog on July 2, which was based on this article: 'What if the new HOS rules don't reduce truck driver fatigue or improve safety? What if the "common sense, data-driven changes" and reduced work hours back fire? Will the FMCSA be willing to reverse course? How long will it take before we know?'"
It has been over 5 years since the FMCSA last made sweeping changes to the Hours of Service regulations and as I predicted, we are no safer now than we were before the changes were made.
Specifically:
I do not agree with the Hours of Service requirement to stop for 30 minutes within a certain period of time after coming on-duty because this punishes drivers by as much as 3.5 hours that they can't drive per week.
I do not agree with having a fixed and inflexible 14-hour window in which to do all on-duty and driving work because a driver should be able to park and rest whenever necessary or allow congestion chokepoints to clear up.
I do not agree with a recommendation by the Owner-Operator Independent Drivers Association (OOIDA) to "[allow] truckers to pause their 14-hour clock for a single period of up to 3 hours, provided the driver is off-duty", because that would effectively expand the clock by when drivers could work to 17 hours within a 24-hour day.
It is not merely the number of hours that truckers can drive that determines their paychecks, but the number of hours they work times the amount of money that they are paid per hour. If truckers were paid hourly for all work done, one example of their pay is as follows.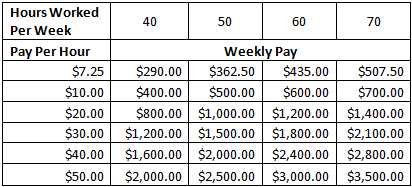 A September 12, 2018, article
https://www.overdriveonline.com/hours-regs-suspended-for-11-states-and-d-c-for-hurricane-florence-s-c-reversing-highways-for-coastal-evacuations/
stated in advance of Hurricane Florence, "The Federal Motor Carrier Safety Administration has… issued a regional emergency declaration for" 13 states and Washington, D.C. Furthermore, the article states, "The declaration exempts truck drivers providing direct support of relief efforts related to the hurricane from Parts 390 through 399 of the Federal Motor Carrier Safety Regulations. The declaration is effective immediately and will remain in effect through the duration of the emergency, or through Oct. 10, whichever is less."
A similar waiving of the regulations has been issued in 8 states in advance of Hurricane Michael.
https://www.ccjdigital.com/regs-waived-for-relief-load-haulers-in-8-states-for-hurricane-michael/
The actions described in these two articles mean that in advance of and during major weather events, the FMCSA places trust in targeted truckers driving in targeted locations to operate their vehicles safely apart from the stated regulations. Why then can the FMCSA not trust truck drivers to drive safely apart from the Hours of Service regulations at other times of the year?
Should the argument be raised that the FMCSA can't trust truckers based upon their individual circumstances to make their own decisions regarding the hours when they can safely and productively operate commercial motor vehicles, let the agency remember that these truckers have been entrusted with tractors, trailers and freight that may be valued in the millions of dollars. If trucking companies can trust truckers with valuable physical commodities, why can the FMCSA not trust them regarding the safe movement of those commodities? Some truckers may simply require training on how best to order their driving schedules to maximize both safety and productivity.
If it is the FMCSA's goal to work with professional truck drivers to improve safety and increase productivity, then it is time to let those who are most affected decide which hours are best for them to move both trucks and freight: the professional truck drivers themselves.
Vicki Simons, President
NKBJ InfoNet, LLC
Truck-Drivers-Money-Saving-Tips.com
---
Return from Comments to FMCSA on Hours of Service to our About Us page or our Truck Drivers Money Saving Tips home page.
---