When a person engages in distracted driving, his or her attention has been diverted away from the original purpose of driving.
When one's focus has been diverted to something else, obviously, one is no longer concentrating on the primary task that one undertook — and if that happens when driving, consequences can include property damage and/or death!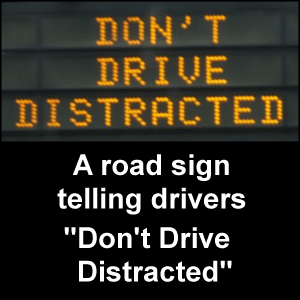 Types of Distracted Driving
According to "Learn the Facts About Distracted Driving,"
"Traffic safety experts classify distractions into three main types: Manual, Visual and Cognitive."
While they define all three types of driving while being distracted, they also state:
"Texting involves all three types of distraction."
We encourage you to read the section on their site under "Cell Phone Use" and cite one statistic here from the University of Utah:
"People are as impaired when they drive and talk on a cell phone as they are when they drive intoxicated at the legal blood-alcohol limit of 0.08%."
Wow!
State Laws
The Governors Highway Safety Association (GHSA) has a chart on their site linking each of the states within the USA to its individual list of distracted driving state laws (and, yes, they vary from state to state).

The National Safety Council states on its site:
"New technology in vehicles is causing us to become more distracted behind the wheel than ever before. Fifty-three percent of drivers believe if manufacturers put 'infotainment' dashboards and hands-free technology in vehicles, they must be safe. And, with some state laws focusing on handheld bans, many drivers honestly believe they are making the safe choice by using a hands-free device. But in fact, these technologies distract our brains even long after you've used them."

The National Highway Traffic Safety Administration provides this statistic (among others):
"Distracted driving is dangerous, claiming 3,142 lives in 2020."
As of an April 26, 2022, update from Centers for Disease Control and Prevention and the National Center for Injury Prevention and Control:
"Nine people in the United States are killed every day in crashes that are reported to involve a distracted driver."
According to the Insurance Institute for Highway Safety:
"IIHS has found that all-driver bans on hand-held phone conversations can have large and lasting effects on phone use."
"Some studies have found that bans on hand-held phone use have led to reductions in crashes, but the evidence is not conclusive."
Fatal Consequences of Distracted Driving
An April 15, 2022, article from Freightwaves stated:
"Distracted driving can happen to anyone at any time and it happens a lot more than you think".
"April is Distracted Driving Awareness Month."
Quoting the National Safety Council, estimates are that "eight motorists are killed every day from a distracted driving-related accident.
Unlike other non-trucking related information online, this article actually has information about drivers of large trucks being involved in distracted driving accidents or crashes.
Video Showing Distracted Trucker
Embedded in the article "Idaho Sheriff shares 'disturbing video' as a reminder about the consequences of distracted driving" is a video showing how a trucker rear-ended another trucker, obviously because of a distraction and not paying attention.
OK, so we've covered the types of distracted driving.
Distracted Driving Actions
Now let me cover some specific actions that can be classified as driving distracted:
Reaching for any item in one's truck;
Smoking and/or vaping in one's truck;
Adjusting any control or knob on — or talking on — one's CB radio;
Adjusting any control or knob on one's radio or CD player;
Watching any kind of video or playing DVDs;
Adjusting or typing anything into a GPS unit;
Looking at a "SatComm" (satellite communications) device in one's truck;
Looking at or typing on a personal computer while driving;
Talking on or tapping on the screen on one's cell phone — even if it is mounted on the dash or windshield;
Adjusting one's remote-control mirrors;
Looking at the aftermath of a previous accident ("rubbernecker accident");
Looking at the driver or passenger of a nearby or passing vehicle;
Reaching for or touching one's pet;
Reading a map (whether a hard copy or electronic version) or written directions;
Engaging in any activities designed to keep you awake or alert if you're tired; and
other similar actions.
Conclusion
You may want to deliberately limit the number of electronic gadgets that you have within reach in your truck so that you are not tempted to be distracted.
Remember, the consequences of distracted driving can be fatal.
For more information, please see our page with Safe Driving Tips for Drivers of Large Trucks.