On 9/8/2011, TruckersNews.com ran an article about a trucker gym project being launched at ten "Pilot Flying J travel centers in a partnership between Snap Fitness and Rolling Strong."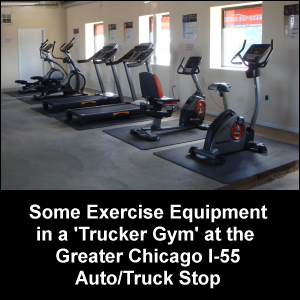 The article stated:
Each Snap Fitness Rolling Strong gym will be located at a Pilot Flying J travel center or travel plaza, will be staffed by fitness professionals and will include a variety of fitness equipment. Monthly gym dues are $29.95 for members of the trucking community. The membership includes access to Snap Fitness Rolling Strong gyms as well as any of the 1,300 Snap Fitness clubs worldwide. Family membership options for the trucking community will be available. Current Snap Fitness club members will be able to use the amenities at Snap Fitness Rolling Strong gyms at no extra charge.
Vicki spoke with a lady at the Snap Fitness/Rolling Strong booth at the 2012 Mid America Trucking Show in Louisville, KY, and asked a lot of questions.
According to the lady with whom she spoke, the fitness professional will be in the facilities 12 hours per day, not 24 hours per day as the article perhaps implies.
As we see it, here are some pros and cons regarding actual trucker gym facilities, memberships and usage:
Pros
Drivers who frequent truck stops with gyms may have access to the gym equipment.
Drivers who visit gyms during the hours that personal trainers are present can get personalized coaching.
Drivers who have the time can use as many pieces of equipment as they desire (assuming that they are not being used by someone else).
Assuming that the membership will be used, the cost is about $1 per day, which some drivers consider a small price to invest in trucker fitness. This can be a better investment than a single piece of exercise equipment that costs thousands of dollars and which may not even fit in one's truck.
A trucker can potentially get a "more complete" workout by using a variety of pieces of gym equipment than he/she can with his/her own equipment or by other means.
There is more to a membership in a Rolling Strong type gym than "just" access to the trucker gym equipment, such as a way to track your own health and access to nutritional products.*
Some trucker gym memberships work on a month-to-month basis. If a user does not feel that he/she is getting his/her money's worth, he/she is not throwing away hundreds of dollars on the front end.
Cons
Many drivers have routes and/or schedules that restrict or prohibit stopping at a trucker gym long enough for a workout.
Drivers may visit a gym at a time when the personal trainer is not present.
Users may notice peak times of usage at a trucker gym during which many or all of the pieces of equipment are in use. This may especially be true at night when many truckers' driving shifts are over. It may also occur just after 5 p.m. when those who are not truckers are allowed to use gyms at truck stops.
The cost of a trucker fitness membership is "one more thing" to enter into that trucker's budget.
Truckers who have to leave the comfort of their trucks in order to use the exercise equipment may skip trucker gym workouts.
Drivers who use the equipment without any oversight can potentially injure themselves if the equipment is not set correctly or if they use bad "form" when exercising.
Drivers may have to adjust the equipment to their own settings each and every time they visit truck stops with gyms.
Drivers of large trucks generally will have no adequate parking at non-truckstop gyms within the network, making those facilities "off limits."
If exercise rooms are wired to receive television or cable stations, the choice of programming may not interest or suit users.
Some drivers who perceive themselves to be in poor physical shape may be embarrassed by working out publicly. Lady truck drivers may feel awkward exercising in front of men. Male truck drivers may feel awkward exercising in front of women.
Considering the nature of their freight and driving/sleeping schedules, team truckers may have an especially difficult time scheduling in trucker gym workouts.
A Truck Stop With Gym That We Visited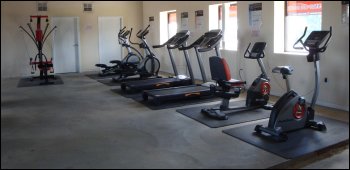 We visited the Greater Chicago I-55 Auto/Truck Stop in June 2010.
A good part of the area upstairs had a trucker gym with about a dozen pieces of equipment at the time.
As you will see from these photos, no one was using the equipment.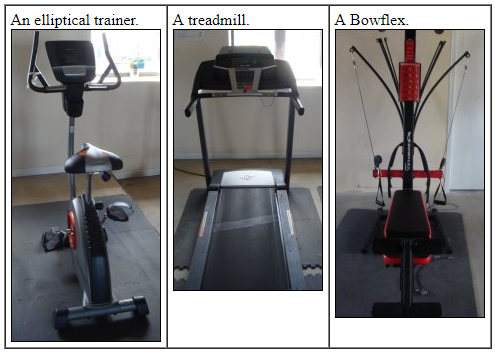 Free Truck Stop Fitness Facility Use
On June 15, 2012, TruckingInfo.com published an article about how the TravelCenters of America at TA Dallas South (Dallas, Texas) would be opening a StayFit fitness center that would be "free to all professional drivers who are members of the company's UltraOne Driver Rewards Program."
Drivers may learn about and sign up for the UltraOne program.
---

Money saving tip: Some professional truck drivers prefer different trucker fitness programs of health and wellness, such as those that utilize no equipment (body weight exercise) or equipment specifically designed to be used in a truck.
(For your convenience, we are linking to or listing products on Amazon.com, with which we have an affiliate relationship.)
Another type of in-truck exercise program, Truckercise, is designed to let you use what is already in your truck.
Some drivers prefer to have "fun" with their workouts, such as by dancing to lively music like Sweatin' to the Oldies: The Complete Collection or Zumba Fitness: Exhilarate! 7 DVD SET + Toning Sticks.
There may or may not be enough room in the cab of a big rig to allow for these dance programs.
Depending on the gym you visit and when you visit, there may or may not be a scheduled workout set to music.
Depending on the program set-up, the types of exercise equipment in gyms may or may not be consistent from location to location.
Since some pieces of exercise equipment have built-in electronics (elliptical trainers, treadmills, recumbent bicycles, etc.) to track such measures as distance, resistance/incline, heart rate and calories burned, they are subject to breakdown/failure.
Unless the facility has a regular schedule of maintenance regarding machine performance, the number of machines may be reduced indefinitely.
Check how often the machines will be evaluated and what the truck stop's policy is regarding rapid machine repair.
Before you invest your hard-earned money in a trucker gym membership, you will want to develop your own regular exercise routine.
Without having established this first, your likelihood of being consistent in working out at a gym is decreased.
Check the fine print on your membership paperwork to see if a refund for the unused portion of your membership will be issued, should you decide to cancel.
Some drivers feel more comfortable paying for only a month at a time instead of a year at a time.
Remember that an exercise routine should also be conducted under the supervision of appropriate health care professionals and should be accompanied by a nutritious diet.
---
Return from Trucker Gym Tips: Fitness Programs at Truck Stops with Gyms to our Health and Wellness page or our Truck Drivers Money Saving Tips home page.
---
Reference