This is the TDMST Weekly Round-Up of news affecting professional truck drivers, written by Vicki Simons for the week ending June 9, 2018.
We welcome your comments, thoughts and feedback on the items of your choice below.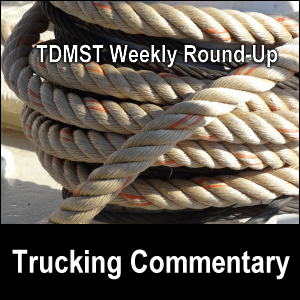 1. Mike and I have been totally baffled by why some truckers ignore clearly posted low clearance warnings and end up in a low clearance accident.
(See our "CMV GPS Low Clearance Report Form; Low Clearance Awareness Day" page for more detail about our standing reward for the first trucker who can document that a GPS unit specifically geared for Commercial Motor Vehicles led him/her to a low clearance.)
Be that as it may, I recently came across an article about women who have the "INTJ" personality type.
(I have been led to believe that I have that "Rare Myers-Briggs" classification of personality, but I digress…)
Although I've not been able to verify the statistic anywhere else, the article stated this (which I found startling):
"Ninety-six percent of humanity (as Milgram showed shortly after WWII) will do something instructed by authority even when they know it's wrong."
In my mind, I took a giant step back and considered the controversy that would enter a trucker's mind regarding
– the "authority" of the GPS unit in his/her truck saying that the route is OK versus
– the "authority" of the low clearance signs along the road.
When approaching a low clearance, one of the two authorities clearly has to be wrong.
But which one?
This comes back down to the issue of what kind of GPS unit one has in his/her truck:
– regular, for the motoring public; or
– commercial, specifically for Commercial Motor Vehicles.
In my opinion, every trucking company ought to make it part of their policy to ensure that if a trucker uses a GPS in their truck, that only a CMV-specific GPS is used.
Furthermore, we encourage truckers to use an actual trucker's atlas — written specifically for motor carriers — instead of relying on a GPS unit.
If we trust the "wrong" authority, all bets are off.
Just saying…
2. Would you like to know how much some signing bonuses (or sign-on bonuses) have grown?
Check out this May 11, 2018, article.
3. According to a June 5, 2018, article, the state of Rhode Island will begin issuing truck-only tolls on June 11.
Supposedly, "Tolls will be limited to once per toll facility, per day in each direction."
We would like to hear from our readers who travel through Rhode Island starting June 11 to know whether or not that is true. Thanks.
4. In the "Now I Have Seen Everything Department," a May 31, 2018, article reported that a man sustained "critical injuries" after attempting to cross a street by "walking underneath [a] semi's trailer" and then being run over when the light turned green and the truck driver started to drive.
Ouch!
5. We're continuing to see stupid stunts by some members of the motoring public.
– A car driver sneaked up in a non-driving lane on a trucker's right side.
After the truck collided with the car and the car driver claimed that the accident was the trucker's fault, the dash cam proved that the car driver's claim was false.
(Note: the dash cam vindicated the trucker. Read more about truck cams here.)
– Vehicles that "brake check" in front of a truck sometimes wind up losing.
One was a motorcyclist who "made a sudden lane change in front of a tanker truck… in an apparent attempt to brake check the trucker."
When the trucker "wasn't able to stop in time to avoid a collision with the motorcycle", there was a collision and resulting injury to the biker.
Stay alert and do your best to anticipate the actions of others and avoid accidents.
6. If you have any kind of Internet-connected device with you on the road, please check to make sure that you have some kind of security program in place.
Webroot published an article that is well worth a look, entitled, "American Cybercrime: The Riskiest States in 2018."
Mike and I use Webroot on our computers and both of our Smartphones and are pleased with the protection we have.
7. Truckers based in the USA aren't the only ones dealing with low wages.
According to a June 5, 2018, article, truckers in Iran are on strike over low wages.
8. Yes, some truckers make stupid choices, too.
According to a June 6, 2018, article, "Pennsylvania State Police say that a truck driver was distracted by watching an NFL football game behind the wheel while he caused a crash that claimed the life of a motorcyclist on I-81 last October."
If you were to take a step back and ask which was more important — staying alert to the task of driving or watching a football game — of course, you would choose the former.
Don't let little things distract you from what you're being paid to do: safety drive your truck and haul freight.
9. Questions naturally arose in my mind after reading the June 5, 2018, article about a trucker who overturned her rig after supposedly having a "sneezing fit"(a):
– Is Siri installed only on vehicles or is it also available on phones?
– Why did this trucker have the phone in her hand?
– If she started sneezing, why didn't she put down the phone?
– Knowing that she was hauling a tanker with liquid, why did she swerve and cause the load to shift and lead to the rig overturning?
10. We want to know how both law enforcement and trucking companies classify an accident where a truck lands on its side due to a gust of wind.
Such an accident is captured in a video here.
If a trucker did everything reasonable to avoid an accident, what happens from there?
If being overturned by wind happens to an owner-operator, will his/her truck insurance premium go up?
11. I envision the time when it will be commonplace for small, lightweight loads to be delivered by drones, thus saving some truck drivers the need to go right to a customer's door.
A June 5, 2018, article states, "The future of last-mile delivery includes commercial drones dropping packages in neighborhoods, according to freight and logistics experts."
12. Congratulations to the Grand Island Express truck driver who was recognized as having driven 4 million miles safely!
My husband Mike and I wish you — and all professional truck drivers — safe travels and lots of money saving opportunities on the road.
---
---
Return from TDMST Weekly Round-Up: 2018.06.09 to our TDMST Weekly Round-Up Trucking Commentary or our Truck Drivers Money Saving Tips home page.
---
Reference
a. livetrucking.com/truck-driver-says-sneezing-fit-while-speaking-to-siri-caused-her-to-overturn/ (no longer online)