This is the TDMST Weekly Round-Up of news affecting professional truck drivers, written by Vicki Simons for the week ending December 16, 2017.
We welcome your comments, thoughts and feedback on the items of your choice below.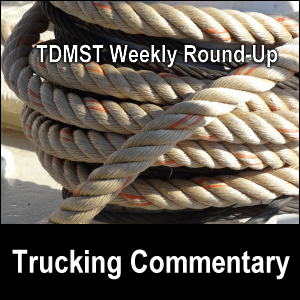 1. A December 15, 2017, article stated:
Congressman Brian Babin (TX-36), who authored legislation to try and delay the imposition of the ELD mandate for two years — dubbed H.R. 3282, the ELD Extension Act of 2017 — took to the floor of the House of Representatives yesterday to implore President Trump to ask for a 90-day waiver from the regulation for the entire industry. …

The Owner-Operator Independent Drivers Association (OOIDA), along with 10 other industry groups and companies, also appealed to President Trump in a letter sent to the White House this week — a letter that also calls for "at least" a 90-day waiver for all sectors of the trucking industry to provide "additional time necessary to address the very serious and reasonable concerns of stakeholders."
Meanwhile, a December 7, 2017, article stated that "the Owner-Operator Independent Drivers Association has "sent a letter laying out its concerns about the ELD rule to all state attorneys general and copied it to representatives in each state".
2. The only good use that I've seen come about as a result of the ELD mandate is described in this December 5, 2017, article.
ELDs capture detailed, driver-certified records of the workday. The primary purpose of the data record is for complying with federal hours-of-service rules, but the technology meets a secondary, and perhaps just as important need, for fleets to comply with California wage and labor laws.

California-based trucking companies can use the data to verify that drivers are compensated for all of the time they spend on duty. This is important since non-productive activities like inspecting equipment, fueling or waiting on dispatch have to be accounted for in driver pay.
Accounting for all non-productive activities will only occur if truckers are truthful on their ELDs.
3. The subtitle of a December 14, 2017, article, summarized one situation very succinctly:
"During Operation Safe Driver week, 43.5% of motorist citations/warnings were for speeding, compared to 7.4% for truck drivers."
4. One December 14, 2017, article with the title "Fine print trucking regulations snag NAFTA modernization talks" made me wonder about the truckers coming over the border from Canada and Mexico:
Are they being forced to comply with the ELD mandate like truckers in the USA are?
5. How about some motivation and statistics?
"There are good reasons why so many companies are suddenly fixated on modernizing a century-old industry. Stricter carbon emission regulations play a part. The swift rise of e-commerce does too. And technological breakthroughs, particularly around autonomous driving, are advancing far beyond the proving ground," states a December 12, 2017, article.
"But above all, it's business opportunity–and trucking is the physical embodiment of a thriving economy. Trucks moved more than 70% of all U.S. freight and generated $676 billion in revenue in 2016, according to the American Trucking Associations. Some 33.8 million trucks were registered for business purposes in 2016. Almost 4 million of them were categorized Class 8…"
6. You can be doing everything right and still die in a trucking accident.
Recent snowfall along Route 27 south of the Canadian border preceded a two-truck collision, according to a December 11, 2017, article.
The driver of a 2010 Peterbilt tractor-trailer truck hauling an empty trailer in a curve "lost traction and jackknifed, and slid into the travel lane of the northbound fuel truck."
The driver of the fully loaded fuel truck was killed instantly.
Our condolences go to the family.
7. A December 8, 2017, article quoted Charles Clayburn, a trucker in Mississippi and one of the spokesmen for the "#ELDorMe" event, who stated:
"Ninety-nine percent of these devices are bluetooth — they are not hardwired into a truck's motor — and anybody with a smart phone, tablet, laptop will be able to hack into the truck's ECM (electronically commutated motor)". He said that that "could make the truck vulnerable to hijacking".
A December 2017 TruckingInfo.com article addressed the question, "How Secure is Your ELD?"
thepacker.com/index.php/article/electronic-logging-device-mandate-draws-trucker-protests (no longer online)
The article said,
"IOActive, a global security advisory firm, earlier this year conducted vulnerability assessment research using several ELDs that were available over the counter at big-box distributors. 'What we found could allow an attacker to pivot through the device and into the vehicle, where the consequences could be disastrous'. …
"IOActive's general conclusion was that all the tested devices did little, if anything, to follow cybersecurity best practices and were open to compromise, with shortcomings such as devices being shipped with debug enabled firmware easily accessible for analysis, and lack of encryption."
8. Will the ELD mandate squelch leisure activities of truckers who own their trucks?
According to this article, one trucker said yes!
"I own my truck and trailer and if I want to hook on to my camper and go to the lake, that is nobody's business," he said. "They are putting an ankle bracelet me just because I decided to drive a truck for a living, and that right there is unfair."
thepacker.com/index.php/article/electronic-logging-device-mandate-draws-trucker-protests (no longer online)
9. According to a December 12, 2017, article, "Zonar has successfully completed testing with the Federal Motor Carrier Safety Administration to confirm that data transfer works between its Zonar Logs electronic logging solution and an authorized safety official's laptop."
The article went on to say that "Zonar is ELD self-certified and third-party validated by industry veteran and former FMCSA Administrator Annette Sandberg, and has successfully tested its ELD with FMCSA".
That's great!
But I feel compelled to ask this:
Why haven't all self-certified ELDs been required to go through third-party validation and testing with the FMCSA before being listed on the FMCSA's website?
10. "The state of California uses fuel taxes to pay for infrastructure improvement and repair – but could change that. … The state of California commissioned a report by CalTrans to look into the viability of a mileage-based tax on all vehicles to eventually replace the tax on fossil fuels," stated a December 11, 2017, article.
As more and more hybrid and electric vehicles come into use, the purchase of fuel will decrease, but the use of roads will most likely stay the same or increase. Something must be done to keep up infrastructure.
What are your thoughts about a per-mile tax?
11. In a December 14, 2017, article, we read: "Last year, the National Highway Traffic Safety Administration reached an agreement with most prominent U.S. automakers that will make automatic emergency braking (AEB) a standard feature on all new vehicles by the 2022 model year."
Meanwhile, another December 14, 2017, article outlined "7 Truck Technologies You Need (And Why)". Number 4 on the list is "Collision Mitigation Technology".
I've raised this issue before, but will raise it again:
Who or what will be at fault if a trucker would have taken evasive action but the truck's technology took over — taking control completely out of the trucker's hands — and the truck crashed anyway?
12. And to end this week's edition, here are some other questions pressing on my mind:
– Regarding Electronic Logging Devices (ELDs):
What will happen if a trucker had enough hours to drive a route but gets stuck in traffic due to an accident up ahead and runs out of available driving hours literally on the road?
Will he/she have to stay parked on the road?
How will he/she move?
Will we start to see lots of stopped trucks on roads in congestion areas?
Recall the horrible accident that was reported in an October 19, 2017, article, which said that felony manslaughter charges have been filed against a semi-truck driver who "stopped for traffic in the far-right lane of Interstate 10" and fell asleep.
– Regarding autonomous trucks:
If they are routed by GPS, what will happen if they encounter road construction?
Will they safely be able to navigate detours of all kinds?
What about the constantly changing situations on the road, like law enforcement officers who have pulled someone over on the shoulder?
Will they be programmed to automatically move over?
My husband Mike and I wish you — and all professional truck drivers — safe travels and lots of money saving opportunities on the road.
---
---
Return from TDMST Weekly Round-Up: 2017.12.16 to our TDMST Weekly Round-Up Trucking Commentary or our Truck Drivers Money Saving Tips home page.