Failure to maintain a safe following distance behind the vehicle in front of you can lead to either a "near miss" or a traffic accident.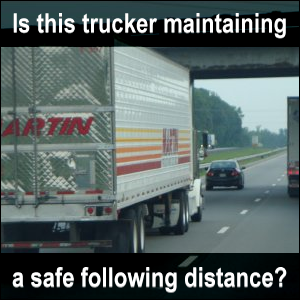 A near miss is one of those heart-pounding situations in which you realize just how close you came to a collision.
You can still be cited for following too closely or tailgating or worse.
An accident is costly in both time and money.
Besides the damage done to your truck and the other vehicle(s) involved, there may be personal injuries or fatalities.
Following distance can very quickly turn into braking distance and stopping distance depending on slowed or stopped traffic ahead.
News Articles About Truckers Who Failed to Keep Adequate Following Distance
We read articles from time to time of professional truck drivers who fail to maintain adequate following distance and wind up in accidents.
Here are some we found online with pertinent quotes:
Truck driver charged with reckless driving in I-495 crash (5/2/2011):


A Virginia State Police spokesperson says the tanker truck was traveling eastbound on Interstate 495 when traffic suddenly braked in front of it.

As the truck tried to avoid striking another vehicle, [it] swerved and overturned onto its side.

In "Accident kills two on Interstate 380 in Coolbaugh Township" (7/30/2010):


Two people were killed this morning when their small sport-utility vehicle was rear-ended by a tractor-trailer on Interstate 380 in Coolbaugh Township, Monroe County.

Pennsylvania State Police at Swiftwater say the SUV, with two occupants, was driving north in the right lane at mile marker 3.7 about 4:35 this morning. The driver braked for another crash in the southbound lanes of the highway, but the driver of the tractor-trailer could not stop in time.(1)

Deadly Tractor Trailer Accident Closes I-64 (5/13/2008):


One person is dead after a tractor trailer accident on Interstate 64 in Bath County early Tuesday morning.
…
Police say the tractor trailer came upon a Chevrolet Cavalier stopped in the westbound lanes and rear ended it. The Cavalier had stopped because of a minor accident up the way. Police were in the process of re-opening the east-bound lanes. Investigators say the tractor-trailer came over the crest of a hill and simply could not stop before hitting the car.(2)

Tractor Trailer Accident: Indiana Family Killed in Semi-Truck Accident (7/29/2009):


In yet another tragic story, a semi-truck/tractor trailer killed an Indiana couple and their three children after their truck caught fire when it was crushed between two semitrailers.

Traffic along Interstate 65 in northwestern Indiana had slowed about 4 a.m. as a vehicle was towed from the highway and one semitrailer could not stop quickly enough after coming over a hill, state police said. That semitrailer slammed the family's pickup truck into another semitrailer.(3)

$23.5 Million Verdict For Tractor-Trailer/SUV Accident (5/22/1998):


James Bastek, 52, and his mother-in-law, Viola Potryala, 79, were killed in a May 22, 1998 motor vehicle accident when a tractor-trailer rear-ended a Chevrolet Suburban being operated by Bastek, which was stopped in traffic, pushing it into the rear of another tractor-trailer. …

The driver of the tractor-trailer that struck the Suburban told investigators he could not stop because his brakes were defective. Investigations by the New Jersey State Police and the Bergen County Prosecutor's Office confirmed that the brakes on the fourth and fifth axles of the trailer were out of adjustment.(4)

State Police Finding: Two Tractor-Trailer Truck Drivers At Fault (1/29/2011):


State police have cited two out-of-state tractor-trailer truck drivers who plowed into two town fire trucks on Jan. 7 on I-95 near Exit 31 southbound during icy conditions, causing severe damage to both emergency vehicles.

Lionardo Suarez, 49, of Miami, FL, and Nansey Ellen Asaro, 48, of Waycross, GA, were issued infractions for traveling too fast for conditions when their vehicles could not stop in time to avoid rear-ending the two parked Stratford fire trucks that had responded to a disabled vehicle stopped in the southbound center lane of I-95 after a previous accident.(5)
Was There Anything in Common Between These Accidents?
If you're like us, you tend to look for trends.
There are a few red flags we see from the foregoing and similar articles about following distance:
The tractor trailer driver is coming over a hill where he/she cannot see what's on the other side;
The accident sometimes occurs in the early morning hours before the sun comes up, hindering visibility;
Mechanical failure that could have been prevented wasn't, possibly because the truck driver failed to do a proper pre-trip inspection;
Inclement weather (rain, ice, snow, fog) helped exacerbate a bad situation; and
The truck driver was driving too fast for conditions.
The tractor in the photo here clearly shows that the driver's side headlights have been smashed out.
This was obviously due to a collision.
Note: By virtue of the fact that the lights are not all working, this truck is not legal or compliant to drive as-is.
Always make sure that you can see where you're driving.
Total Stopping Distance
As we mention on our safe driving page,
The formula to calculate Total Stopping Distance is: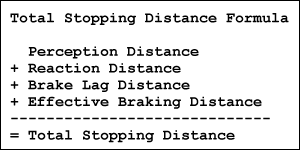 ---
At one time, the Federal Motor Carrier Safety Administration's website stated,
Following too closely may be defined as, "situations in which one vehicle is following another vehicle so closely that even if the following driver is attentive to the actions of the vehicle ahead he/she could not avoid a collision in the circumstance when the driver in front brakes suddenly."(6)
Remember that you need to leave more following distance between your commercial motor vehicle and the traffic in front of you than a car does.
For your convenience, we have embedded below the video "Big Rig Following Distances":
---

Money saving tip: In order to maintain a safe following distance, always bear in mind your terrain and what could be "over the hill."
Always make sure that you can brake safely and smoothly.
Remember, it takes longer to stop in certain conditions.
Your following distance should be geared to many things including traffic flow and weather.
While some trucks are equipped with anti-lock brakes (ABS), that equipment may not totally prevent skidding and jackknifing, especially in inclement weather.
Be a defensive driver.
Anticipate the unexpected.
One rule of following distance is to never ever overdrive your headlights.
Be especially alert when driving during non-daylight hours.
Always perform a pre-trip inspection and verify that your brakes are adjusted correctly.
Even if you have been maintaining proper following distance, all bets are off regarding being able to brake effectively if your brakes don't work!
Never get in a hurry.
Remember that you are a professional and that you are being paid to move freight safely from one location to another.
The well-being of you as a person, the motoring public around you, your truck and the freight you are hauling are worth whatever extra time you need to be safe.
Of course, if you have trouble making a safe on-time appointment, you need to inform your driver manager.
As one of our old fleet managers once said, "The fastest way to cool off a hot truck is in a ditch."
As with other truck operations, so it is with maintaining a safe following distance behind other vehicles: An ounce of prevention is worth a pound of cure.
---
Return from Maintain a Safe Following Distance Behind Other Vehicles, Trucker to our Truck Operations page or our Truck Drivers Money Saving Tips home page.
---
References:
1. www.lehighvalleylive.com/breaking-news/index.ssf/2010/07/accident_kills_two_on_intersta.html (no longer online)
2. www.wkyt.com/home/headlines/18889559.html
3. www.kentuckyinjurylawyerblog.com/2009/06/tractor_trailer_accident_india.html (no longer online)
4. www.rawle.com/Reports_Articles_Details.asp?fileID=98 (no longer online)
5. stratford.patch.com/articles/state-police-finding-two-tractor-trailer-truck-drivers-at-fault (no longer online)
6. www.fmcsa.dot.gov/about/outreach/education/driverTips/Following-Too-Closely.htm (no longer online)