Without a sufficient cash reserve on hand, one trucker paid a foreign ATM fee that was quite expensive when compared to the size of his withdrawal.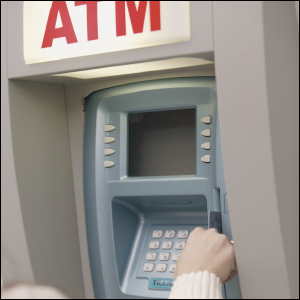 (Normally a frugal person, he was so embarrassed by what happened that he asked not to be named, but he urged us to document this so that other truckers won't fall in the same trap. For this, we thank him.)
He explained what happened like this:
he needed to pay cash for a required but relatively small purchase (at a business that, believe it or not, did not take credit cards!) but…
he didn't have the cash with him, so…
he went to a nearby automated teller machine – one that was outside his bank's network — and made a withdrawal from his checking account with his debit card.
The Terminal Fee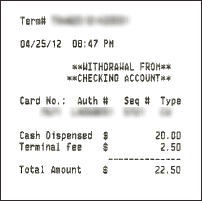 He said that at the time of his withdrawal, he was made aware that he would have to pay a foreign ATM fee.
But what else was he going to do without enough cash on hand?
He had to pay it!
At left, you will see an image of his receipt. (Yes, we blurred out some info to protect his identity and cropped out the location and his bank balance.)
Note the "Terminal fee" that he had to pay.
Based on his $20 withdrawal, the terminal fee of $2.50 represented over 10% of his total transaction.
Not Such a Big Deal?
You may be thinking that $2.50 isn't that big of a deal.
But please allow us to run a couple of figures here of what can happen over the course of one year and ten years with just $2.50 per day.
The calculation in the table below is courtesy of the online Compound Interest Calculator.

Although our trucker friend had read the information we published about the "foreign fee" being charged at some ATMs, this cost was only theoretical until he had to pay one himself!
You can rest assured that from now on, he will be carrying at least some cash with him on the road.
---

Money saving tip: Although it can be considered an admirable thing to put aside as much money as possible in savings, the plan can backfire if you end up short of cash and have to pay a premium to get it.
Yes, we have written about having an emergency fund, but this is for living expenses should something happen to you.
Having a "trucking fund" or "cash account" to work from in your truck is a good idea.
We do not recommend having any certain amount.
Sometimes when truckers travel in the northeastern or midwest USA where there are a lot of toll roads, some truckers like to carry a bit more working cash with them.
One thing you never want to do is be caught without cash at a toll booth when you have no other way to pay for your toll!
Certainly, there are times when a trucker can "splurge" on a purchase.
But why spend money on a foreign ATM fee instead of what you want?
In our own personal home budget, we don't have a separate category for a fee from a foreign ATM.
We wonder how our trucker friend will account for it in his.
Consider the impact of compound interest or other types of investments that can grow your money and one day make your dream come true.
---

Return from Foreign ATM Fee: Trucker Learns Expensive Lesson to our Budgeting page or our Truck Drivers Money Saving Tips home page.
---