Sometimes it's not easy finding hotels for truckers, let alone saving money on accommodations.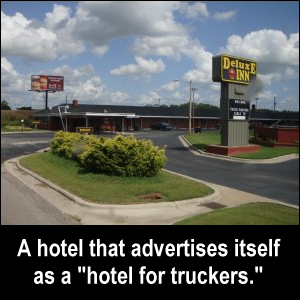 How many times as professional truck drivers have we seen signs like the one shown below, which declares "No Trucks or Trailers"?
But there are truck-friendly hotels and motels out there.
We will describe our experience in trying to find them where we've needed them and also tell you how to save money when staying there.
Need to Stay or Want to Stay?
Some professional drivers need to stay overnight in a hotel or motel because the trucks they're driving don't have sleeper berths in them.
Other drivers book a room for the night because their trucking companies require them to.
One segment of truckers are homeless (as we once were).
During those times, whenever we wanted some "home time" we had to stay in a motel.
Truckers in this category may be grateful for the opportunity to house-sit, but they may like to have others serve them just a bit, too.
Then, there are the drivers who must stay in a hotel because their trucks broke down and are in the shop being repaired.
In cases like this — especially for company drivers — it is possible that the driver's company will pay for the room for them (and possibly pay layover pay in the process).
Check your company's list of employee benefits to know for sure.
No matter what set of circumstances landed you there, it is best if you can get a good quality room for a discount.
(Note: Trucking companies with terminals near hotels for truckers can often negotiate an across-the-board discount for their drivers, but that's not what we're talking about here; we're talking about drivers getting rooms on their own.)
The Obstacle: Vehicle Size Matters
The problem with staying at many hotels is that they simply don't have truck parking!
See this Google Map satellite view capture of a hotel in our home state of South Carolina. Every one of the parking spaces is designed for four-wheeled (or at most, 6-wheeled) vehicles.
Well, at least this hotel doesn't advertise itself as having truck parking.
But there are some hotels and motels that DO advertise they have truck parking and when you look at their lots, you wonder where in the world they expect truckers to park their trucks!
Our Experience
We have stayed in many hotel rooms since we started in trucking in the early 1990s.
Let's take a look at a few hotels with which we are familiar.
---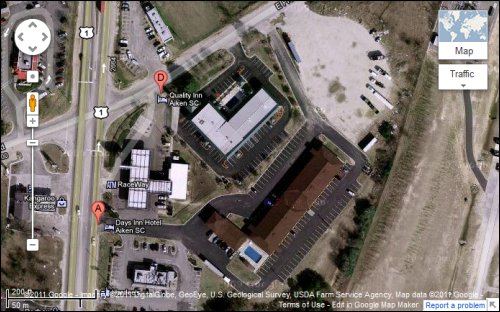 Here is a Google Maps satellite view of two hotels for truckers near each other on U.S. 1 near I-20 north of Aiken, SC.
The Days Inn (larger with brown roof) has been there a lot longer than the Quality Inn in front of it.
The large sandy area to the right is where big rigs can park.
It's a dirt lot. You can see the dark patches in the dirt.
Those were created by the trucks making turns and creating little craters where water or mud accumulates.
We have stayed at the Days Inn many times.
As of the time that this page was originally published, it had just about the lowest rates of all the hotels in Aiken. Why? Because it's not fancy.
Still, they have refrigerators in their rooms, free WiFi and cable TV.
We'll share below how we have gotten a good rate at this hotel.
---
We had just come back to work for U.S. Xpress after the Christmas break — during which our truck was supposed to have been serviced.
But as Vicki was driving in the vicinity of Greensboro, NC, on our way to Philadelphia, the truck threw part of its drive shaft.
Our experience with hotels for truckers was about to be expanded.
As it turned out, we were stuck in Greensboro, NC, for 3 days waiting for the nearby Freightliner dealership to fix a part that had supposedly just been lubricated.
(The mechanic said that the assembly was "dry as a bone." Argh!)
This Google Map satellite view below shows the proximity of a Holiday Inn (see the swimming pool?) right next door to the Triad Freightliner of Greensboro, NC, along a road right off I-40.
The Freightliner shop is not the place for truck parking unless you're getting work done on your truck.
Notice that there is no room specifically designated at the hotel for truckers.
---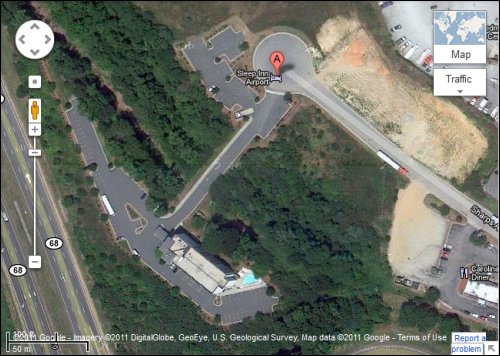 Right down Highway 68 from Epes Transport's headquarters in Greensboro, NC, is a Sleep Inn.
The hotel is near the bottom of the Google Map satellite view photo below.
The parking lot is laid out very oddly and obviously cannot easily accommodate large trucks.
However, there is a road leading up to a large circle that big trucks use (the circle for turning, the road for accessing and parking).
There is a truck repair shop (not shown) just up the road from this hotel.
---

Money saving tip: Instead of trying to find hotels for truckers by trial and error — or taking the word of others (which may or may not be accurate) — you can do what we did by looking up specific hotels and looking at the layout of their parking lots on Google Maps (choose Satellite view in the upper right hand corner).
Most often, when we have arranged for hotel rooms on our own, we have used an online booking service like Expedia.
We usually search for motels most often by price and amenities.
Our idea of a "good motel room" is a low cost one with a refrigerator in it at a facility with a decent rating (and decent reviews).
Although this may not always be the case, we have found that if we book 3 nights in a row through Expedia, we can save 20%.
Of course, restrictions apply, the most likely one being that we have to pay immediately to lock in the price.
In cases like this, we have found that there is no refund!
Still, this is the way we reserved our rooms when we attended the Trucking Social Media Convention in October 2011 and 2012.
As we mentioned before, we have stayed at the Days Inn at I-20 in Aiken, SC, often.
Once when we were there, they said that having booked our room through Expedia did not give them any flexibility regarding our booking.
However, they would be willing (unless they were booked up) to match Expedia's price if we would call them.
Now, this may not work for others, but it has worked for us.
Make a call, cite the rate that we can get through Expedia, tell them what kind of room we want, and the reservation is made. Poof!
However, in order to get low rates at lots of different hotels for truckers — the ones that have been screened in advance and approved by someone who knows trucks — we recommend using the service of our friend Dan Fuller, who runs Hotels4Truckers.com.
There is a small membership fee (only $10) to use his service, but you can more than make that up through the discounts Dan arranges through his site.
Dan continues to expand his list of suitable hotels for truckers to better serve his customers, so feel free to zip on over to his site.
Meanwhile, we have prepared a special downloadable form entitled "Packing List for Hotels for Truckers" that is not available anywhere else on our site.
Just fill out the form below and you'll get it right away.
---
Return from Save on Hotels for Truckers: Truck-Friendly Hotels and Motels to our Trucker Services page or our Truck Drivers Money Saving Tips home page.
---