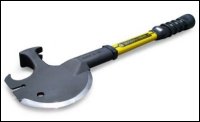 Instead of carrying multiple tools, would the all-purpose Innovation Factory Truckers Friend be a good choice to carry in your truck?
The product is shown at right.
Please note that this product should not be confused with the popular annual publication "The Truckers Friend", which we make available through our affiliate relationship with Amazon.com.

[adinserter block="3″]
The product description reads,
"The trucker's friend is an all purpose tool, built tough and specifically designed to meet the needs of professional truck drivers. In any situation that requires hacking, prying, pulling or pounding, you will feel real peace of mind with this serious tool on board. It includes curved axe, spanner, hammer, nail puller, tire chain hook, pry bar and lever."
Also, it has a shock absorbing power grip and fiberglass handle. It is made in the USA.
As of this date (March 2012), the product has received three reviews, all of them giving the product 5 out of 5 stars (highest possible rating) on Amazon.com. However, none of the reviews appears to have been written by professional truck drivers.
---

If you are a professional truck driver and you have used an Innovation Factory Truckers Friend within the last 6 months, we invite you to review it through the form below, answering questions such as these:
Have you ever used it in the course of your work as a professional truck driver, and if so, in what capacity?
Of the tools you used, how well did they work?
Did the product's size hinder your ability to use any of the tools?
How would you rate the quality of the product?
Do you think the product was worth the price you paid for it?
How did this product save you money?
Would you buy this product again and why?
---
---

Return from Reviews of Innovation Factory Truckers Friend by Truckers to our Product Reviews page or our Truck Drivers Money Saving Tips home page.
---