Do not contact us about TripPak Express!
Based on calls that we have received since 2020:
contact information about TripPak Express cannot be found online; and
weeks after drivers have dropped envelopes containing their bills of lading in TripPak Express boxes, they have not been picked up and delivered to trucking companies.
Therefore, we cannot now recommend this service.
Please seek an alternative solution to getting your (or your drivers') paperwork to your company.
If having virtual copies will meet your needs, you may decide to use a document scanning service that has locations at major truck stops along the freight lanes your drivers use.
One option is to mail paperwork in 6″ x 9″ white envelopes — like those shown below from Amazon.com, with whom we have an affiliate relationship.
Pre-printed envelopes will make things super-easy for drivers.
In the event that you want to provide labels separately from envelopes — and let the drivers apply those as needed — please make sure that they are the kind that won't easily peel off an envelope.
---
A document scanning service named TripPak Express is available in some truck stops and was used by Mike Simons from time to time when he drove regionally.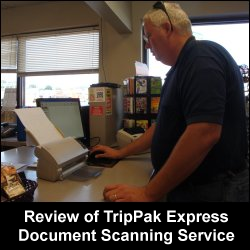 This is his review of this service.
Mike used the service to scan in the paperwork from a trip — cover sheet, bills of lading, scale tickets, etc. — so that his company would have it more quickly than sending in the hard copies.
By using this service:
His company was able to collect revenue more quickly and
He got paid in a timely manner.
Background Information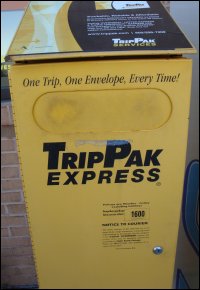 When Mike and Vicki first started out in trucking, we were familiar with the yellow TripPak Express drop boxes outside the doors of many truck stops.
The service physically moved the hard copies of the trip paperwork that were placed in specially marked envelopes and dropped in the drop boxes.
Then over time, technology progressed to the point that instead of having to physically transport the trip paperwork, images of each sheet could be sent electronically.
Enter in the age of "document scanning services."
Preparing to Scan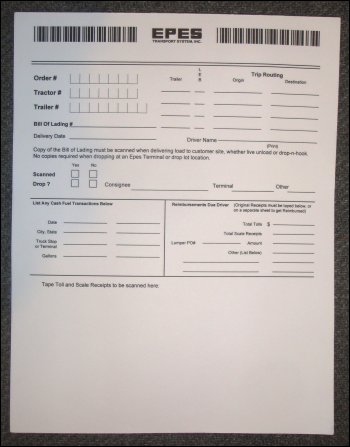 To do the scanning, Mike's trucking company provided him (and each of their drivers) with a company-specific pad of cover sheets.
By using these sheets, when the paperwork was scanned in, the information would be sent electronically to them.
Document Scanning Service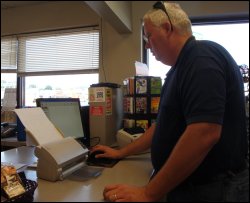 In this photo, Mike Simons used TripPak Express to scan in documents from one trip.
This set up was completely self-serve.
If it were the case that a particular truck stop had the scanning hardware behind a counter, Mike would have let the scanning clerk know how many total pages were in the pack, so as to make sure that each one was scanned in.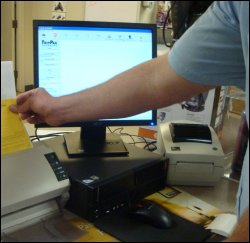 At a different fuel desk, Mike Simons scanned in a batch of paperwork from one trip, this one including a CAT scale ticket.
Although it is not visible in this photograph, there were instructions about how to use the service to scan in loads.
The scanning device works a bit like an automated copier where each sheet is fed through a slot.
Instead of making a hard copy, the device makes a scan.
This photo shows the screen on the monitor with the image of the CAT scale ticket using the TripPak Express document scanning service.
Each page in the batch had its own scan.
Mike was always very particular about making sure that pages were scanned "straight" (instead of at an angle).
This particular scanning set-up included a printer (which you can see two photos up) that — upon completion of scanning in every page of the paperwork — printed a scan confirmation on an adhesive-backed label.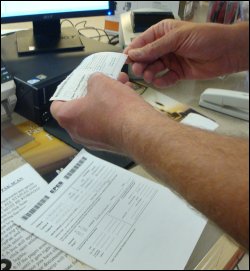 Mike peeled the back off the adhesive-backed scan confirmation label…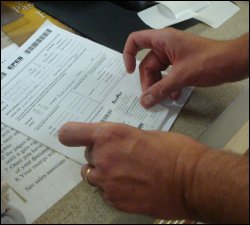 … and deliberately placed it in the space on the cover sheet designed for it.
Note: A different document scanning service available at some truck stops prints out scan confirmations on specially-sized paper slips.
Those slips were about the size of a large receipt.
When using that service, he would staple the receipt on top of the stack of scanned paperwork.
After the Scan
After a trip's batch of paperwork was scanned, Mike stored the batch in his aluminum forms holder for a number of weeks.
He did this so that he would have the paperwork with him in case the company needed for him to re-scan it. After about two months, he removed older paperwork batches to make room for newer ones.
He could also refer to batches of scanned documents to make sure that he got paid for everything associated with the load on his weekly settlement sheet (especially purchases that were to be reimbursed).
Timely Payment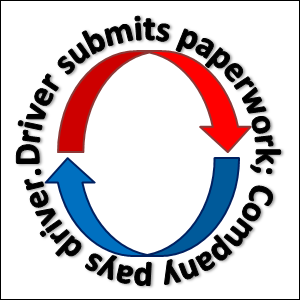 Mike's at-that-time trucking company usually paid the drivers on the basis of the scanned paperwork.
As long as the document scanning service was used before the deadline for the week, he could usually expect to be paid for that trip that week.
By processing paperwork from trips in a timely manner, Mike could expect timely payment for his work in delivering the load that the paperwork represented.
Perhaps you have had times in your career when payment you anticipated did not arrive when you expected it and you had to shuffle around some financial obligations.
If this has happened to you, you know that this can create stress for drivers.
Conclusion
Mike highly recommends TripPak Express document scanning service.
You used to be able to learn more about this service — and others offered by the company — on TripPak.com, but as of 2018, we had problems pulling up the website.
Note: Even though it sounds the same, the spelling of the name of the service is neither "Trip Pak Express" nor "Trip Pack Express" but "TripPak Express" (where the words are together and no "c" appears in the name).
---
Return from TripPak Express Document Scanning Service: A Trucker's Review to our Service Reviews page or our Truck Drivers Money Saving Tips home page.
---