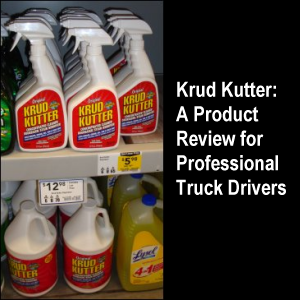 In the past, one of Vicki's favorite cleaning agents was Krud Kutter.*
She has used both the Original and "Tough Task Remover" formulations.
Both are able to cut grime and greatly reduce scrubbing time for challenging cleaning situations.
What the Labels Say
The photo at right shows a display of 32 ounce trigger bottles and 1 gallon refill bottles of the Original formulation at a store.
Reading off the label, the Original formulation is a "Concentrated Cleaner/Degreaser Stain Remover" that "cuts grease, grime, oil, tar & wax fast."
It also removes dried latex paint.
The description of the Tough Task Remover (not shown at right) is "Removes Goo, Gum, Grease & More."
Both are said to be non-toxic and biodegradable.
Both labels read: "No other single product removes really tough soils as quickly and effectively from so many different surfaces."
Both products can be used full strength or diluted with water.
How the Products Work
Vicki has used both products in full strength and diluted forms and they work very well.
When it comes to removing dried latex paint, Krud Kutter Original works well on some surfaces that would otherwise be ruined by Goof Off.
Vicki gives the highest ratings for this product for reasons you will soon see.
Cleaning Glass
These photos show two light shades in a sink (drain visible under the top one).
Both shades were pretty grimy before cleaning.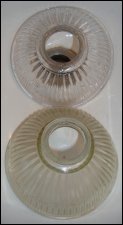 In this photo, the top shade has been cleaned with Krud Kutter, the bottom has not.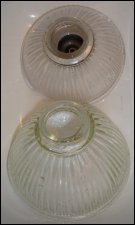 In this photo, both shades have been cleaned.
We hope you are able to see the huge difference — before and after — with the bottom shade.
Cleaning Glass-Ceramic Cookware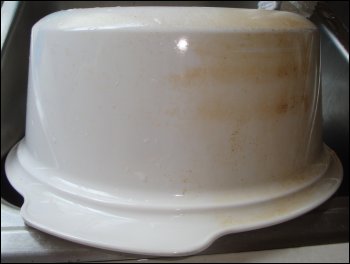 Here is a photo of a Corning Ware slow cooker liner (upside down in a sink).
Over the years, it had accumulated a good bit of baked on grime.
Soap and water alone could not touch it, no matter how much Vicki scrubbed.
However, she sprayed the left side with full strength Krud Kutter, gave it some time to work, and then scrubbed it.
You can see for yourself the big difference that the cleaning agent made.
Cleaning Plastic Bags
Vicki has also used the product to clean sealable plastic bags.
However, it should be noted that in addition to removing the grime from the bags, the full strength cleaner also removed the "frosting" from the outside of the bags upon which people can write details about the contents with a permanent marker.
Using Krud Kutter in a Truck
Early in our driving career, Vicki didn't know about Krud Kutter; however, she and Mike have used it successfully in the trucks Mike has driven regionally.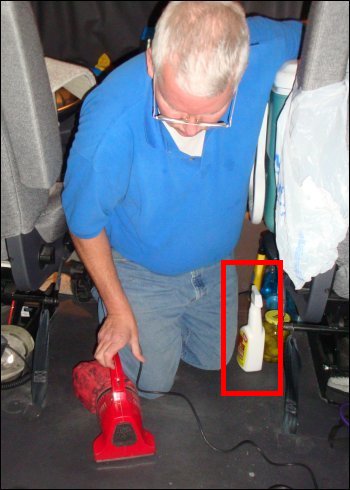 In the photo shown here, Mike is using a handheld vacuum cleaner to remove loose dirt from the floor.
Next to him (highlighted with a red box) is a trigger bottle of Krud Kutter.
Among other places, we have used this product for cleaning the vinyl floors which had become grimy from the continual tracking in of dirt on the bottoms of our shoes.
Cautions
Clearly written on both labels are cautions that the products are an eye and skin irritant.
Although Vicki has worked with the products without using gloves, we do recommend wearing rubber gloves while using these products.
(* Note: Since this page was first written, Vicki has a different favorite cleaning agent, one that does not cause eye or skin irritation.)
Where to Buy It
Below, we have listed the links for the 32 ounce trigger bottle and the one gallon refill size of the "Original" Krud Kutter through Amazon.com, with which we have an affiliate relationship.
Note: You may be able to find these products for less money elsewhere:
---
Summary
Even though Vicki has not used these products in all of the applications indicated on the bottles, she gives them the highest rating for cleaning at an affordable price.
---
Return from Krud Kutter: A Product Review for Professional Truck Drivers to our Product Reviews page
---