OTR truckers need to clean their trucks periodically. A good hand held vacuum cleaner — especially if you have carpet in your truck — can go a long way toward helping you keep your truck looking nice.
We have had a couple of vacuum cleaners in our trucks over the years which we'll describe shortly.
However, let's take a look at some of the options that are available to you.
For Use in Your Truck
The first thing that should be apparent from a storage perspective is that you most likely don't have room in your truck for a bulky upright vacuum.
You need something more compact.
Unless you get a battery-operated or rechargeable unit, you'll also need a way to power it.
These photos show displays of vacuum cleaners on sale at truck stops.

This photo shows three different styles of units made by RoadPro.
This photo shows two styles made by Tracker and another by Burton.
Let's take a closer look at some styles and features.
Most vacuums for sale in truck stops are wired for 12-volt DC power.
Hand Held Vacuum Cleaner Options
Although this may be very simplistic, we have found options among hand held vacuum cleaners as follows (although some choices may not be able to be combined):
DC-powered only; AC-powered only (usually not for sale in truck stops); or AC- and DC-powered (with different plugs for each type of outlet);
Bagged or bag-less;
Belted or beltless;
Dry-only or wet/dry material handling;
Handle-style or canister-style;
Corded or cordless;
Powered or rechargeable; and
Accessories included or available separately.
Comparing Truck Stop Merchandise with Retail Merchandise
Our own personal observation is that most vacuum cleaners for sale at truck stops are 12-volt only whereas others may have both a 12-volt and AC adapter. We have never seen for sale at a truck stop an AC-only-powered hand held vacuum cleaner.
It's always a good idea to compare what is available for sale in a truck stop with what you can buy through traditional retail outlets.
For that reason, we have taken the liberty of comparing two Dirt Devil hand held vacuum cleaners here (courtesy of our affiliation with Amazon.com) and listing a few of their features.
4-amp motor with deep cleaning revolving brush; two-speed switch
Lightweight, compact design
Built-in stretch hose and crevice tool
For cleaning stairs, upholstery, cars, and RVs
Long 20-foot power cord; cord storage strap
Powerful 6-amp handheld vacuum with versatile applications
Detachable power nozzle with revolving brush for hard-to-reach cleaning
Beltless and bagless for easy maintenance
Onboard hose and crevice tool for nooks and corners
15-3/4 by 6 inches by 9 inches
One of the first things you may notice in both lists is the sizes of the motors.
When you're looking to buy any electrically powered cleaning tool, make sure you get enough "oomph" to meet your needs. There's no reason not to — not any more…
Our Experience
For a long time, we struggled to clean our trucks with our household upright vacuum.
We considered:
the size and weight of the appliance,
having to "heft" it into and out of the truck,
running a power cord from wherever we could get power, and
fiddling with the hose and attachments.
This was an option that lost its appeal really fast!
When we first started in trucking in the early 1990s, our only option for an in-truck vacuum cleaner was the 12-volt variety.
To the best of our memories, inverters (even the small type that can be plugged into a cigarette lighter) were not available for sale at truck stops.
Over time, that changed, but until it did, we were "stuck" with what we could get that would work in our company-issued truck.
We found our 12-volt hand held vacuum cleaner far inferior to any AC-powered version.
Not only was the suction ability pitiful but the electrical connection (for lack of a better word) "burned out."
Within a very short period of time, we ended up throwing it out. It was a complete waste of money.
When we purchased our first battery-connected inverter, the AC-powered world opened up to us.
We purchased an AC-powered Dirt Devil hand held vacuum cleaner with a separate set of attachments (which frankly we rarely used).
It was far superior to the 12-volt appliance we had purchased. (We'll show photos of using it in the truck below.)
In fact, we still have and use the appliance today.
Warranty Reflects Quality
Some folks may disagree with us, but we view an appliance's warranty as a reflection of its quality. We have ranted about this before on our site.
A short warranty period means that the manufacturer is not willing to put its name on the line for a longer period of time.
That's a red flag to us.
One brand of 12-volt appliances in particular is famous for having only a "90 Day Limited Warranty" on their products.
What if your unit tears up or stops working on the 91st day? You're flat out of luck.
Compare, for example, the following two units: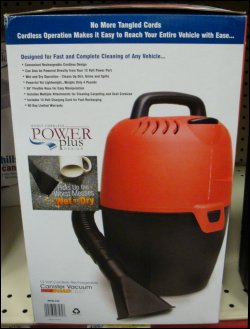 The photo at left shows the panel of a canister style 12-volt vacuum cleaner on sale at a truck stop.

This is a close-up of the features of the unit.
The last bullet on the list reads: "90 Day Limited Warranty".
The vacuum shown here — although also a 12-volt version — has a "One year limited warranty!"
Please see the lime green box near the bottom of the panel.
We're not saying that the quality of the one with the longer warranty is better than the one with the short warranty.
Nor are we recommending buying one over the other.
But the warranty period is something that should weigh into your purchasing decision.
The Package
The package or box of an appliance for sale at a truck stop can be very revealing.
Don't just read what is printed on the box; evaluate it.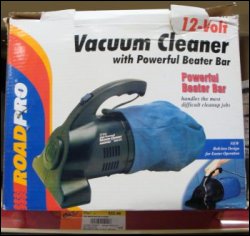 Besides noting that the product shown here is the 12-Volt variety, the box says this product has a "Powerful Beater Bar."
Some buyers will take that at face value.
However, we encourage you to compare the specifications against other similar products to see if that is true — as in "powerful" compared to what?
Also notice how, uh, "mangled" or "roughed up" the box is on top.
It is obvious that a lot of truck drivers have opened and closed the box.
They've examined the contents.
Is the appliance worth the $32.99 that it is being sold for?
Look at the side panel. Notice the last bullet: "90 Day Limited Warranty." Is this product worth the price?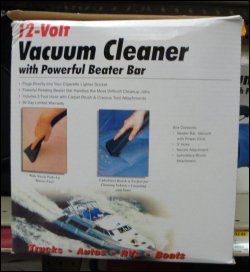 You may need to go to a different truck stop chain to find much of any variation in product styles.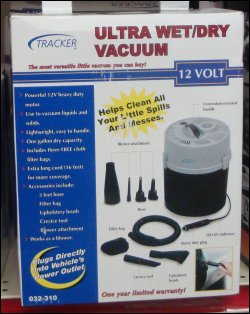 Although the products shown at left and below both have a "One year limited warranty" (which is an indication of its quality) and both have attachments, they may or may not meet your needs.
Which gives you the flexibility you need?
Wet/Dry Vacuums
We have no experience in using wet/dry vacuums.
We wonder what kinds of spills or leaks a trucker may encounter is his/her truck that would require the use of this kind of appliance.
(We mean: can't something "wet" be mopped up instead of vacuumed up?)
If you consider buying one of these, make sure that the appliance has been constructed so that the wet product never touches the electrical components.
Using Our Hand Held Vacuum in a Truck
The photos below show Mike Simons using our Dirt Devil AC-powered hand held vacuum cleaner to clean the floor in two different trucks he drove.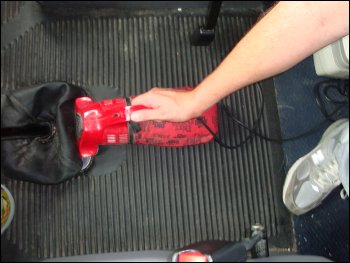 In this truck, there was ridged vinyl in the front part of the tractor and ultra short pile carpeting in the sleeper area.
Mike is using the vacuum to suck dirt out of the hard-to-reach area under the gear stick cover.
He is sitting on our portable toilet while vacuuming.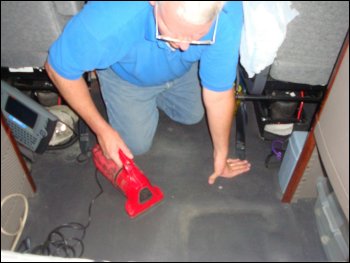 In this truck, the entire floor was covered with vinyl. No carpet! Hurray!
Here, Mike is vacuuming the rather smooth vinyl floor just inside the sleeper area.
Two power cords are visible: the unit's black power cord and an off-white cord, which was part of a surge protector plugged into a battery-connected inverter stored in the cabinet.
Mike had moved our portable toilet to clean the area where it had been placed.
Summary
For day to day cleaning out of dirt, you may be able to use a whisk broom (or combination whisk broom and dust pan) to sweep dirt out of your truck.
Depending on the size and nature of a small sticky area on vinyl flooring, you may need a baby wipe, a moistened paper towel or a rag with some Krud Kutter sprayed on it.
There are "blow gun kits" that allow drivers to "blow" dirt out of a truck (assuming that one has the air pressure inside one's cab to make it work).
We don't recommend using a blow gun for OTR drivers who live in their trucks as it could blow dirt into your clothing, bedding or foodstuffs.
Mike reported success in using a blow gun in the day cab he drove during one local truck driving job.
For "collecting" dirt from hard to reach areas, carpeting or some inside door mats, one has to use a vacuum cleaner.
Of course in a truck, a hand held vacuum cleaner fits better than larger models.
---

Money saving tip: Before you buy a hand held vacuum cleaner, you will need to determine where you plan to use it.
If you are planning to use your unit only in your truck, a DC-powered (12-volt) model may work for you.
However, if you would ever like to use it in an AC setting, it may be short-sighted to invest $30 or $40 in a DC-powered vacuum.
Another thing that you'll need to determine is whether or not you will need attachments on your vacuum cleaner.
If you do, which attachments will you need?
Will the attachments that come with your unit meet your needs or do you need to buy an additional set of attachments?
How much extra will those cost?
Among the most useful hand held vacuum cleaner attachments that we have found for use in a commercial motor vehicle is a narrow nozzle or crevice tool for getting in small spaces (or for concentrated suction).
The area just inside the driver's door (where the vinyl meets the metal door frame), under the fuel pedal and on the floor around the seats are places where a narrow nozzle are especially handy.
Compare features with our Hand Held Vacuum Cleaner Comparison, available through our Free Downloads page. Evaluate for yourself which features work best for you.
---
Return from Hand Held Vacuum Cleaner Guidance for Professional Truck Drivers to our Packing List page or our Truck Drivers Money Saving Tips home page.
---