Among the many plans offered by Pre Paid Legal Services (PPL) — now called "LegalShield" — is their Commercial Drivers Legal Plan (CDLP).
Disclaimer: Although we
freely admit that we have had a personal family plan through this firm since the mid-1990s, we
have never had one specifically geared for commercial drivers.

Any time that we have ever needed legal help with something in connection with our truck driving jobs, we have used our personal family plan, gotten a referral and paid the difference.
Our Membership
The images below are of Vicki's membership card (edited to remove member ID).
She and Mike both carry their cards in their wallets so that they have it whenever they need legal assistance.
The front of Vicki's PPL card shows that the service was first started in 1972..
The back of Vicki's PPL card (personal info marked out) shows
– the company's contact information and
– the membership info of the member.
How The Pre Paid Legal Plans Work
The way their plans work was captured on LegalShield's website (1):
"Members have direct, toll-free access to their provider law firm, rather than having to comb through the yellow pages for a referral. Provider firms are carefully selected and the quality of service is closely monitored to maintain the highest of standards. Last year alone, our firms received over 2.1 million calls from our Members."
Since the service changed to LegalShield.com, we have found it difficult to find information about their Commercial Driver's Legal Plan (CDLP) on their site.
As of the time this page was written, it was no longer listed under Individual plans.
When it was under Pre Paid Legal Services, the CDLP available in our home state of South Carolina provided these main benefits:
Tragic Accident Representation
Moving Violations
DOT And Non-Moving Violations
License Reinstatement
Property Damage Collection Assistance
Personal Injury Collection Assistance and
All Other Transportation Related Legal Work.
Big Trucks Are Subject to Being Pulled Over at Any Time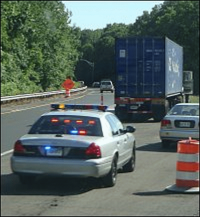 This photo shows a law enforcement vehicle behind a big truck.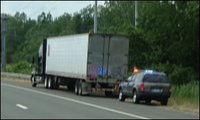 This photo shows a large truck that was pulled over by law enforcement.
Our Experience With PPL in Trucking
Our experience with Pre Paid Legal in the past taught us that legal help on in-state commercial driver matters — for those who have a family plan but not a CDLP membership — were handled by the law firm in the state.
However, out-of-state legal matters were always referred to a qualified attorney in the target state.
What we're looking for on this page are reviews from those who have PPL's (or LegalSheild's) full-fledged Commercial Drivers Legal Plan.
---

If you are a professional truck driver and you either currently are — or within the last 6 months have been — a Commercial Drivers Legal Plan member with Pre Paid Legal Services or LegalShield, we invite you to review it on this page through the form below, answering questions such as these:
How long have you been a CDLP member?
If you

were but no longer are

a CDLP member, what factor(s) caused you to leave?
What are the top 3 reasons why you became a CDLP member?
Did you use any of the benefits that CDLP offered? If so, which ones?
How would you rate the quality of the benefits offered by CDLP ?
Do you think that your CDLP membership is/was worth the price you paid for it?
How did membership in CDLP save you money?
Would you become a CDLP member
again and why?
---
---
Return from Pre Paid Legal Services CDLP: Reviews by Truckers to our Service Reviews page or our Truck Drivers Money Saving Tips home page.
---
Reference
1. sites.legalshield.com/EmploymentApp/JSP/start.jsp (no longer online)