Introduction
Vicki was contacted about reviewing the Brownie Mix product and two others from Valley Food Storage in late 2015.
This page contains a review of the "brownies in a bag" or "dessert in a bag", complete with photos and commentary.
Vicki noticed right away that this product was much larger than the other products that we were sent for review.
This package contained 900 grams or 1.98 pounds of dry ingredients.
Would a consumer be willing to divide the batch in half (or into even smaller preparation sizes)?
It would be impractical for a professional truck driver to bake this entire pan of brownies in his/her truck (unless he/she had a 13.5-inch by 9-inch rectangular baking pan and a full-size oven at his/her disposal).
Storage Pouch
This product came sealed in the pouch shown here.
The label states: "NO MSG – NO TRANS FATS – SEA SALT
NO CHOLESTEROL – PALM OIL – JUST ADD WATER"
The ingredients are:
Blanched wheat flour (enriched with niacin, iron, thiamine mononitrate, riboflavin, malted barley and folic acid),
Sugar,
Dextrose,
Palm oil,
Cocoa,
Wheat starch,
Sea salt,
Sodium Stearoyl Lactylate,
Leavening – baking powder,
Baking soda.
The directions are for baking Brownie Mix in an oven.
For truckers who have a smaller portion size (see below), this product could possibly be baked in:
either a toaster oven connected to a sufficiently-powered battery-connected inverter
or even a 12-volt "lunchbox oven" (as long as some steam is able to escape).
What the Brownie Mix Looks Like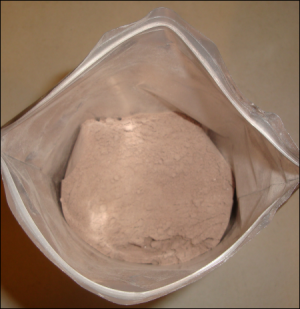 The photo here shows the dry Brownie Mix in the pouch.
Vicki transcribed the directions in mixed case (not all upper case as is shown on the pouch).
Directions: Mix contents of bag with 1-¼ cup of hot water or to the desired consistency. Scrape edges of bowl and mix until all water is absorbed. Pour batter into lightly greased baking pan or desired baking container. Bake in oven at 350-375 degrees for 18-22 minutes or until done. Mixing instructions and baking times may vary depending upon kitchen conditions.

Option: Add egg and/or oil for a richer more moist brownie.
Mixing the Batter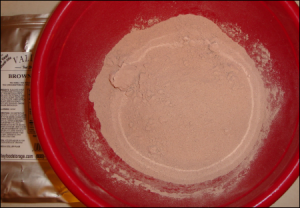 Vicki poured the dry mix into a large bowl.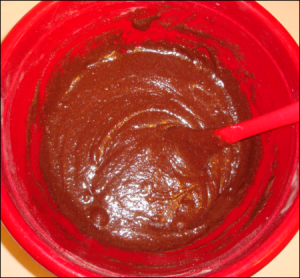 She mixed the dry brownie ingredients with water and an egg.
At first, she wondered if all of the liquid would be absorbed by the dry ingredients, but as you can see, they did.
The batter was neither too thin nor too thick.
Oven Preparation and Baking
Again, this is enough brownie batter to make a complete "cake" — filling a 13.5-inch by 9-inch pan.
This is way too large for small preparations in the cab of most tractors (especially those driven by company drivers).
Perhaps a trucker's home support team member could divide it for a trucker to make in his/her truck, but it still does not seem very practical to divide it out of a sealed bag.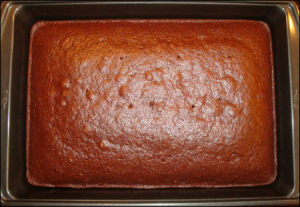 Vicki took a conservative approach when baking this dessert.
She chose to set the temperature at 350°F.
For this reason, it took quite a number of minutes longer for the "cake" to bake.
Serving the Brownie Mix Dessert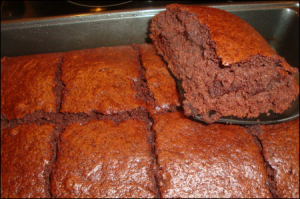 Indeed, when it came time to serve this dessert, it came up "cakier" (more cake-like) than a standard brownie.
As Mike prefers his brownie to be lighter and cakier than a fudgy-style brownie, this worked out well for him.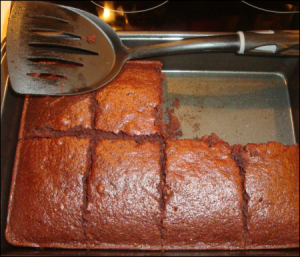 The brownie-like cake was tasty, but not quite like one can fix from scratch at home.
Because the cake pan had been lightly greased, it was very easy to remove this dessert from the pan.
Clean-up afterwards was also a breeze.
Brownie Mix Review: Observations and Conclusion
Point of Evaluation
Observation and Rating
Quantity in bag or pouch
900 grams or 1.98 lb.

In Vicki's opinion, this is way too large for many truckers to make in their trucks all at once.

Number of Preparations in Bag
One.
Ease of Preparation
Easy. Just add water (or egg and water), stir well, pour in pan, bake until done and enjoy!
Texture and Appearance
Because Vicki added an egg, this product turned out "cakier" and lighter than standard brownies are. Had the egg not been added, it may have turned out to be "fudgier".
Water Absorption
This product totally absorbed all of the water and egg added to it. Upon being mixed, it was just right in batter consistency, not too thin and not too thick.
Taste
The cakey brownie tasted good.
Longevity
The label states "Up to 25 Year Shelf-Life". The pouch is sturdy and is intended to have a long shelf life.

Furthermore, the website indicates that this product is "Hand sealed inside a Nitrogen flushed Mylar Pouch." Packing food products in nitrogen reduces the opportunity for oxidation and deterioration over time.

Cost
A bag of "Brownie Mix" — as listed on was once listed Valley Food Storage's website — costs $34.95 (as of February 2016). Since the contents of the package weighs "1.98 lb", that ends up being $17.65 per pound.(1)

It should also be noted that the product listed on the VFS website specifically states, "Comes in (30 serving) individual pouches", which is clearly not exactly the same product as the "brownies in a bag" that Vicki reviewed.

According to the label shown on the website, the serving size is 1/4 cup. If each of the 30 servings is 1/4 cup, then that is 7.5 cups of product. Multiply by 8 ounces per cup to get 60 cups, which translates into 3.75 pounds, again, not the same size of product that Vicki reviewed.

A somewhat comparable product on Amazon.com — with which we have an affiliate relationship — is Duncan Hines Fudge Brownie Family Size. Because the Duncan Hines product weighs 18.3 ounces (1.14 pounds), one would actually need two to approach the size of the VFS product. So, the cost of two DH mixes (as of February 2016) would cost ($4.94 * 2 = $9.88).

One could argue that the DH product is not in a bag that is designed to last for 25 years; however, it could potentially be stored in a vacuum-sealed glass jar for a period of time.
We can envision no circumstance under which someone would need to store a dessert product for up to 25 years.
However, perhaps this product can be kept on hand for "emergency purposes".
Return from Review of Brownie Mix from Valley Food Storage to our Product Reviews page or our Truck Drivers Money Saving Tips home page.
Reference
1. valleyfoodstorage.com/products/brownie-mix/ (no longer online)