Through NKBJ InfoNet LLC, we have developed this Privacy Policy because we are serious about privacy.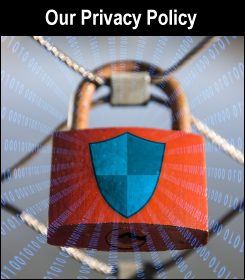 As a leader in the area of helping professional truck drivers save money, Truck-Drivers-Money-Saving-Tips.com strives to maintain the highest standards in all our operations.
Accordingly, we are committed to protecting the privacy of personal information gathered from our visitors, readers and customers.
On this page, we outline the types of personal information we receive and collect when you use our website as well as some steps we take to safeguard your information.
Based on this, you can make an informed decision about sharing your personal information with us.
Personally Identifiable Information Collected
Truck-Drivers-Money-Saving-Tips.com collects personally identifiable information from our website's visitors strictly on a
voluntary basis.
This information may include
your name,
your mailing address,
your email address,
your telephone number, and
your IP address.
If you represent a business, we may additionally ask for
your company name,
your position at your company, and
your company's website URL.
Where Information is Collected
You may submit your personally identifiable information when you
subscribe to our email newsletter,
contact us through any of the free forms on our site (such as our Contact Us page or Ask a Question page),
submit a money saving tip or comment through any of the content forms on our site (such as the one on our Truck Operations page), or
interact with us through any of our social media channels.
Information collected through our email newsletter subscription form is used strictly for that purpose.
Information collected through our free forms is reviewed internally and responded to appropriately.
As it becomes necessary, this information may be used to improve the content of our website.
Visitors may be notified of site updates.
Reviewed information is either discarded or stored.
Personal information received from any visitor will be used only for internal purposes and will not be sold, rented, given away or provided to third parties.
Use of Cookies and Web Beacons
In the course of ads being served on this website, third parties may place and read cookies on your browser or use web beacons to collect information.
Your options for cookie management are:
| | |
| --- | --- |
| Browser | Settings |
| FireFox | Tools -> Options -> Privacy |
| Internet Explorer | Tools -> Internet -> Options |
| Chrome | Tools -> Options -> Under the Hood -> Content Settings (Privacy section) |
| Safari | Preferences -> Security |
| Opera | |
Browsers such as those listed above can be set to accept or reject cookies or notify you when a cookie is being sent.
Privacy software can also be used to override web beacons.
Targeted Readership
This website has been written for adults, that is, for those who are professional truck drivers and their home support teams.
Although some information we provide may be useful to children under the age of 13, we do not knowingly collect or use
personally identifiable information from anyone under the age of 13.
Content on this site may or may not be appropriate for persons 13 years of age or younger.
Parental oversight is advised.
Collection of Non-Personally Identifiable Information
In some cases, we may collect non-personally identifiable information about you which we use to
administer the site,
track users' movements around the site,
analyze trends, and
gather demographic information about our readers.
We use this collected information for internal purposes only and never share it with others for commercial purposes.
How You Can Have Your Personal Information Corrected or Deleted
If you have submitted personal information through our website and would like that information to be corrected or deleted, please contact us.
Privacy Policy Changes
Truck-Drivers-Money-Saving-Tips.com reserves the right to change this Privacy Policy at any time.
Any changes that affect our privacy practices will be noted on this page, which we encourage you to review periodically.
Agreeing to Policy Terms
If you do not agree with the Privacy Policy posted here on Truck-Drivers-Money-Saving-Tips.com, please do not use this site or any services we offer on or through it.
Your use of our site indicates your understanding and acceptance of our Privacy Policy.
---
Further Terms
The following Privacy Policy terms have been published on this site since February 19, 2015, on our Terms of Use and Legal Documents page.
---
Return from The Privacy Policy of Truck-Drivers-Money-Saving-Tips.com to our Contact Us page or our Truck Drivers Money Saving Tips home page.
---