This is the TDMST Weekly Round-Up of news affecting professional truck drivers, written by Vicki Simons for the week ending July 6, 2019.
We welcome your comments, thoughts and feedback on the items of your choice below.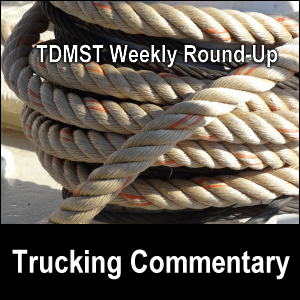 1. Regarding July 4th holiday:
There is an increased risk of cargo theft over the extended July 4, 2019, weekend, according to articles here, here, here and here.
CargoNet has defined the Independence Day holiday period as July 1-7 and "recommends truck drivers avoid leaving cargo unattended in high-theft areas such as Los Angeles, Dallas-Fort Worth, Chicago, Atlanta and Miami."
The articles also cover other practical tips to avoid cargo theft, as well as notable thefts that have taken place over the July 4 holiday.
This article states, "AAA expects 41.4 million people to be on the roads over the holiday."
Meanwhile, some places are offering free meals for veterans, active military and others on July 4th, per articles here and here.
2. Regarding CVSA's Operation Safe Driver Week:
According to a July 3, 2019, article, "The Commercial Vehicle Safety Alliance"s annual Operation Safe Driver Week, which focuses on unsafe driving of both trucks and cars, has been announced for July 14-20 with a focus on speeding."
As you may have guessed, this event focuses on the driver instead of the vehicle being driven.
Drive safely all the time and you should have no problems! 🙂
3. Regarding potential truck speed limiters:
If you disagree with the idea of commercial motor vehicles being forced to have speed limiters set at 65 mph, please contact your U.S. Senators.
You may wish to read more here, here, here and here about a Senate bill that was introduced to do that very thing.
FWIW, I was encouraged by reading the comment under the first linked article written by Bruno Renda, Esq.
4. Regarding another video proving the worth of truck cams:
A video embedded in a July 2, 2019, article showed, "A car driver trying to avoid a pileup crash swerves into the dash cammer's lane, sending him and his truck into the grassy median."
Had the trucker not had a forward-facing truck cam running at the time, it is possible that he could have been accused of running into the car.
Just saying.
5. Regarding trucks being "booted" and truckers fined:
A July 1, 2019, article reported that multiple truckers who parked at a Walmart in Kentucky were "awakened in the middle of the night to 'boots' on their windshields and told they have just one hour to pay the $500 fee to have the boots removed."
Two Kentucky locations mentioned in the article were Berea and Williamsburg.
In case you don't know, boots are immobilizing devices placed on a vehicle tire/wheel assembly.
Over the years, I have read of other Walmart locations that have a strict "no truck parking" policy.
You may wish to determine the policy of every non-truckstop piece of private property before you park there.
6. Regarding a vindicated trucker:
A June 28, 2019, article covered the vindication of a trucker who was terminated for not driving in bad winter weather.
"Freight Rite Inc. was ordered to reinstate an unnamed fired driver and to pay him $31,569 in back wages and interest, $100,000 in punitive damages, $50,000 in compensatory damages, and reasonable attorney fees, … after he refused to operate a commercial motor vehicle in hazardous road conditions caused by inclement winter weather."
You may wish to read other accounts of whistle blowing truckers who were later vindicated, as well as what the STAA says about retaliation.
As the driver of your truck — or the truck assigned for you to drive — you are the captain of the ship.
7. Regarding rates versus costs:
Showing the FreightWaves' SONAR chart of the week, a June 30, 2019, article states that freight rates have fallen back to 2017 levels, but costs have not fallen to the same level.
"SONAR aggregates data from hundreds of sources, presenting the data in charts and maps and providing commentary on what freight market experts want to know about the industry in real time."
Have you experienced the same thing?
Please comment below.
8. Regarding the 40th Anniversary Walcott Truckers Jamboree:
Will you be in the Walcott, Iowa, area sometime around July 11?
If so, you may want to stop in for the 40th Anniversary Walcott Truckers Jamboree.
More was written about this event here.
9. Regarding the so-called sneeze-caused accident:
A July 3, 2019, article covered a 2-truck fiery crash on Interstate 93 in New Hampshire, following what has been reported as the driving trucker's sneeze.
Comments I read about this on Facebook say that the story is fabricated.
For a truck to have veered that hard so as to have rear-end another truck disabled in the breakdown lane, I called it, "the sneeze of the century".
How would you maintain control of your truck in such a situation?
10. Regarding GATS:
Get some early info about GATS:
Learn more about the Great American Trucking Show and take advantage of our trucking show tips.
11. Regarding driving too fast:
A truck driver "was following too closely and failed to slow before plowing into slowed traffic causing an 8-vehicle chain reaction crash", resulting in the deaths of 3 people on I-24 this past Sunday.
Our condolences go to the families.
I am reading more and more articles about truckers causing rear-end crashes and I wonder if they are becoming too dependent upon their trucks' cruise control devices.
Remember, until a vehicle is equipped to slow down by itself in such situations, it is the driver's responsibility to take reasonable action to slow down for slowed or stopped traffic.
12. Congratulations!
Our heartiest congratulations to go winners of the truck driving championships in Montana and Washington state.
My husband Mike and I wish you — and all professional truck drivers — safe travels and lots of money saving opportunities on the road.
---
---
Return from TDMST Weekly Round-Up: 2019.07.06 to our TDMST Weekly Round-Up Trucking Commentary or our Truck Drivers Money Saving Tips home page.