When Mike sent Vicki photos of Reserve It Parking ("Reserve-It!") at the TA in Commerce, Georgia, she burst out laughing.
She texted Mike this response:
They have *got* to be kidding about reserving spaces that way!

All it would take is for some motivated trucker to move that portable thing and back right in.
Take a look for yourselves and see what we mean.
All of these photos were taken on January 8, 2014, at the TA in Commerce, Georgia (USA).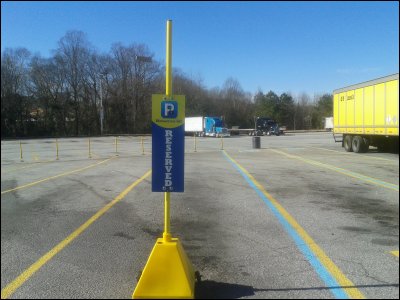 A Reserve It Parking space.
A close up of the marker showing reserved truck stop parking at a truck stop.

A distance photo of 3 spaces designated as reserved parking for trucks.

A mobile Reserve It Parking marker on wheels.
Reserved Parking Thinking From the Truck Stop's Perspective?
We have to hand it to truck stop managers.
They're thinking along one of at least two different lines of reasoning:
To meet market demand and since truckers are willing to pay for it, they want (or need) to know that there will be a spot for them to park in at the end of their proposed travels that day, so we're going to give that to them; or
Let's see how much cash we can squeeze out of these truckers. If they want premium spots, they're going to pay for them!
Questions About Reserve It Parking
On our parking wars page, we asked a bunch of questions about this Reserve-It Parking set-up. But there's one important scenario that we didn't address fully at the time.
What happens if a trucker is very close to the end of his/her drive time for the day and the only empty spot in the lot is a reserved one?

What if that trucker's truck has an electronic device that automatically shuts down the truck at the end of the drive time and he/she only has enough time left to move the sign and back into the space?

Do you think he/she is going to spend precious moments trying to contact someone about "reserving" the empty spot?

If the spot is already reserved (for a trucker coming later), is the truck stop going to turn the "claim jumper" trucker out of the lot?

If the time-crunched trucker decides to take matters into his/her hands, move the portable sign and back into the space in spite of a lack of a reservation, will the truck stop arrange to have the truck towed?

Even if the towing service is able to tow the truck out of the space (which is unlikely if these are standard truck stop
parking lots), where is the tow truck driver going to "put" the towed truck?

Given that a time-crunched driver may have no more time to drive, who is going to force him/her to violate the federal
Hours of Service regulation to move?
Other Thoughts About Reserved Parking
Now perhaps it is the case that all truckers are so honorable that they would never think of backing into reserved parking
for truckers that they haven't personally reserved.
But given the constraints that professional truck drivers are under with the Hours of Service regulation and EOBRs, we
anticipate some bad things ahead when it comes to this truck parking "solution".
Do you disagree?
If there were enough parking spaces in the lot, do you think that truck stops would have to reserve any for anybody?
We think that truck stop chains would be better served by building more truck stops in high demand areas rather than try to reserve rotating paid parking spaces for truckers.
What do you think?
---
Return from Reserve It Parking: How Truck Stops Reserved Parking for Trucks? to our Trucker Services page or our Truck Drivers Money Saving Tips home page.
---