Regarding a potential self-driving truck accident report delay, Vicki Simons became aware of the following article dated August 1, 2022, on August 3, 2022: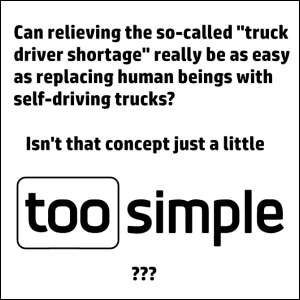 Self-Driving Truck Accident Draws Attention to Safety at TuSimple – WSJ
She wrote on her Facebook profile and within a trucking group:
—–
Article dated August 1, 2022, opens with:
"On April 6, an autonomously driven truck fitted with technology by TuSimple TSP 5.74%▲ Holdings Inc. suddenly veered left, cut across the I-10 highway in Tucson, Ariz., and slammed into a concrete barricade."
Let's see… April 6 to August 1: 117 days
Perhaps this accident was reported by another news outlet before this?
If so, which one and when?
Documentation?
—–
Self-Driving Truck Accident Report Delay: Opposition Well Known
Vicki has stated in just about every TDMST Weekly Round-Up — where a section having to do with "Autonomous vehicles" appears — that she opposes or is against autonomous, driverless, or self-driving commercial motor vehicles being on the roads with the motoring public.
In our day with so many technological hacks having taken place, she believes it is foolhardy to allow vehicles — especially those weighing up to 80,000 pounds — to be on the roads without a human present.
Self-Driving Truck Accident Report Delay: Limit on Reliance On Automation?
Yes, we rely on a lot of automation in our day.
For example, where would most homemakers in the USA be without:
– an automatic washing machine for washing laundry; and
– automatic dryer for drying washed, rinsed, and spun laundry?
But an automatic washer and dryer combo are not traveling down the road by themselves — guided by a computer — at 45 miles per hour, 55 miles per hour, 65 miles per hour, or higher!
Who Is Responsible?
Two other critical components of driverless big rigs that must be remembered are:
– Who is responsible and legally liable if an autonomous truck is involved in an accident with a passenger vehicle — especially if there is a fatality?
– Who is going to provide insurance on a driverless truck?
Vicki has a lot more questions than answers at this point, but would love to hear from our readers:
What is your take on this situation?
Please contact us to let us know your thoughts!
---
Update: According to the article here:
"In the July 26 statement TuSimple blamed the incident on human error. 'On April 6, 2022, a human error occurred when two operators in a TuSimple vehicle incorrectly reengaged the autonomous driving mode without completing all of the steps necessary to safely reengage, resulting in the truck scraping a median. Fortunately, no one was injured, there was no property damage, and the only visible sign of the incident was a minor scrape on the truck,' the company said."
Well, in my opinion, the tractor should have been designed — or modified — to make it impossible for a human error of this kind to take place.