When Do "Slippery Conditions" Turn Into Unsafe Driving Conditions?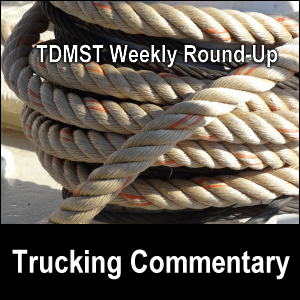 According to a February 9, 2017, article written in Massachusetts, when a "snowstorm made for slippery conditions on the highways and secondary roads … truck drivers had to get to their destinations anyway." Yet, we observe, there may be times when driving with caution simply isn't enough because roads become downright unsafe. That raises the question: When do "slippery conditions" turn into unsafe driving conditions? And a related question is: If a trucker stops too often in winter weather, could he/she potentially lose his/her job?
Driving a Truck "Despite" When Road Conditions Are Unsafe?
An article written from Maine on January 24, 2017, stated that "truck drivers said they need to go about their day despite when the road conditions are unsafe."(1) We feel compelled to remind professional truck drivers that they need to "blow the whistle" when they are asked to anything that they reasonably believe evidences "A substantial and specific danger to public safety." That latter article cites the case of a trucking veteran who "refused to drive her rig because of safety issues associated with winter weather, was fired and later vindicated." No load is worth your life.
Should a List Be Compiled of All "Trucker Traps" in the USA and Canada?
According to a February 6, 2017, article, a professional truck driver "is calling for a trucker's boycott" of Erie, Colorado, because "the Erie Board of Trustees raised the penalty for a truck driver to pass through its town in a semitractor-trailer to $2,650." But "the sign was placed in a location without warning and without a safe way to turn around" a big rig. In order to avoid getting slapped with fines for inadvertently violating ordinances like this, shouldn't truckers be empowered with the knowledge of where all of these traps are? If so, who will compile and maintain the list?
If a Trucker Lives in a Neighborhood, Shouldn't He/She Be Allowed to Park His/Her Truck There?
A February 6, 2017, article opened with: "City leaders in Fort Madison are planning to vote Tuesday on a ordinance that would ban semi-trucks from parking in neighborhoods."(2) Why should a trucker be threatened with a $500 fine just for parking his/her tractor at home? Are there any safe and nearby alternatives to parking a tractor in front of one's house?
Did You Know that the Cause of Toothache Pain Could Lead to an Early Death?
A January 31, 2017, article revealed how a 26-year-old trucker with two young children had "died recently of complications from a dental infection." When food is trapped between a tooth and the nearby gum, bacteria is fostered. It can cause a tooth infection that if left untreated can cause pain. The infection can spread to the head, neck or bloodstream. If multiple organ systems are damaged, the infection leads to death. In the case of the trucker who died, the infection spread quickly. A dental professional cited in the article urged people to seek care as soon as possible when they "feel throbbing pain in a tooth." Regular toothbrushing and flossing can help prevent tooth decay.
Stay Attentive When Driving and Keep Yourself Legal
A truck driver "crossed the center line and crashed into oncoming traffic" — injuring 11 people in the Fallston, Maryland, area– according to a January 31, 2017, article. Although troopers don't suspect speed or alcohol as influences in the accident, the trucker was charged with
"failure to drive right of center,"
"negligent driving,"
"maintaining a false log book" and
other log book violations.
bsun.md/2kaaGKt (no longer online)
This was a totally preventable accident.
Trailer Disconnected From Truck Resulting in Loss of Marble Load
A January 23, 2017, article revealed that a 38,000 load of marbles spilled in Indiana after the trailer disconnected from the tractor a trucker was driving. No details were provided, but we suspect that this may have been a trailer separation accident that could have been prevented had the trucker verified that the kingpin of his trailer was secure within the locking jaws of the tractor's fifth wheel.
www.msn.com/en-ca/autos/news/trucker-spills-sea-of-glass-marbles-on-roadway/ar-AAmb6Ys?li=AAggFp5 (no longer online)
Watch Those Medical Conditions
According to a January 19, 2017, article stated that University of Utah researchers found that "Truck drivers with three or more of the flagged medical conditions were two to four times more likely to be in a crash than their healthier peers".(3) When data from more than 49,000 truckers was examined, researchers found several health problems in 34 percent of them. Those health problems were then "linked with poor driving performance." Even though U.S. professional drivers are required to be undergo a DOT physical every two years, one's health should be monitored daily.
Trucker Looked Around, Looked Down, Failed to Brake and Killed Three
A trucker had 12 seconds to apply his brakes but failed to do so, resulting in a major crash that killed three people. A February 9, 2017, article, stated that there was "no evidence" that the trucker "was impaired by alcohol or drugs" or "distracted by his cellphone." Although he "had no previous criminal record" and was said to have lived an "exemplary life", the trucker failed to do "everything he could to avoid a collision" and pleaded guilty to three counts of involuntary manslaughter. Don't become distracted while driving a truck.
---
---
Return from TDMST Weekly Round-Up: 2017.02.11 to our TDMST Weekly Round-Up Trucking Commentary or our Truck Drivers Money Saving Tips home page.
---
Reference
1. wlbz2.com/news/local/truck-drivers-brave-dangerous-road-conditions/392187458 (no longer online)
2. wgem.com/story/34439886/truck-drivers-and-neighbors-at-odds-over-truck-ordinance (no longer online)
3. philly.com/philly/health/topics/HealthDay718774_20170119_Truckers__Poor_Health__An_Accident_Waiting_to_Happen_/ (no longer online)