This is the TDMST Weekly Round-Up of news affecting professional truck drivers, written by Vicki Simons for the week ending March 25, 2017.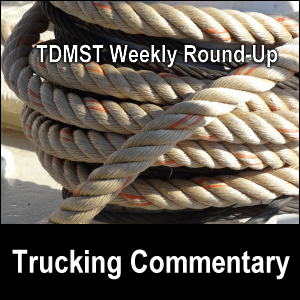 1. The 2017 Mid-America Trucking Show is in full swing this weekend.
Please comment below to share how you saved money in any way while or after you attended.
2. During a "routine compliance inspection", Indiana state troopers found $400,000 worth of illegal drugs in the cab of a truck, according to this March 20, 2017, article.
The [t]wo semi-truck drivers "were both arrested and charged with dealing marijuana over 10 pounds and possession of narcotic drugs."
Don't transport illegal drugs.
The cost isn't worth it.
3. A March 23, 2017, article from the The Wall Street Journal about President Donald Trump meeting with truckers regarding the healthcare law stated,
"The ATA says the Affordable Care Act has saddled trucking companies, especially smaller firms, with extra costs, liabilities and administrative burdens. Replacing the law would lower insurance premiums and reduce those burdens…"
Because of these "extra costs, liabilities and administrative burdens," did the Affordable Care Act (ACA or "Obamacare") affect trucking companies' ability to increase wages for truckers?
Please share your feedback below.
4. On March 23, 2017, the New York Post reported,
"Marc Leder's Sun Capital came thisclose to getting away with shafting 1,800 truck drivers out of $8.3 million in back pay — but the US Supreme Court slammed the brakes on the caper."
Good!
We're glad the truckers had their opportunity to collect their final paycheck!
Do you agree?
Please share your thoughts below.
5. Did you ever think you'd live to see the day when family-owned Schneider National would sell stock in their company?
See the March 24, 2017, article and please give your feedback below.
6. A March 24, 2017, article stated:
"One by one, recently, union pension funds have slashed benefits to retirees who saved their entire lives for retirement. The idea is to prevent the severely underfunded pensions from going into insolvency.

"In New York in February, Local 707 saw their benefits slashed by more than 60 percent after the union drained its pension fund amid failing contributing businesses, the 2008 stock market crash and the inability to maintain existing benefit levels."
Setting aside money in a pension is not a guarantee of retirement income.
Market forces and the economy can vary greatly.
Isn't it better to leverage your time through the right kind of second income you can start earning from the cab of your truck during your off-duty hours?
7. We'd like to know:
– if you agree with the March 23, 2017, article that states, "The ELD mandate was established to make it easier to keep logs and inform drivers and carriers so they can better manage fatigue"(1) and
– if you think that, as owner-operators, it is worth having Progressive Commercial Insurance in order to get "free ELDs for as long as the driver keeps Progressive as his or her insurance provider"?
Please share your thoughts below.
8. Please provide a service review of "Truck Parking USA", which according to a March 23, 2017, article is a "new app to help truck drivers find available, safe parking."
The article further said that the app was "launched with the goal of showing drivers not just standard parking options, but also alternative locations that allow truck parking that drivers may not be aware of."
Thanks in advance for your review of this trucker app.
9. If you drive the 2018 "Peterbilt Model 579 Epiq", please share whether or not you realize the stated improved "fuel efficiency [of] 8% compared to 2017 models."
Please submit your truck parts review here.
10. According to a March 22, 2017, article, "RoadPro announced it will introduce Rewards, a new lifestyle loyalty community that will give drivers a chance to get engaged and be rewarded."
Have you ever purchased one or more RoadPro products — and if so, how would you evaluate the quality?
And based on that quality, do you feel that "RoadPro Rewards" will be worth it?
Please share your thoughts below.
11. Does the talk about operating remote robotics to allow "remote driving" and "more home time" give a false sense of security to professional truck drivers?
Will future operators of these remote robotics be required to get their commercial drivers licenses (CDLs)?
Assuming a trucker is currently operating the truck remotely, who is going to inspect the trucks, fuel the trucks, open the trailer doors at shipper and receiver locations, and much, much more?
Please share your thoughts below.
12. Are you at MATS this weekend?
If so, which vendor at which booth is offering the best freebies or discounts?
Please share your thoughts below.
On behalf of my husband Mike and me, we wish you safe travels and lots of money saving opportunities on the road.
---
---
Return from TDMST Weekly Round-Up: 2017.03.25 to our TDMST Weekly Round-Up Trucking Commentary or our Truck Drivers Money Saving Tips home page.
---
Reference:
1. www.worktruckonline.com/blog/fleet-management-and-leasing/story/2017/03/q-what-are-the-long-term-benefits-of-elds.aspx (no longer online)