If you are a money-conscious, technologically-savvy trucker, then money saving trucker apps may be of interest to you.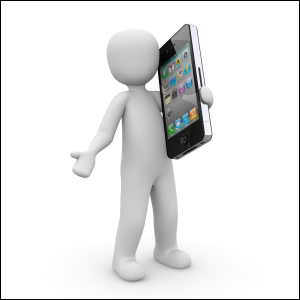 When it comes to saving money, there are direct and indirect ways to do it.
We share a lot of direct ways to save money on this site.
Sometimes saving time results in cost savings.
An example of this is when it takes less time to travel a slightly longer, better flowing truck route as opposed to a shorter, congested one.
Sometimes conveniences result in cost savings through your not having to stop as often to take care of needs.
An example of this is being able to combine your errands at Business A (which has all of the products and services you need) instead of having to visit both Businesses B and C (that together have the products and services you need).
Consider the types of products or services that you as a professional truck driver may need: fuel, food, shower, truck stop store item, fax service, trip envelope drop box or scanning service, truck repair, truck wash, etc.
Truckers Savings App
Our former Truckers Savings App was redesigned with forms to make it super easy to leave truck stop reviews of fuel islands, restaurants, and showers.
A Trucking Magazine's List
According to the July 2011 issue of Overdrive Magazine, these apps for professional truck drivers (alphabetized here) are especially helpful for Owner-Operators: Continental Truck Tires Dealer Locator, DriveReply, HazRef 2008, iGetLoaded, iLogMiles, ITS Trucker, Mack Dealer Locator, Michelin Truck Tires Locator, Mobile Warrior iDDL, My DAT Truckstop, Pilot store locator, Pocket FuelCal, TQL Freight Finder, Trapster, … Truck Smart, Truck Stop Coupons, Trucker, Trucker Net, Truckster, uDrove, uShip mobile, Winter Chain Laws, and Xata Turnpike Route Tracker.
Their article explained a bit about each one.
Another Trucking Magazine's List
The November 2011 issue of Truckers News provides its own list (on pages 19-25) of trucker apps (some of which may be free, others paid) by categories, but which we have alphabetized here: Axle Weight Calculator, Continental service locator, Drive Axle, DriveReply, Fuel Surcharge Calculator, HazRef2008, iDDL, iHeartRadio, iLogMiles, Insure My Truck, Last.fm, Mack Dealer locator, Michelin service locator, Otter, Pandora's Radio, Pilot Travel Centers' store locator, PocketFuelCal, Scale It, Sirius XM Internet Radio, See It Ship, Spotify, Trapster, … Travel Centers of America's TruckSmart, Trucker Tools, Trucker's Axle Weight Calc, TruckerNet, Truckster, TuneIn, uDrove, Winter Chain Laws, Xata Turnpike RouteTracker and ZoomSafer.
Other Resources
These are other lists of trucker apps we've found online:
Our List
We began compiling our own list of truly helpful, family-friendly money saving trucker apps.
These may be free or paid and we've marked the ones we know are paid. We're listing the links we've found so you can read about each one.
Disclaimer: Personally, we got Smartphones in February 2012, but don't rely on any of the apps on this page professionally. We did use one app to find rest areas and truck stops during our trip to and back from the 2012 Truck Driver Social Media Convention, but that was a once-a-year event.

So, we're relying on two things — our own research and your help — to provide here the premier list of money saving trucker apps. We accept no liability for the accuracy of any information (or lack thereof) generated by the apps listed on this page. At least one app we know of cranks out information that could be used against you, so please use discretion in the ones you use.
This page is a work in progress.
Since our site is the place where you can get and share great money saving tips for truck drivers, here's what we ask from you:
If you have a better source for an app we've listed;
if you know of a hyperlink for an app where one isn't listed yet;
if there is a money saving trucker app that you just love that we should add to our list;
if we've listed an app that should be struck from the list;
if we didn't list that a particular app costs money (and needs to be marked "paid"); or
if you find that an app is not truly family-friendly,
please let us know through the form below.
Technology being what it is, we're sure that more time or money saving trucker apps are bound to be developed.
Update: This article says that an analysis found that Android smartphone software tracks every user's actions and keystrokes.
Update: Overdrive Online said in March 2013: "More and more, owner-operators are leaving their laptops back at the home base and doing business on the road exclusively from their smartphones and tablets."
Now that you know that, here's the list…
Trucker App Name
Android
iPhone/iPad
AroundMe
link
link
BigRoad
link
link
BorderPass for US Borders
link
link
CAT Scales Locator
link
link
CAT Scales: Weigh My Truck
link
link
DOT Lookup
link
link
Drive Axle
link
link
Equinox
link
link
Fuelbook
link
link
HaulHound
link
link
iLoadFinder
link
link
iTrucksStops
link
link
GasBuddy
link
link
Google Maps
link
link
Michelin® Truck Tires Locator
link
link
MileageMeter
link
link
My DAT Trucker Services
link
link
Overnight Parking
link
link
PilotFlying J
link
link
Recap
link
link
Road Conditions Pro 1.0.1
link
link
TND 510 IntelliRoute 5
link
link
Truck & Travel Stops (paid)
link
link
Truck Manager Pro 2
link
link
Truck Paper
link
link
Truck Stops and Services
link
link
Trucker
NorthAmericanTruckerAlerts.com (no longer online)
TruckerApp.com (no longer online)
link
link
Trucker Tools
link
link
Trucker Tools (Truck Stop Coupons)
link
link
TruckerNet
link
link
Trucker's Axle Weight Calc
link
link
Trucking News
link
link
TruckSmart
link
link
TruckStop
link
link
Truck Stops Pro (paid)
link
link
uFollowit
link
link
Vehicle Mileage/Expense Log
link
link
Our thanks go to Sean for suggesting the iPhone link for Truck Stops Pro!
Our thanks go to Kelly for suggesting BigRoad!
Our thanks go to Danny for suggesting uFollowit!
Our thanks go to John for suggesting Truck Manager Pro 2!
Here's where to suggest, update or comment…
---
Sources we used to gather hyperlinks:
androlib.com/ (no longer online
appszoom.com
http://www.androidzoom.com/android_applications/trucking
appworld.blackberry.com/ (no longer online)
---
Return from Trucker Apps: Money Saving Smartphone Applications to our Trucker Services page or our Truck Drivers Money Saving Tips home page.
---