This is the TDMST Weekly Round-Up of news affecting professional truck drivers, written by Vicki Simons for the week ending March 23, 2019.
We welcome your comments, thoughts and feedback on the items of your choice below.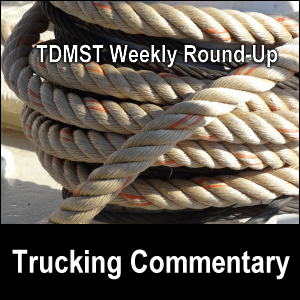 1. Regarding MATS:
The 2019 Mid-America Trucking Show (MATS) has been called "the largest annual heavy-duty trucking event in the world"(a).
You may:
view their digital directory and/or
install the 2019 MATS app on your mobile device.(b)
Will you be attending MATS? If so, check out our trucking show tips.
And if you're an exhibitor, feel free to submit your list of Freebies and Discounts for Truckers.
2. Regarding the "trucker shortage":
Two authors, one of whom is with the U.S. Bureau of Labor Statistics, wrote a report that was summarized as follows:
In other words, from a big-picture economic standpoint, they say if driver wages go up enough, there should be no driver shortage.

They do, however, note that the problem is concentrated in the long-haul truckload segment of the industry.
Other articles about this are here, here, here, here and here.
We have addressed trucker wages in our Inflation Calculator and 26 Percent articles.
3. Regarding Rhode Island truck tolls lawsuit:
Even though a federal judge has dismissed the "American Trucking Associations' lawsuit challenging Rhode Island's truck-only tolls… the case needs to be tried at the state level", according to a March 21, 2019, article.
Other articles about this are here, here, here and here.
4. Regarding big truck tires:
Some years back, I received a huge education regarding retread tires for big trucks.
A March 20, 2019, article stated that Bridgestone Americas is kicking off "a 2019 industry-wide campaign to educate the trucking community about the advantages of retread tires."
Separately about tire testing, we read, "Randy Patterson, senior field engineer for Bridgestone Americas Tire Operations, says it's best to clearly define your goals for the test before it starts, whether that is finding the best tread life, best fuel mileage, puncture resistance or casing retreadability."
Another article about truck tires listed these three costs: acquisition cost, total lifecycle cost, and environmental cost.
So, what are your goals for truck tires, trucker? Please comment below.
5. Regarding truck parking:
An SUV driver died as a result of hitting a semi truck that was illegally parked on a rest stop ramp, according to a March 21, 2019, article.
While I agree with the Ohio State Highway Patrolman who encouraged "commercial truck drivers to plan their driving hours so they can find an available rest area or truck stop for rest periods", in some places, there simply aren't enough safe places for truckers to park.
Still, the article states that the trucker "had parked on the left shoulder of an exit ramp leading into the rest area".
This means that the trucker did not explore the rest area for available parking places.
This accident was also reported here.
If you're looking for parking, please consider all options at your disposal.
For example, would having an app showing available truck parking help?
6. Regarding HOS exemptions for direct assistance following flooding:
The FMCSA has issued an emergency declaration — including Hours of Service regulations — regarding truckers providing "direct assistance" to 16 states that were recently hit with devastating floods, according to a March 21, 2019, article and a related article.
Meanwhile, even though multiple truck stops are under water due to the historic flooding, if you have "room to spare" in your truck, please consider bringing help to disaster victims.
I love that the coordination or relief efforts is driver-led.
7. Regarding low clearance accidents:
Despite "multiple signs [and] flashing lights", a truck driver attempted to get his rig under a bridge in Pierre, South Dakota, "clearly marked at 11 feet 3 inches", according to a March 20, 2019, article.
But he's not the only one!
More than 100 trucks have hit the bridge over the last 10 years.
Why are truckers ignoring warning signs on low clearances?
If your Commercial Motor Vehicle-specific GPS unit is leading you to a low clearance bridge, report it here.
8. Regarding safe loading and unloading procedures:
A March 19, 2019, article states that in the process of a truck driver "helping others to unload steel beams from his truck", one beam fell off the forklift on top of him, and he "later died from his injuries at the scene".
Although OSHA will be investigating, it is obvious that at least one safe offloading procedure was not followed.
Never put yourself in harm's way when it comes to loading or unloading your truck.
9. Regarding distracted driving leading to a fatal collision:
According to a March 18, 2019, article, a truck driver "dropped his sandwich… leaned over to pick it up, [took] took his eyes off the roadway", encountered "traffic that had slowed for a previous crash", and was unable to avoid the collision that killed the woman who was asleep in the sleeper berth of his truck.
This accident was totally preventable.
We list the reasons why eating while driving a truck can be costly, one of which is causing "a life-altering or fatal accident".
10. Regarding owner-operator wages:
According to a March 21, 2019, article, "Owner-operators scored a record-setting income average last year, …. [but] Income could take a step back this year as freight demand slows and rates settle to more historically normal levels."
The president of ATBS was quoted as saying, "2019 is not going to be a tough year, but it's not going to be as good as 2018."
This prediction was also covered here.
If you're an owner-operator, how do you plan to deal with this?
11. Regarding trucker exoneration following seatbelt ticket:
A March 20, 2019, article stated that a 35-year trucking veteran defended his unblemished record by using "interior-cam" video to clearly refute a Michigan officer's assertion that he wasn't wearing his seatbelt.
Even though the trucker had to take a day off to appear in court, the "videos all proved the officer wrong".
The trucker was exonerated and his trucking company made sure that the paperwork was filed to remove the violation from the record.
Hurray!
12. Regarding the cost of truck repairs:
According to a March 18, 2019, article, the latest "Truckload Vertical Benchmarking Study" reveals that the "average cost of mechanical repairs in the trucking industry increased for the second straight quarter".
The report was also covered here and here.
13. Regarding the real reason behind autonomous trucks:
At the very bottom of an article about TuSimple having developed a camera system to allow night driving capabilities, we read:
"TuSimple says it is working to transform the $800-billion U.S. trucking industry. According to McKinsey, full autonomy could reduce operating costs by about 45%, saving the trucking industry between $85 billion and $125 billion."
Meanwhile, OOIDA President Todd Spencer stated that "America isn't ready for autonomous trucking".(c)
14. Regarding fuel:
Three articles were in the news recently:
According to a March 15, 2019, article, "Senate Bill 44, also known as the Ditching Dirty Diesel bill, is designed to phase out, over time, the use of diesel-fueled medium- and heavy-duty trucks and buses in California."
"If you haul natural gas in Canada, you may soon have to pay a new fuel charge", states a March 15, 2019, article.(d)
15. Regarding honored truckers:
Congratulations to U.S. Xpress's:
10 Drivers of the Year and
2 Trainers of the Year,
as were listed in this article.
Also, we applaud Robert "Bo" Gordon, the Indiana Driver of the Year, "who has driven for 43 years and 4.5 million safe miles".
Great job, everyone!
My husband Mike and I wish you — and all professional truck drivers — safe travels and lots of money saving opportunities on the road.
---
---
Return from TDMST Weekly Round-Up: 2019.03.23 to our TDMST Weekly Round-Up Trucking Commentary or our Truck Drivers Money Saving Tips home page.
---
Reference:
a. www.truckingshow.com/invitation/23127 (no longer online)
b. issuu.com/truckingshow/docs/mats-2019_digital-directory?e=1855181/68410235
c. www.truckingshow.com/matsmobile (no longer online)
d. www.landlinemag.com/Story.aspx?StoryID=73934 (no longer online)
e. www.landlinemag.com/Story.aspx?StoryID=73943 (no longer online)
f. www.landlinemag.com/Story.aspx?StoryID=73914 (no longer online)