This is the TDMST Weekly Round-Up of news affecting professional truck drivers, written by Vicki Simons for the week ending April 1, 2017.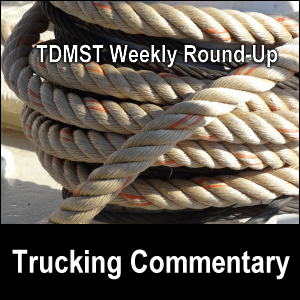 1. A March 27, 2017, article reported that a truck driver was "cited for driving too fast" in dense fog after he "failed to negotiate a curve in the road."
Furthermore, the trucker's accident occurred "shortly after 2 a.m." (meaning that it was dark and visibility was lower than in broad daylight).
Be smart.
When weather conditions demand it — such as when there is rain, snow, sleet, fog or wind — slow down.
You'll also want to slow down when there is smoke or blowing sand.
Don't overdrive what you can see and negotiate with your truck.
Note: there are certain situations when you shouldn't drive at all, but that's a subject for another time.
2. Why are truckers willing to risk their trucking careers and their futures for such paltry amounts of money?
I don't condone stealing in any respect, but what would motivate a trucker to steal a load of shoes worth over $19,000 only to be paid $250 for the theft?
That's stupid.
Please comment below on what was reported in the March 27, 2017, article below.
3. A March 28, 2017, article opened with this: "Many truck drivers rely on GPS on their route from Springfield, Mo., to a Walmart distribution center in Clarksville, Ark.
People who live in this area near the upper Buffalo River want to tell truckers: 'Please go around.'"
The article states that the GPS route is "shorter by 81 miles to get from Springfield to Clarksville, compared to using the main U.S. 65, but it's not faster — considering the climb and descent."
Here are 5 questions that I'd like to have answered:
a. Are there any signs posted in or around Springfield instructing truckers about the "hair-pin turns" and "climb and descent" on the shortcut and to go around?
b. Have the trucking companies supplied specific routing to their drivers to "go around" instead of using the shorter route?
c. Which type of GPS units have the truckers who have taken the shorter route been relying upon:
– standard (for cars) or
– those made specifically for commercial motor vehicles?
d. If the truckers who took the shorter route relied on routing from CMV-specific GPS units, which brands of GPS units were these?
e. Are trucking companies who are dispatching truckers to the "Walmart distribution center in Clarksville, Ark." been paying truckers for the extra 81 miles to "go around"?
If you know the answers to any of these questions, please comment below.
4. It saddens me every time I hear about a trucker dying on the job.
But I feel compelled to ask questions to find out if the accident that caused a trucker's death was preventable.
A March 29, 2017, article stated that high winds caused a truck to turn over.
But this phrase from the article — "The man was partially ejected through the window" — makes me wonder if the trucker had his seatbelt properly fastened.
In many cases, when someone is "ejected" from a vehicle, it is because he/she was not wearing a seatbelt.
The article did not state whether or not the trucker was belted in.
As a refresher, 49 CFR 392.16 states, in part, "No driver shall operate a commercial motor vehicle, and a motor carrier shall not require or permit a driver to operate a commercial motor vehicle, that has a seat belt assembly installed at the driver's seat unless the driver is properly restrained by the seat belt assembly."
Here is more guidance on "Safety Belts: An Essential – and Easy – Boost for Commercial Driver Safety".
Remember: Drive a Truck? Buckle Up!
Also, here are some tips from the states of Oklahoma and Ohio(a) for driving in high winds.
Feel free to comment below.
5. A March 30, 2017, article from CNN stated, "An elevated section of northbound Interstate 85, a major north-south artery for the Southeast, collapsed Thursday evening in Atlanta after a massive fire, officials said."
Traffic was halted in both directions of the interstate and this infrastructure issue will affect an "estimated 250,000 vehicles" that traverse the road daily.
CCJ reported that the time it will take to make repairs is unknown and OverdriveOnline.com stated that "All lanes of I-85 north and south are closed indefinitely from the downtown connector to Georgia Highway 400."
A TruckingInfo.com article stated that this issue has brought "traffic delays in the area to critical levels."
This article also listed some road closures.
Be aware of potential delays, detours and opportunities for road rage in the greater Atlanta area for this reason.
Do not let someone else's impatience negatively impact your future.
Please share your comments below.
6. A March 31, 2017, article from TruckingInfo.com stated,
"Renewable diesel fuel is made from 100% renewable raw materials and results in a 40-90% reduction in greenhouse gas emissions over the fuel's lifecycle when compared with traditional petroleum diesel."
Are you using renewable diesel fuel in your truck?
If so, have you found it to be better for both the environment and your wallet?
Please write a product review. Thanks in advance.
7. Bill Cameron is one of the owner-operators for Parks Transportation.
In a March 30, 2017, commentary, Bill stated, "I like a user-pay system".
He cited increases in "toll rates on the Blue Water Bridge" and "Ontario licence fees" and said to bring them on — as long as there is "documented proof that revenues from increases will go where they always should go: to improvements and maintenance."
What do you think?
If truck tolls and truck license fees increased — and it could be proven that that money went to maintenance on the roads where the tolls were collected — would you be satisfied?
Please share your thoughts below.
8. The issue of driver-facing dash cams is being sold on the merits of exonerating truckers who were not at-fault in crashes.
But according to a March 30, 2017, article:
"Video data also can help prevent accidents by pinpointing unsafe driving behaviors and giving managers opportunities to coach individual drivers accordingly. In the same way, the coaching can save money by focusing on habits such as aggressive acceleration and braking that waste fuel."
Do you consider this to be "micro-managing"?
Would the opportunity to be "coached" about how you drive make you more or less likely to want to be "on camera" every time you got behind the wheel of a big truck?
Please share your comments below.
9. "Simple Truck ELD is a provider of a scaled-down electronic logging device now offering truckers six months of free service when they sign up for 12 months for only $228 ($19 per month)," states a March 30, 2017, article.
If you use the Simple Truck ELD service, would you please provide a service review?
– What did you like or not like about the service?
– How well does it meet your needs?
Thanks in advance.
10. A March 30, 2017, article describes the following with respect to "autonomy" in transportation:
"A Tesla has already killed its driver in an at-fault accident, and another accident in Arizona placed Uber's autonomous program on a brief pause. None of these 'self-driving cars' has hit a pedestrian — yet. If or when that happens, that could add years to a rollout."
This is the first mention that I've read of autonomous vehicles being involved in an accident.
So, that answers one question I've had about these devices being accident-free.
They aren't.
(More about that Uber crash is here.)
The author went on to write, "CGPS claims the number of workers in driving occupations from 2010 to 2014 was 4.1 million. Just more than 3.1 million (about 77.32 percent) are delivery and heavy truck drivers."
Although autonomous trucks may not be rolling out right away, it is the wise driver who prepares for the future. Perhaps starting to earn a second income from the cab of one's truck is a good idea?
11. If the cost of natural rubber is responsible for Firestone's predicted air spring price increase of "up to 6 percent", why doesn't their company do what Cooper(b) is doing and "cook up" the rubber?
Please share your thoughts below.
On behalf of my husband Mike and me, we wish you safe travels and lots of money saving opportunities on the road.
---
---

Return from TDMST Weekly Round-Up: 2017.04.01 to our TDMST Weekly Round-Up Trucking Commentary or our Truck Drivers Money Saving Tips home page.
---
Reference
a. www.dot.state.oh.us/districts/D02/SitePages/High Wind Driving Tips.aspx (no longer online)
b. www.landlinemag.com/Story.aspx?StoryID=33087#.WN8NCme1vIW (no longer online)