If we had done a sleeping bag repair in time on Mike's first sleeping bag, we would have been able to save the cost of buying him a second.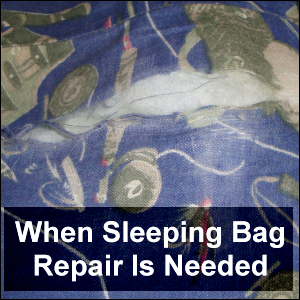 But by the time Vicki's sleeping bag also required repair, Mike's was beyond repair.
That was an expensive lesson to learn because a decent sleeping bag can cost $75 or more!
Vicki started patching her sleeping bag with pieces of old sweat pant material, some of them quite large.
There were two problems associated with this:
The patches only covered the current holes but did nothing to cover the places where the liner was getting thin (and would soon become holes); and
The sweat pant material developed pills.
If you use a sleeping bag for long periods of time as your bedding of choice in your truck, you may understand the problems associated with liner tears and holes.
Your fingers or toes can get caught in the holes while you're sleeping and wake you up.
It can result in broken sleep which no professional truck driver needs.
Your goal is to sleep better!
Sleeping Bag Repair: What Material Is Needed or Wanted?
Finally, after putting up with the holes in her bag just so long, Vicki persuaded Mike to go to a fabric store to see what she could do about getting a piece of cloth big enough to cover the entire inner lining of her sleeping bag.
It never occurred to her that there are such things as fleece sleeping bag liners for sale, but upon searching online, Vicki actually found them! (One is shown here from Amazon.com, with which we have an affiliate relationship.)
She had thought that using more sweat pant material would be okay to make her sleeping bag repair, if the price was right.
Then she found the fabric at the store; the price was more than $10 per yard! Ouch!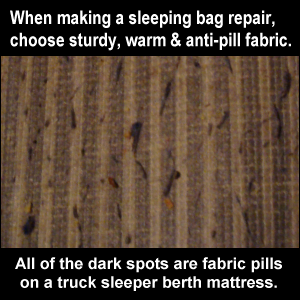 However, not far from the sweat pant material display was an entire display of fleece. (This is the same kind of material some bath robes are made from, soft and cuddly.)
There were two kinds of fleece: regular fleece and anti-pill fleece.
Having had so many pills to deal with previously, she definitely wanted the anti-pill variety.
There were lots of colors to choose from!
As it turned out, the anti-pill variety was on a 50% off sale.
Hurray!
The regular price was $9.99 per yard, so the sale price was $4.99 per yard.
Sleeping Bag Repair: Making the Repair
This illustration shows sleeping bag repair on a 66″ wide, 75″ long sleeping bag with a piece of anti-pill fleece that is 58″ wide, 2 yards (6 feet or 72″) long.
The fleece was centered as best as possible from side to side and top to bottom.
When Vicki actually made the sleeping bag repair, she unzipped the bag so that it lay as flat as possible. (If you do this in a truck with an upper bunk, you may want to take advantage of the height as much as possible.)
The fleece she bought covered all but about 4 inches on either side and about one to two inches on top and bottom.
She sewed the corners and middle in place around the edges before sewing the sides in place.
One thing that she determined after a night or two of use is that it would have been helpful to sew a few stitches down the middle (the "crease" when the bag is closed) so that the sleeping bag liner won't bunch up inside the bag during sleep.
Sleeping Bag Repair: Benefits of Liner Repair With Fleece
Three benefits of this sleeping bag repair with a homemade anti-pill fleece sleeping bag liner are:
Fleece is a sturdy material that will last a long time (it takes a lot to tear it);
Fleece helps you stay warm in the winter, even in a sleeping bag that isn't rated for colder temperatures;
The anti-pill variety of fleece doesn't develop the aggravating little pills (balls of fabric fibers) that sweat pant material so often does.
Not including thread Vicki already had or the cost of her time, Vicki's total cost for the material was:
$4.99/yard * 2 yards * 7% tax = $10.68.
This sure beats the cost of a brand new sleeping bag!
The difference between
the homemade anti-pill fleece sleeping bag liner that Vicki put in her bag and
the Coleman brand liner shown above
is that Vicki sewed her liner into her sleeping bag.
The one above could potentially be sewn in, but other photos associated with that product show people wrapped in just the liner (as if it were a blanket).
Sleeping Bag Repair: Prevent Other Holes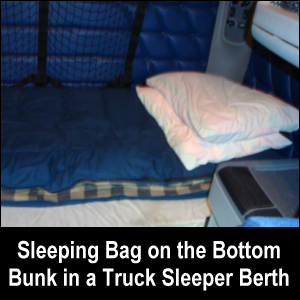 One other note on repairs to your bagged bedding:
If the zipper comes loose from an edge of your sleeping bag, sew it up as soon as you can, especially if you zip your sleeping bag closed when you go to sleep.
As Ben Franklin once quipped: "A stitch in time saves nine."
The stitching doesn't have to look fancy (unless you're a perfectionist).
It just has to be functional and keep the cold air out.
---

Money saving tip: Consider the pros and cons of using a sleeping bag as opposed to bed sheets and blankets for bedding in your truck.
Among the things to consider are your freight lanes.
Do you run up north where it is colder?
Consider how you will stay warm when you sleep during cooler (or downright cold) temperatures.
Do you have an APU, a bunk heater, or other means to stay warm apart from your sleeping bag?
Do you need your fleece liner to be permanently installed or removable?
Will just placing the fleece on top of you at night work better than inside your sleeping bag?
(If so, this will save you the cost of your time to sew it in place. Either that, or if you have a home support team member, he/she can sew it in for you when you're home.)
Look for fleece on sale if you can find it.
This kind of material may be on sale seasonally.
If you have the inclination, sign up for notifications from fabric (or craft) stores near you.
These may or may not include both sales and special coupons.
Some of these stores may have apps that you can check on certain types of phones or they may have special deals through their Twitter or Facebook accounts.
If you cannot find a fabric store near you (or along your route), you may need to order fleece online.
Some stores sell fleece only "by the bolt" (usually about 8 yards' worth).
This may or may not be a good option for you.
Another option is to have someone who lives near a fabric store buy the fleece for you.
There may also be folks selling or giving away their stockpiles of fleece in unusual places like Craigslist.
If you need to buy fleece online, look for free shipping or other online discounts, promotional codes or sales.
Fleece is popular in the colder months.
Note that specialty prints of fleece may cost more than solid colors.
We have seen many "kiddie" prints on sale.
And, yes, there is such a thing as camouflage fleece, if that appeals to you.
We list a "mini sewing kit" on one of our packing lists.
However, it is possible that such a kit will not hold enough thread to completely sew a fleece sleeping bag liner in place.
Perhaps you can make five temporary stitches (ends, middle and two places in between) down both sides and at the top that will work until you get more thread.
---
Return from Sleeping Bag Repair: Make an Anti-Pill Fleece Sleeping Bag Liner to our Packing List page or our Truck Drivers Money Saving Tips home page.
---