This is the TDMST Weekly Round-Up of news affecting professional truck drivers, written by Vicki Simons for the week ending June 10, 2017.
We welcome your comments, thoughts and feedback on the items of your choice below.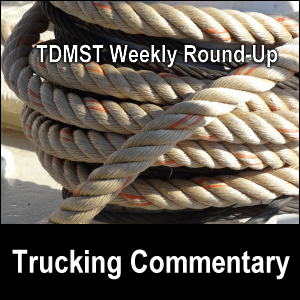 1. Ending an operation that spanned 14 years, a June 8, 2017, article reported: "An El Paso, Texas, trucking company owner was recently sentenced to more than 24 years in prison for his connection to a marijuana smuggling operation…."
Separately, the article quoted a newspaper as stating that the "trucks driven by Lopez and other drivers were used to transport the drugs…."
One wonders if the drivers who drove for the owner of the company knew that they were "trafficking marijuana from El Paso to cities across the U.S."
Regardless, if you are caught with illegal drugs in your possession — or if you are transporting it — you could be found guilty.
Protect your CDL and your ability to drive a truck professionally.
Don't transport illegal drugs!
2. The chief executive of Old Dominion Freight Line advocates "higher fuel taxes to fund road improvements but stands steadfast against expanded toll roads", according to a June 8, 2017, article.
He stated, "We are perfectly willing to pay more taxes to reduce congestion and improve our roads, reduce potholes that are costing us an arm and a leg and roadside crashes that are occurring."
Just one question: Will "more taxes" on fuel actually fix those things?
In my home state of South Carolina, the largest gas tax in state history was passed this year, but there has been at least one report that the tax may not all go to road improvements!
Hmm…
3. A June 6, 2017, article reported the sad and extremely preventable accident that killed both a trucker and the driver of a car the big rig struck — because the trucker had been using methamphetamine.
A school bus was also struck during the accident, injuring more than a dozen students.
No matter how appealing using drugs may be, they always have an impact on your body.
As we reported earlier this week, even prescription drugs in your body can slow down your reaction time.
In this case, the trucker paid for his action with his life.
Using drugs and driving just isn't worth it!
4. According to a June 7, 2017, article, a trucker who wasn't allowed to park on the premises of the location where he was going to be making a pick-up went to a nearby resort.
He left his truck running and went inside.
When he came back, his truck had been stolen.
The article does not say whether or not the trucker had locked his doors before leaving his truck.
Even so, a motivated thief can find a way to break into a locked, running and unoccupied truck.
The question is whether or not a thief will know the "access code" of a device that may be installed in some trucks to prevent theft.
If you are considering installing such a device on your truck, do your due diligence ahead of time.
5. From the overhead video accompanying a June 8, 2017, article, it appears that it was on the outside of a curved ramp leading to a highway ramp in Tempe, Arizona, where a truck driver lost control of his rig and spilled a load of beer on the side of the road.
Pallet wrap, straps and load locks will go only so far in preventing a load from shifting when a trucker is taking a curve too fast.
Remember to gauge your speed appropriately and to slow down in curves.
Semi trucks must almost always go more slowly than cars in curves because of their larger height, weight and other factors.
Review the "Safe Driving: Turns and Curves" section of our Safe Driving Tips for Drivers of Large Trucks page.
6. A June 6, 2017, article quoted this question regarding the truck-only toll in Rhode Island(a):
"Why is RIDOT rehabilitating a bridge that's in good condition (72 percent sufficiency rating) with a superstructure rating of 5 when (Rhode Island) has so many structurally deficient bridges that it deems 'dangerous'"?
Indeed! It isn't just the amount of the money but where the money is going that is at stake with some taxes and tolls!
7. In what has to be one of the most ludicrous stunts ever pulled by a trucker trying to blame someone else for his own stupidity, this June 6, 2017, article stated:
"According to the Arizona Department of Public Safety, the trucker admitted to investigators that he accidentally shot himself in the leg while driving and falsely reported being the victim of a shooting."
If you're at fault for something, don't compound your problem by bearing false witness.
Tell the truth!
Lying can catch up with you.
8. A June 6, 2017, article, reported a gigantic issue that a man planning to become a small trucking company owner is facing: the "lack of affordable insurance."
Specifically, "One broker offered Walker a commercial vehicle insurance policy with an annual premium of $43,000 – $2,000 more than heavy-duty truckers' annual median pay."
Truckers, if you're in a similar situation entrepreneurially speaking, have you found your situation to be the same?
9. A spokesman for the Arkansas Highway Police was quoted in a June 6, 2017, article regarding the inspection emphasis that took place this week, "We're checking tires rims, lugnuts, brakes, brake chambers, you name it we're looking at it."
www.arkansasmatters.com/news/local-news/i-30-roadcheck-targets-truckers-in-saline-county/733433862 (no longer online)
It's a wonder that the nationwide inspection process doesn't happen more often than it does.
Keep your truck in tip-top condition.
You never know when your truck will be pulled in for a random inspection.
10. A June 5, 2017, article about how some insurance companies are losing money, stated: "many insurers have proven more willing to renew coverage if trucking companies agree to install in-cab cameras to monitor drivers. As a result, many commercial trucking companies have adopted the cost saving technologies."
The article further states, "Lawyers have increasingly used on board cameras in courts as they can record the moments before an accident, which in many cases exonerates the driver. The issue of driver liability has become more critical in recent years as jury awards have increased dramatically."
Would you as a trucker be willing to have a cab-facing camera in your truck if it meant that your or your carrier's insurance rates would be lower?
Why or why not?
11. A lorry driver "pleaded guilty to causing death and serious injury by dangerous driving".
We empathize with the family of the woman, her unborn son, and her daughter — all of whom died directly — or as a result of complications that arose — from the accident.
The article further stated that "thirteen other people were injured in the six car pile-up".
The lorry driver was suspected of being distracted at the time of the fatal accident, according to a June 9, 2017, article.
Whenever you are behind the wheel of a truck, don't allow yourself to be distracted.
It can prove fatal.
12. The whole reason for establishing a database of those who can perform DOT medical exams was to keep the unqualified off the list.
But according to a June 9, 2017, article, a Georgia "septuagenarian chiropractor, [who was] certified by the U.S. Department of Transportation to test truckers' health to be eligible to drive" allowed thousands of truckers to get on the road "after incomplete medical exams".
If you're one of the truckers who acquired a DOT medical card legitimately but was given your card by a doctor who was later found to be falsifying records, have you ever experienced difficulty or been required to get a new DOT medical card?
If so, how much time and money did that cost you?
13. A June 8, 2017, article reported:
"Volvo Trucks has developed a new self-steering truck that can become a significant productivity booster for Brazilian sugar-cane growers. The truck, which is used to transport newly harvested sugar-cane, is steered with great precision through the fields in order to avoid damaging the young plants that will form the following year's crop. At present, about four per cent of the crop is lost as young plants are run over and the soil is compacted by moving vehicles. This can translate into tens of thousands of US dollars in lost revenue per truck per season."
I envision that it won't be too long before trucks guided in sugar cane fields will be guided on roads.
It's time to start earning a second income so that you can easily transition out of the trucking industry.
My husband Mike and I wish you — and all professional truck drivers — safe travels and lots of money saving opportunities on the road.
---
---

Return from TDMST Weekly Round-Up: 2017.06.10 to our TDMST Weekly Round-Up Trucking Commentary or our Truck Drivers Money Saving Tips home page.
---
Reference:
a. www.landlinemag.com/Story.aspx?StoryID=33502#.WTrTFNwpDIV (no longer online)