This is the TDMST Weekly Round-Up of news affecting professional truck drivers, written by Vicki Simons for the week ending May 6, 2017.
We welcome your comments, thoughts and feedback on the items of your choice below.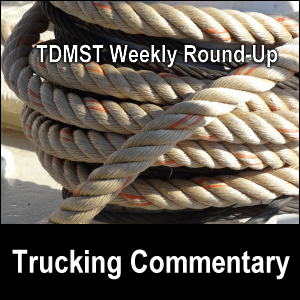 1. The American Transportation Research Institute (ATRI) has a number of top priorities in 2017, among which are:
"Cumulative Economic Impact of Trucking Regulations";
"HOS Flexibility"; and
"Autonomous Truck Impacts on the Truck Driver";
according to a May 2, 2017, article.(a)
Speaking of autonomous trucks, a May 3, 2017, article stated, "Senators Susan Collins (R-Me.) and Jack Reed (D-R.I.) have asked the Government Accountability Office to look into autonomous truck technology and its potential to displace workers."
Which one of ATRI's top priorities this year matters most to you — and why?
2. According to an April 28, 2017, "biz report": "Haulme is an online, software-based alternative to traditional load boards and brokers."
If you use Haulme, would you please provide a service review? Thanks in advance.
3. We empathize greatly with the family of the trucker who died at the scene of the accident that was reported on May 4, 2017, here.
I wonder what caused the trucker to veer "out of the travel lanes" and strike the "semi parked on the right shoulder", but the article does not say.
The accident took place between 11 a.m. and noon, so darkness could not have been a factor.
Note that the accident caused the westbound lanes of the Ohio Turnpike in that area to be closed down "for about 4½ hours."
4. Lessons to be learned from a May 4, 2017, article about a trucker who engaged in some poor behavior are:
don't drive a truck through an "emergency vehicle only access";
when your truck strikes another vehicle, stick around to confess; and
don't tamper with evidence.
In this particular case, the trucker was arrested many states away and has been charged with killing the driver of the van he struck.
5. "Two California truckers have admitted hauling huge, even historic amounts of drugs into New Jersey," stated a May 5, 2017, article.
One trucker "was sentenced to 10 years in state prison with three years parole ineligibility" after pleading guilty to "first-degree possession of heroin with intent to distribute"; and
The other trucker "pleaded guilty to first-degree possession of heroin with intent to distribute", for which the state will be recommending "10 years in state prison".
Don't haul illegal drugs, no matter how much the drugs may sell for on the street. It just isn't worth it.
6. If you're hauling anything that has been shipped by rail from Mexico, you might want to check to see if there are any illegal drugs inside.
According to a May 5, 2017, article, "A shipment of Ford Fusions traveling by rail from Mexico to Minnesota has been found to have marijuana hidden inside the vehicles" — specifically "in the trunks' spare-tire space".(b)
Is it routine for a trucker hauling vehicles to check each vehicle that closely before hauling them?
Are any other loads coming out of Mexico subject to this kind of smuggling?
7. Be aware of "the potential for terrorists to use trucks as weapons to conduct attacks", according to a May 5, 2017, article, and check with your trucking company and driver manager for any updates on security measures.
8. Congratulations to the professional truck drivers working for Walmart's "12 trucking and transportation providers" that were listed as the "retailer's 2016 Carriers of the Year", according to a May 5, 2017, article.
Although the carriers are receiving the recognition, it is you who made this possible!
9. Be sure to stabilize all work trucks where the operation can shift the center of gravity.
According to a May 4, 2017, article, the lineman "was inside of the elevated bucket working on a utility pole … when the truck became unstable and turned on its side."
The lineman consequently died and we offer our condolences to his family.
10. Although many truckers may not think of the State of California as being very trucker-friendly, this May 4, 2017, article may make you think again.
Two class-action lawsuits that resulted in carriers paying out millions of dollars "argue that labor laws require the fleets to account for all work-related activities in their pay structure, no matter if some activities – like fueling, vehicle inspections, waiting for dispatch, etc. – are not considered productive."
Requiring trucking companies to pay drivers for all work-related activities is an excellent move!
Furthermore, the article states, "On a national level, the electronic logging device mandate could be another impetus for restructuring driver pay to activity-based models."
A spokesman for "an Internet-based fleet management and dispatch software provider" explained, "Activity-based driver pay is already common among private and for-hire fleets with dedicated pickup and delivery routes".
What are your thoughts on this? Please share.
11. A May 4, 2017, article has the title, "Celadon to lean less on owner-operators in effort to boost profits".
Say what?
Are owner-operators and independents actually putting up with "increases in deadhead miles, reduced utilization, longer driver dwell times"?
If so, why? And what lessons are to be learned from this?
12. If there's a list of the "Top 100 Truck Stops for 2017" (link), is there a list of the "Bottom 100 Truck Stops"?
If so, where?
13. An excellent and documented letter to President Donald Trump was written by a professional truck driver here which covers ELDs, truck parking, the Hours of Service regulation, lost productivity, potential truck hacking, speed limiters, and driver pay.
The last paragraph ends with this statement: "You want safe roads and drivers, designate them as skilled labor, pay them by the hour for all of their time, and drivers will slow down because they will not have to push to make up lost time and wages."
Do you agree or disagree? Why?
14. According to a May 2, 2017, article, "The advances in A.I. [Artificial Intelligence], M.L. [Machine Learning] and Deep Learning are disrupting and doing a better job on many tasks currently being executed by humans."
Oh, and in case your driver manager thinks his job is secure, the article also asks, "what would your margins look like if 30% of the dispatching and/or order entry tasks were executed by algorithms?"
Oh, my!
On behalf of my husband Mike and me, we wish you safe travels and lots of money saving opportunities on the road.


---
---
Return from TDMST Weekly Round-Up: 2017.05.06 to our TDMST Weekly Round-Up Trucking Commentary or our Truck Drivers Money Saving Tips home page.


---
Reference
a. www.thetrucker.com/News/Story/ATRIBoardoutlinestopresearchpriorities (no longer online)
b. strib.mn/2qDB9HQ (no longer online)