This is the TDMST Weekly Round-Up of news affecting professional truck drivers, written by Vicki Simons for the week ending May 19, 2018.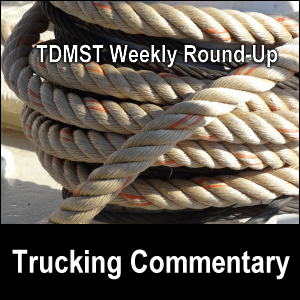 We welcome your comments, thoughts and feedback on the items of your choice below.
1. A May 15, 2018, article is the first one I've read that specifically links the ELD mandate with higher freight costs.
I find it interesting that the proposed solution is waiving the ELD mandate for agricultural haulers.
Why?
I've seen a number of articles about this type of hauler or that within trucking
– either having the ELD mandate waived;
– or that it was proposed that it should be.
And that's the point: The ELD mandate was supposed to be trucking industry-wide in scope.
The reality is that that broadbrush approach to regulating the trucking industry is falling apart (as many truckers figured it would).
How much more money is going to have to be wasted — and how many more people are going to have to be inconvenienced — before the ELD mandate is concluded to be a flop?
I say repeal the whole law/regulation — and the sooner, the better.
2. Speaking of ELDs, I was very surprised to see an article dated May 14, 2018, about "Selecting the Right ELD – GPS / Telematics".
After all, the ELD mandate went into effect for large trucks in December 2017 and "hard enforcement" started on April 1, 2018.
Then, I noted that this article was written on WorkTruckOnline.com.
OK.
Then I read a little farther and oh, my!
We read:
Since the ELD Mandate has gone into effect, I have spoken with several fleet managers who have buyer's remorse, regretting their ELD decision. In most cases, they purchased a light solution that was simple to implement but provides little value other than bare bones hours-of-service (HOS) compliance.

What went wrong and why are they in this situation? These fleets didn't identify their telematics business requirements prior to selecting an ELD solution, and the one they picked doesn't meet their needs."
Ouch!
But who was supposed to train these fleet managers about telematics?
And if the fleet managers didn't know, who trained the owner-operators?
I'd like to hear from owner-operators who have "buyer's remorse" over the "light solution" they bought that hasn't given them the data they need.
Please comment below.
3. Evasive action to avoid a collision may save a life but may end up causing other problems.
According to a May 16, 2018, article, "a crash [on Highway 360's newly opened toll lanes in Grand Prairie, Texas] happened after a PT Cruiser stopped in the middle of the highway and then backed up. A dump truck driver following behind… swerved to avoid the vehicle and crashed into the center barrier, causing the truck to catch fire."
Contact your trucking company's Safety Director to obtain training on what to do in situations like this — including during hours when it is dark outside.
4. On May 15, 2018, an article reported this background information:
"Trucker Path's trip planning (and more) app is a widely utilized tool among truckers, and part of its multi-functionality is to enables users to report whether truck-stop lots contain 'Lots of spots' open, 'Some spots' or whether it's a 'Lot full' scenario. The app then allows those reports to be searched and found by users."
That being said, Sam Bokher of Trucker Path reported that "searches for parking information" nearly doubled between April 2017 and April 2018 and that there was "a very steep curve upward in search numbers between 3 and 8 p.m. Eastern time."
5. In the same article as cited in #4 above, there is a disconcerting paragraph near the end.
We read:
"A driver commenting under Werner's story at OverdriveOnline.com noted he'd recently 'stopped in traffic and the ELD changed automatically to on-duty not driving' while he was still in the road. The hauler ran a few hours down the road without realizing the switch, 'got stopped by the police,' and got an hours violation for a false log."
What I want to know is why an ELD is automatically making a change of duty status without direct driver input!
6. The North American Council for Freight Efficiency's Annual FleetFuel Study was quoted in a May 11, 2018 article as saying that "Since 2008, deployment of trailer skirts has exceeded 80 percent".
Furthermore, we read:
– "the responsibility of improving trailer drag has fallen largely on accessories such as skirts, tails and fairings";
– "Such add-ons promise potential fuel savings from 1 to 9 percent, according to the U.S. Environmental Protection Agency's SmartWay program"; and
– "When combined, some components offer savings of 9 percent or higher, … However, the net savings of multiple aerodynamic improvements may not always be cumulative."
Another article published on May 15, 2018, addressed "Wringing the most fuel efficiency out of a trailer".
And yet another article addressed "Spec'ing a Low-Maintenance Trailer".
7. Holy truck battery theft, Batman!
It has been reported that 36 truck batteries — valued at $230 each — have been "stolen during three separate thefts" from several Portland, Oregon, trucking companies.
One trucking company has "since secured the batteries with cable lockdowns".
If you use a cable lockdown on one or more truck batteries, please review it.
8. "Canada Road Safety Week is scheduled to run May 15-21," according to a May 14, 2018, article.
The Canadian Association of Chiefs of Police are conducting a campaign, "asking people to take the D's — in the form of drunk, drugged, distracted, drowsy, dangerously, or detached — out of driving."
I followed the link from the article to try to learn the definition of "detached driving", but was unable to locate it.
Perhaps one of our Canadian readers can provide this information?
9. Yikes!
"Diesel prices have jumped 22 percent from a year ago and stand at their highest level in 41 months", according to a May 16, 2018, article.
This makes it more important than ever for trucks to have the best fuel economy they possibly can.
What tips do you have for increasing your fuel mileage, drivers? Please comment below.
10. LandLine Magazine reported on May 10, 2018, "The Federal Motor Carrier Safety Administration recently published its Large Truck and Bus Crash Facts for 2016, highlighting some key factors behind truck-involved crashes."(a)
Here are some greatly condensed points:
– 38 percent: "another vehicle encroaching into the truck's lane";
– 26 percent: "another vehicle in the same lane that did something to make a crash imminent";
– less than 25 percent: "the truck's loss of control or movement";
– 5 percent: "vehicle-related factors such as tires, brake system, steering, etc."
The "most common human-error factors" were:
– 7 percent: speeding;
– 6 percent: distraction; and
– "less than 4 percent": "impairment" (which includes "fatigue, alcohol, illness, and other physical or mental impairments").
I'm still waiting to see what happens as a result of the ELD mandate when it comes to "impairment" due to "fatigue".
11. As a reminder, the CVSA's "International Roadcheck" will take place on June 5-7, 2018, and the focus this year will be on Hours of Service compliance, according to a May 14, 2018, article.
12. In one of the best articles I've read in some time, author Jason Cannon wrote on May 10, 2018, "Detention works in school, but not the trucking industry".
He made a direct parallel between the taxi cab industry, the Uber experience, and the trucking industry.
"I don't think it's unfair to notify even the best shipping customers that now, more so than ever, unplanned unpaid time sitting idle is a no-win proposition for all concerned — and that it ends now", he wrote.
Then he suggested "universal detention pay" — a concept I love because, as he said, "drivers… don't deserve to have their Hours of Service held hostage by shippers who can't manage a clock."
"Detention… shouldn't be an accepted practice in trucking, casually written off as a cost of doing business," he wrote.
And then he cited that part of that "cost" of doing business is drivers leaving employers due to "lack of respect".
An extension of respect, he wrote, is "Valuing [drivers'] time, and compensating them for that time".
It is absolutely time to "[implement] a system that pays drivers for the hours they use".
All of the hours a trucker uses are valuable.
13. And I close with another appeal to contact your U.S. Senators to say "no" to the Denham/Fischer Amendment, about which Allen Smith wrote here on May 15, 2018.
askthetrucker.com/drivers-unite-as-two-year-battle-against-truckers-reaches-senate/ (no longer online)
My husband Mike and I wish you — and all professional truck drivers — safe travels and lots of money saving opportunities on the road.
---
---
Return from TDMST Weekly Round-Up: 2018.05.19 to our TDMST Weekly Round-Up Trucking Commentary or our Truck Drivers Money Saving Tips home page.
---
Reference:
a. www.landlinemag.com/Story.aspx?StoryID=72287#.WvvOWnYh2M8 (no longer online)