This is the TDMST Weekly Round-Up of news affecting professional truck drivers, written by Vicki Simons for the week ending January 29, 2022.
We welcome your comments, thoughts and feedback on the items of your choice below.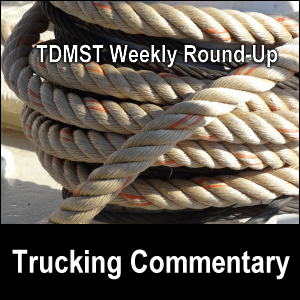 1. Regarding Freedom Convoy 2022 and COVID-19:
Freedom Convoy 2022
Do you remember that in my trucking commentary last week, I cited information from my June 2011 article "Trucker Protest: 10 Reasons Why Parking Your Truck Can Be Costly"? Well there comes a time when not protesting will cost a lot more and such a time has come in Canada concerning mandatory jabs vs. medical sovereignty. A growing group of truckers — mostly from Canada, but also from the USA — have formed a "Freedom Convoy 2022" that has traveled from various places in Canada with the intention of arriving in Ottawa, Ontario, Canada (the capital) by no later than Saturday, January 29. The mainstream media and even the Canadian Prime Minister have sought to marginalize or ignore the thousands of trucks that have been assembling for this convoy. Mr. Trudeau obviously didn't learn a very important lesson earlier in life: You don't bite the hand that brings you your food! According to this source — The Daily – Commodity flows by mode in Canada: Canadian Freight Analysis Framework, 2017:
In 2017, the vast majority of the 72.9 million freight shipments in Canada were hauled by truck (90%). Shipments by rail accounted for about 9% of the total, and shipments by air accounted for the rest."
Of course, the statistics may have changed since then, but I wager that a large percentage of freight moves by truck in Canada, so Trudeau doesn't know who he's messing with. Also, according to Trucking Statistics:
What is the volume of goods transported by the trucking industry? The United States economy depends on trucks to deliver nearly 70 percent of all freight transported annually in the U.S., accounting for $671 billion worth of manufactured and retail goods transported by truck in the U.S. alone. Add $295 billion in truck trade with Canada and $195.6 billion in truck trade with Mexico. Canada and the United States trade $300 billion in goods and services every year. More than 66% of the goods travel by truck. Each year trucks cross the Canada-US border over 10 million times. (That's one trip every three seconds).
So, based on the statistics, truckers have the leverage to make something happen in Canada! Many thousands of Canadians have turned out in support of the truckers and their courage has sparked courage in others as well. I remind you that this issue is not about health and safety but about power and control. All one has to do is visit OpenVAERS.com to see the numbers of people who have been listed, to learn that the CV-19 jabs are neither safe nor effective in keeping people healthy (through January 14, 2022):
1,053,828 COVID Vaccine Adverse Event Reports; and
22,193 COVID Vaccine Reported Deaths.
The Bible says in 1 Corinthians 6:19-20: "Or do you not know that your body is a temple of the Holy Spirit who is in you, whom you have from God, and that you are not your own? For you have been bought with a price: therefore glorify God in your body." So, it is understandable why those who believe in the Bible would resist a poison death shot (or a series of them). As the Declaration of Independence says (in part):
"We hold these truths to be self-evident, that all men are created equal, that they are endowed by their Creator with certain unalienable Rights, that among these are Life, Liberty and the pursuit of Happiness.–That to secure these rights, Governments are instituted among Men, deriving their just powers from the consent of the governed," Being coerced, forced, or threatened with the loss of one's livelihood are not in keeping with these principles of freedom and liberty — and are not the way to "win friends and influence people." I just read one trucker advocate's statement on Facebook that truckers in the convoy should be prepared for a January 6 type event, so everyone, please keep your eyes wide open! Please let me express again how much my husband Mike and I appreciate you truckers — all year long! I could not possibly assemble all of the articles and resources about this convoy movement, but I have compiled some for your convenience — in alphabetical order (not by chronological date). And don't forget to look at the 4 convoy-related photos embedded near the bottom.
---
COVID-19
I know of no one who has not taken the jab who regrets that, but I have read of numerous people who took the jab who now regret that decision.
2. Regarding accident, accident near miss, and fatalities:
Accident
Please read the article or watch the video and seek to avoid being put in the same situation that led up to these accidents.
---
Accident near miss
---
Fatalities
Our condolences go to this trucker's family.
3. Regarding Automatic Emergency Braking, HOS, politics, age, and safety:
Automatic Emergency Braking (AEB)
I wrote about this situation on Facebook on January 28 as follows:
Oh, is this on top of the notion that "an ELD in every truck will save 26 lives per year"?
In my opinion, this so-called Automatic Emergency Braking will take control out of the hands of human drivers and put it in the "hands" of a program — and ultimately the hands of programmers (who most likely have 0 experience driving a big rig).
As has already been mentioned, the vast majority of big rig crashes are due to the non-truck vehicle/driver.
So the answer isn't more regulation on big trucks!
---
HOS
---
Politics
---
Age
---
Safety
4. Regarding autonomous vehicles, electric vehicles, fuel, and oil:
Autonomous vehicles
I absolutely oppose the operation of driverless, autonomous, and self-driving trucks on the roads with the motoring public, but share these articles as a courtesy to help you stay current with the topic.
---
Electric vehicles
---
Fuel
---
Oil
5. Regarding drugs and smuggling:
Drugs
Never ever agree to haul illegal drugs, no matter how much money you've been promised!
---
Smuggling
Never ever agree to transport people like they are cargo or cattle, no matter how much money you've been promised!
6. Regarding economy, employment, shortage and military:
Economy
---
Employment
---
Shortage
---
Military
I greatly respect our military service members, but I have to ask these questions:
Aren't members of the military supposed to be defending our country? (link)
I don't believe that military members ought to be taking over for those who have been forced out of their jobs due to unconstitutional actions by elected officials and unaccountable bureaucrats.
7. Regarding pay, rationing, insurance, tolls, UCR fee and recall:
Pay
This listing does not imply an endorsement to work for any of these companies.
---
Rationing
DC Asks Shoppers to Start Rationing Food: Is This Just the Beginning?Quote from article (without links):
"Farmers are being paid to not produce, are being ordered to dump their product to rot on the side of the road, meat is being regulated out of existence, people are being banned from trucking food into the country, and food processing plants are coercing people out of their jobs (and then facing inexplicable labor shortages)."
---
Insurance
---
Tolls
---
UCR fee
---
Recall
8. Regarding last mile and length of haul:
Last mile
---
Length of haul
9. Regarding technology and invention:
Technology
---
Invention
10. Regarding training and delivery:
Training
---
Delivery
11. Regarding roads, weather, and winter travel:
Roads
---
Weather
---
Winter travel
12. Regarding awards and photos:
Awards
Congratulations to all truckers who have received a special designation or received an award for their trucking expertise!
---
Recognition
We recognize those who have helped their fellow human beings when they needed it!
---
Photos Regarding Freedom Convoy 2022

"When they start turning off traffic cameras to avoid showing the convoy…"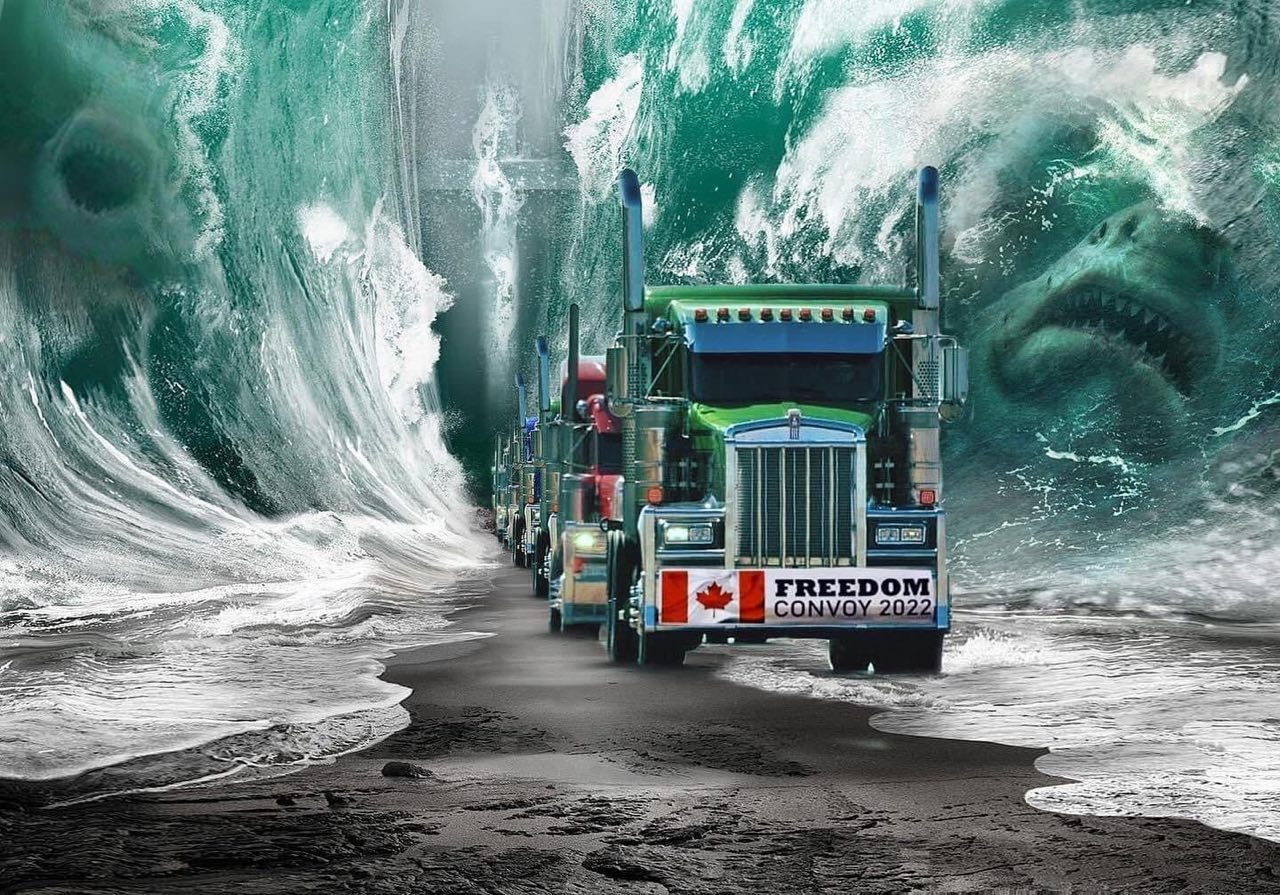 Does this remind you of anything?

Stocked Shelves: Thank A Trucker; Empty Shelves: Thank Trudeau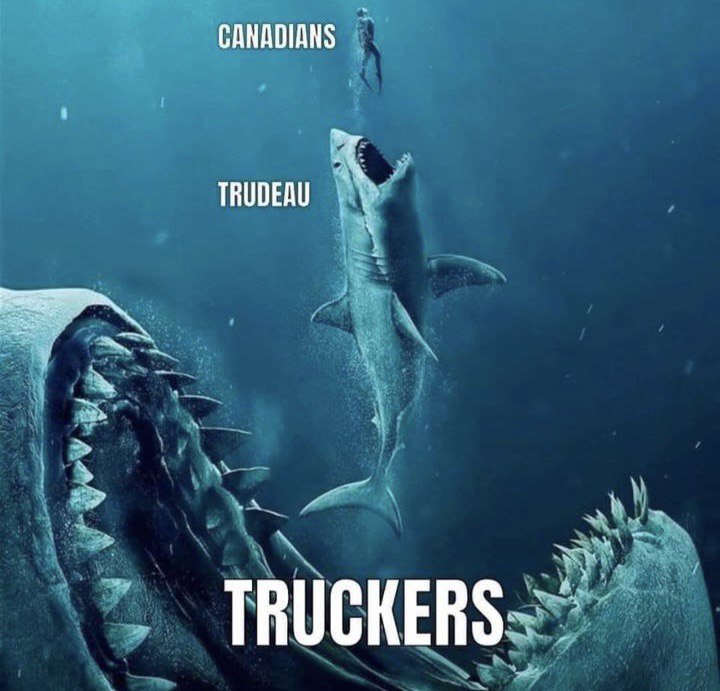 Person swimming: Canadians.
"Small" shark: Trudeau.
"Enormous" shark: Truckers.
My husband Mike and I wish you — and all professional truck drivers — safe travels and lots of money saving opportunities on the road.
---
---
Return from TDMST Weekly Round-Up: 2022.01.29 to our TDMST Weekly Round-Up Trucking Commentary or our Truck Drivers Money Saving Tips home page.
---