This is the TDMST Weekly Round-Up of news affecting professional truck drivers, written by Vicki Simons for the week ending November 18, 2017.
We welcome your comments, thoughts and feedback on the items of your choice below.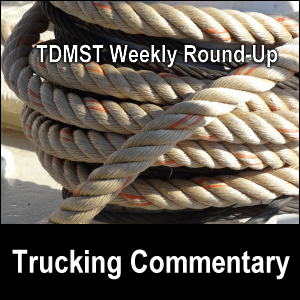 1. A November 15, 2017, article says that during the "transition period" between the ELD mandate in December 2017 and the enforcement of them through April 1, 2018, truckers who "are cited at roadside for not complying with the ELD rule" will not have CSA points but they could still face hefty fines!
According to Lane Kidd, managing director of The Alliance for Driver Safety & Security, "the fines attached to those tickets will likely cost the drivers more than the price of an ELD".
2. Here's a question that came up from a November 15, 2017, article:
Why would a bread delivery driver be carrying $900 in cash in his wallet on the job?
3. If there's one thing that we learn from a November 15, 2017, article, it is that ripping off, taking advantage of, or exploiting customers will bounce back on anyone who does it — sooner or later.(a)
Temporary gain at the expense of one's conscience never pays off.
Don't do it and don't put yourself in a position to do it to others.
4. According to a November 15, 2017, article, a New Jersey truck driver was detained and "charged with theft of service, toll evasion and failure to observe toll signs" when he ran through "an E-ZPass toll on the George Washington Bridge" without paying and was found to have "over 532 toll violations and $62,262 in outstanding tolls."(b)
When you use a toll road, pay for the use of the service.
If you don't want to pay for the service, use one that is clearly free.
5. A simple "accounting error" caused a truck driver who maintained his innocence to
– be "charged with grand larceny after his employer accused him of stealing $2,000";
– endure "nearly a year of legal trouble"; and
– take a financial toll on him "with an open felony charge" against him.
However, according to a November 17, 2017, article, he was vindicated when the error was discovered.
Hurray!
6. According to a November 14, 2017, article,
"Trucking companies and giants who invest heavily in logistics–like Amazon and Walmart–see great potential in cutting costs and speeding up delivery times. That will come via cutting labor costs when truck drivers no longer become necessary…"
"Goldman Sachs economists predicted that trucking will shed about 300,000 jobs per year starting in about 25 years. That may begin sooner than anticipated if automated trucking clears government hurdles and technology innovations–and becomes widely adopted by trucking companies."
7. Fleet management technology provider Zonar published graphics "showing the top 10 most dangerous roads in the U.S. for truck drivers", according to a November 14, 2017, article.
constructionequipment.com/top-10-most-dangerous-us-roads-truck-drivers (no longer online)
This is important because "An additional 36 percent more trucks are on the roads during the holidays … and truck companies can use logistics to keep drivers safe."
8. Truckers who support HR 3282, a House bill to delay the ELD mandate deadline for two years, know that the bill's passage is unlikely before the December deadline.
According to November 14, 2017, article, "That's left truckers suggesting that their only hope of halting the regulation is a nationwide strike."
Do you think that there will be a nationwide strike, especially the week before Christmas?
Meanwhile, a November 14, 2017, article stated:
"ELDs should simplify the tracking of hours and free drivers from the drudgery of paperwork and should even make inspections faster and easier."
9. When the law says that you need to move over when law enforcement is parked on the shoulder, do it if it is at all possible.
One trucker in Canada didn't and now has been "charged with driving after 14 hours of duty without eight hours off and failure to slow down and proceed with caution for an emergency vehicle", according to a November 13, 2017, article.
Furthermore, "Fines for conviction of the fail to slow and move over charge range from $400 to $2,000 for the first offence and $1,000 to $4,000 for the second offence or imprisonment for six months, or both."
10. A food truck driver "has been charged with involuntary manslaughter" and has "also charged with reckless driving, driving without a license and insurance, and failure to have a vehicle inspected in connection with the Sept. 8 crash that killed" a 39-year-old mother and "injured her three children and her mother."
A November 13, 2017, article said that the truck "ran a stop sign" supposedly due to brake failure. Part of the indictment was "driving a vehicle 'not under proper control or which had inadequate or improperly adjusted brakes'".
Before you drive a truck, make sure the brakes are properly adjusted.
Our condolences go to the family of the woman who was killed.
11. "Authorities say an ex-truck driver for a Phoenix company who was indicted for dumping thousands of gallons of sewage into a school's storm drainage system has pleaded guilty and is facing prison time", according to a November 13, 2017, article.(c)
Make sure that you dump things that need to be dumped in approved locations only.
12. According to a November 12, 2017, article, in New Delhi, India, the time it takes for "trucks and goods vehicles to cross state borders still ranges from 2 to 9 hours at some of the check points".
13. According to a November 17, 2017, article, "Amazon is looking to speed up the process for trucks to get in and out of its massive warehouses with a new app called Relay."
If you've used Relay, please write a service review.
14. In an article published on November 17, 2017, one professional truck driver wrote, "driverless trucks will be here before driverless cars because that's where the early money is going to be made.
With some of the world's most aggressive and best capitalized companies racing to be first with a viable driverless vehicle, I don't give myself very good odds on choosing when to hang up my keys."
Meanwhile, on November 7, 2017, we read, "Workhorse Group Inc. is official kicking off a pilot test program in 'several major cities' this week of its new N-Gen electric van equipped with an optional HorseFly unmanned aerial vehicle or 'drone' for delivering packages weighing up to 10 lbs."
This type of machine could eliminate the need for delivery drivers of smaller parcels, like fast food.
Just saying…
15. If you use "TruckWings" — as was described here(d), as a aerodynamic enhancement on your truck would you please provide a product review?
16. Not only are there "smart trucks" but also "smart highways".
According to a November 2017, article, , the City of Los Angeles has been using a smart road for over 30 years. Look for more of these in the future.
17. According to a November 13, 2017, article, "Sen. Bernie Sanders (I-VT) wants the U.S. government to only provide federal contracts to trucking companies that pay workers a living wage and benefits, he stated in a letter President Trump last week."
Only, I didn't see any definition of "a living wage and benefits".
Meanwhile:
– a November 10, 2017, article states, "Higher base pay and bigger bonuses are being deployed by motor carriers across a range of sectors — from flatbed operators to dry van freight haulers"; and
– a November 15, 2017, article states, "Driver pay is headed up, driven by tightening capacity, a shortage of drivers, rising turnover and improving freight rates".
18. One of "Five Tips for Winterizing Heavy-Duty Diesel Engines" — according to a November 17, 2017, article — is "Treat the fuel".
19. The subtitle of a November 15, 2017, article says it all:
"Drivers can improve MPG by thinking about idling and truck stop time and proper acceleration techniques and appropriate engine and road speed."
My husband Mike and I wish you — and all professional truck drivers — safe travels and lots of money saving opportunities on the road.
If you're a professional truck driver in the USA, we also wish you and your family a blessed Thanksgiving.
---
---
Return from TDMST Weekly Round-Up: 2017.11.18 to our TDMST Weekly Round-Up Trucking Commentary or our Truck Drivers Money Saving Tips home page.
---
Reference:
a. foxs.pt/2ir4PCH (no longer online)
b. nydn.us/2iqDArK (no longer online)
c. www.kvoa.com/story/36833422/ex-truck-driver-pleads-guilty-to-sewage-dumping-in-phoenix (no longer online)
d. www.worktruckonline.com/channel/fuel-management/product/detail/2017/11/truckwings.aspx (no longer online)