This is the TDMST Weekly Round-Up of news affecting professional truck drivers, written by Vicki Simons for the week ending November 11, 2017.
We welcome your comments, thoughts and feedback on the items of your choice below.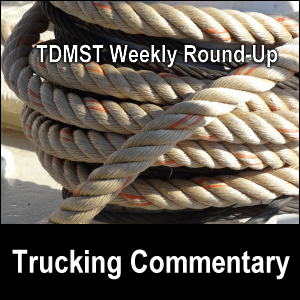 1. According to a November 1, 2017, article,
"The National Transportation Safety Board has determined the truck driver, bus driver and California DOT were at fault in an October 2016 crash in Palm Springs, Calif., involving a tractor-trailer and a tour bus that resulted in 13 deaths and 31 injuries. The Board also determined the trucker had untreated obstructive sleep apnea, and the bus driver had untreated diabetes and was fatigued, likely due to acute sleep loss, at the time of the crash."
Then, on November 8, 2017, an article reported that:
"the National Transportation Safety Board revealed that the truck was indeed visible for 20 seconds before the tour bus hit it"(a);
"other drivers traveling ahead of the bus driver" saw the stopped truck and took "corrective action to avoid striking it"; and
"the bus driver's failure to avoid the crash as a result of fatigue and the fact he did not expect to encounter stopped traffic";
were responsible for the accident.
Even though the trucker fell asleep in the lane of traffic, all members of the motoring public need to be prepared to stop suddenly while driving. Period.
2. The frightening situation encountered by one trucker — as was reported in a November 10, 2017, article — prompts me to ask,
"What procedures has your trucking company trained you on regarding being forced at gunpoint to drive your truck where the gunman demands?"
3. One sentence in a November 10, 2017, article has me asking questions:
"… because of the potential economic benefits, he said it's more likely the trucking industry will take the biggest steps forward in autonomous technology early on."
Who stands to benefit economically from autonomous trucking?
What about all of the taxes that are paid by truckers and those who work in trucking-related industries, particularly:
– those who service the truckers themselves and
– those who make products specifically for truckers?
4. "Cargo theft incidents in the United States were up 24 percent in the third quarter when compared to the second quarter of the year, according to SensiGuard's quarterly report", according to a November 8, 2017, article.
Meanwhile, a November 9, 2017, article:
stated, "Thanksgiving and Christmas are prime times for cargo theft";
listed the "Top 5 States" where "all [cargo theft] incidents occurred"; and
listed "The Top 10 U.S. Counties for cargo theft".
5. "A dispute between truckers allegedly over a spot in the fuel pump line at a Walton, Ky., truck stop left one truck driver with a gunshot wound in his arm and another dead after an apparent suicide. The incident occurred at approximately 9:38 a.m. on Tuesday, Nov. 7", according to a November 9, 2017, article.
A related article called the confrontation "A breach of trucker etiquette".
Please remember to "do unto others as you would have others do unto you."
Our condolences go to the family of the trucker who died.
6. Several articles this week all zero in on drugs being used by professional truck drivers:
A November 2, 2017, article stated that the family of a woman who was killed by a trash truck driver in Glen, Burnie, MD, is suing the trucking company, claiming that the trucker "was prescribed 'psychotropic medications' to treat major depression and [they were] negligent in allowing him to drive a truck."
"Beginning Nov. 8, five Michigan counties will participate in a one-year oral fluid roadside drug testing pilot program" and "Michigan saliva drug test pilot program" in which "specifically trained officers" will test "drivers suspected of being under the influence of such drugs as marijuana, cocaine and heroin", according to a November 6, 2017, article;(b) and
A November 10, 2017, article stated, "The U.S. Department of Transportation is amending its drug testing panel to add four commonly abused opioids to meet new Health and Human Services drug testing guidelines", with the "drugs that drivers will be tested for [including] hydrocodone, hydromorphone, oxymorphone, and oxycodone."
7. "Rhode Island officials won't deliver the state's truck-only tolls until after Christmas, to allow sufficient time for comment on the environmental impact of initiating tolling at the first two of 14 locations where gantries will be built", according to a November 10, 2017, article.
Environmental impact, huh?
They didn't take that into account ahead of time?
8. There's still a lot in the news about the Electronic Logging Device (ELD) mandate:
According to a November 9, 2017, article, "Produce transportation is dominated by small truckers, and [Kenny Lund, vice president of operations for the Allen Lund Co., La Cañada Flintridge, Calif.] said the planned ELD implementation Dec. 18 hurts the small truckers more than larger truckers." Specifically, "the ELD mandate may affect produce shipments more than dry freight, driving rates higher and adding to delays in shipments."
thepacker.com/article/eld-implementation-worries-trucking-leaders (no longer online)
According to a November 10, 2017, article, "The Texas representative who has been the principal sponsor of the H.R. 3282 ELD Extension Act of 2017 two-year electronic-logging-device mandate delay has written a letter requesting President Trump write an executive order to delay the December 18 mandate enforcement deadline at least until April Fool's Day next year."
On November 7, 2017, an article stated, "Independent truckers are trying to get President Trump's attention in the hopes that he will halt or delay the pending electronic logging device mandate before its Dec. 18 implementation deadline."
"With less than six weeks until the Dec. 18 deadline for fleets to install mandatory electronic logging devices, one survey indicates there will be a lot of smaller fleets that are at risk for citations and fines — or who will give up on the industry altogether," stated a November 8, 2017, article "The low rate of ELD adoption for smaller carriers will affect the entire industry. Some of the smallest carriers are expected to exit the industry entirely as a result of the mandate."
This November 7, 2017, article said, "With just six weeks remaining before enforcement of the U.S. DOT's electronic logging device begins, 60 percent of fleets running between 1 and 100 trucks have yet to adopt ELDs, according to a recent survey conducted by CarrierLists."
9. Truckers, as was reported on November 9, 2017, be aware of this kind of thing as autonomous vehicles become more plentiful:
When there's a match between man vs. machine, some say the machine wins!
10. On November 7, 2017, we read, "Bulldog Hiway Express, a Daseke company, has announced a driver-compensation program called Salary Plus that includes a guaranteed minimum salary of $1,000 a week in its flatbed division."
What would you think about earning a "guaranteed minimum salary" every week, truckers?
11. The Commercial Vehicle Safety Alliance (CVSA) reported on November 7, 2017, that during "September's Brake Safety Day inspection event… 1,064 vehicles were placed out of service due to brake-related violations" and "That amounted to 14% of the 7,698 vehicles inspected in the U.S. and Canada, which is a slightly higher rate of out of service violations than in the unannounced… event earlier this year, which put 12% of vehicles out of service for brake-related issues."
12. The most common causes of vehicle breakdowns, according to a November 7, 2017, article are tire problems.(c)
Read the article for more details.
13. Also, read:
this November 7, 2017, article to learn "How should fleet vehicles be prepared for winter?"; and(d)
this November 6, 2017, article, which contains "tips from AAA" about driving in snow.(e)
14. Mike and I wish all veterans a blessed Veterans Day.
If there are special discounts available to you for things that you need, we encourage you to take advantage of them.
My husband Mike and I wish you — and all professional truck drivers — safe travels and lots of money saving opportunities on the road.
---
---
Return from TDMST Weekly Round-Up: 2017.11.11 to our TDMST Weekly Round-Up Trucking Commentary or our Truck Drivers Money Saving Tips home page.
---
Reference:
a. ktvz.com/news/s-calif-trucker-cited-in-tumalo-semi-suv-crash/491797815 (no longer online)
b. landlinemag.com/Story.aspx?StoryID=71151#.WgYGjHZrzcs (no longer online)
c. worktruckonline.com/blog/fleet-management-and-leasing/story/2017/11/q-what-are-the-most-common-causes-of-vehicle-breakdowns.aspx (no longer online)
d. worktruckonline.com/blog/fleet-management-and-leasing/story/2017/11/q-how-should-fleet-vehicles-be-prepared-for-winter.aspx (no longer online)
e. worktruckonline.com/channel/safety-accident-management/news/story/2017/11/safety-tip-driving-in-snow.aspx (no longer online)