This is the TDMST Weekly Round-Up of news affecting professional truck drivers, written by Vicki Simons for the week ending February 10, 2018.
We welcome your comments, thoughts and feedback on the items of your choice below.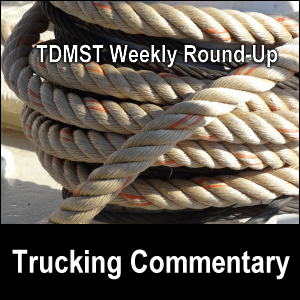 1. Finally, a spotlight is being shined on the problem of trucker detention in docks and its cost — in money and safety!
A February 7, 2018, article stated that a U.S. DOT report concluded:
– "time spent detained at shipper or receiver facilities cuts truck driver pay by between $1.1 billion and $1.3 billion annually" ("annual [driver] pay loss of between $1,281 and $1,534"); and
– "An extra 15 minutes spent detained beyond the standard two-hour window causes industry crash risk to climb 6.2 percent… an average of about 6,500 additional crashes annually".
Talk about putting the responsibility for truck crashes back on the shoulders of the shippers and receivers!
According to a February 5, 2018, article stated, "DOT has taken issue with how FMCSA plans to collect data on driver detention."
I have asked truckers through our Facebook page how much time they're really spending in docks and how much that is costing them. I think that better statistics will be gathered over time.
When will shippers and receivers take truckers' time seriously? Or is this a push to have autonomous trucks take the freight from the "transfer hubs" described in February 5, 2018, article to the docks?
In that article about Uber's blog post, we read, "the transportation industry could meld mixed fleets of self-driving trucks with more localized traditional trucks in order to meet the growing demand."
On top of all this, a February 7, 2018, article reported that "5 U.S. Cities Rank Among World's Most Traffic-Congested", with Los Angeles leading the pack.
Get ready for big changes.
2. Evidently, there are truck parking problems "along southern Ontario [Canada] highways", too, according to a February 2, 2018, article.
The Ontario Ministry of Transportation has asked both Canadian and U.S. truckers "to help determine where additional truck parking is needed in the province".
I hope that the information that is gathered is truly taken to heart and that additional truck parking is created where it is needed.
Hint: Additional truck parking is needed in many places in the USA (especially if Connecticut closes 7 rest areas).
Again, I suggest that space near industrial parks (where commercial trucks are already entering and exiting) be explored for truck parking.
3. A truck driver has been "charged with transporting people for financial gain" after 77 people who had entered the USA illegally were found in his sweltering trailer, according to a February 1, 2018, article.
The driver expected to be paid $100 per immigrant, but this perspective treats humans as "mere commodities without regard for their safety", according to a border patrol agent.
A similar article entitled, "Over 100 illegals found in tractor-trailers near TX border" was written on January 31, 2018.
Never engage in smuggling goods or people into or out of an area illegally. Remember to treat others as you would want to be treated.
4. Will this news cause you to change your route?
According to a January 30, 2018, article, "Of the more than 600,000 bridges across the nation, more than 54,000 are considered 'structurally deficient,' according to American Road and Transportation Builders Association's annual deficient bridge report. Approximately one-third of bridges need repairs."(a)
A February 5, 2018, article has a map with states bearing colors of orange, blue, and yellow meaning different percentages of their bridges being structurally deficient:
– Orange means "more than 9 percent";
– Yellow means "between 5 and 9 percent";
– Blue means "less than 5 percent".
5. On February 5, 2018, FleetOwner.com published "Company drivers could take hit from new tax law".
Its subtitle is, "Because of tax rule changes to itemizations, W-2 drivers will no longer be able to itemize expenses. But there is a workaround."
6. A February 2, 2018, article about the livestock hauling industry regarding the use of Electronic Logging Devices (ELDs) states, "… there's a big difference between hauling a load of TVs and a load of cattle destined for meatpacking plants."
harvestpublicmedia.org/post/what-are-we-gonna-do-them-livestock-hauling-industry-concerned-about-new-federal-rules (no longer online)
They are legitimately concerned that their "soon-to-end temporary exemption from the rule … will upend their industry and put animals at risk."
Furthermore, because of the added problems, experts say that meat prices at stores have a "good chance" of going up as a result.
7. A February 6, 2018, article stated that "a coast-to-coast trip across the United States [was made] with an automated truck … [and] a driver at the wheel at all times". The 2,400-mile journey was made "along Interstate 10 from Los Angeles to Jacksonville, FL".
8. OK, the complaints have started to come in about ELD units.
On February 5, 2018, the author of a TruckNews.com article wrote: "If you haven't adopted an ELD or are unsatisfied with the system you chose, take heart."
Dissatisfaction with unproven ELD units after-the-fact is exactly the problem that the Indiana State Attorney General tried to prevent when he wrote to ask that the ELD mandate be delayed! It's too bad that the federal government didn't listen to this state official — and especially the truckers who are driving the trucks!
In a February 5, 2018, article, we read that "The Owner-Operator Independent Drivers Association is calling on President Donald Trump to meet with the real men and women behind the wheels of America's trucks to discuss the mandate for electronic logging devices. … The OOIDA's acting president Todd Spencer urged Trump to meet with 'Americans who actually drive for a living.'"(b)
9. I get a kick out of reading the "Preventable or Not" columns on CCJDigital.com.
The article that came out on February 5, 2018, points out something very interesting!
The accident was described as a four-wheeler steering into the lane in front of a truck, the truck jackknifing, then sliding off the road and striking a light pole.
All of this took place while road conditions were worsening and some drivers were driving more slowly.
The accident was ruled as "preventable" because "Under those conditions, a professional driver should have anticipated" the four-wheeler and others "lane-hopping".
Did you catch that? The trucker "should have anticipated" the movements of the traffic around him/her.
Speaking of anticipating actions of other drivers, both drivers in the fatal truck-bus crash in Palm Springs "were unable to respond appropriately to cues that other motorists did act on."
In the Palm Springs accident case, the truck driver is being "charged with more than 40 felony and misdemeanor counts, including vehicular manslaughter and reckless driving causing injury."
Some charges may stem from the driver's violation of his Hours of Service.
10. If you're an owner-operator, make sure someone is watching out for you and your finances.
According to a February 6, 2018, article entitled "The Pilot trial taught us how trucking has weaponized data", we read:
"Pilot Flying J used its superior data resources to identify holes in its customers' information and exploit them."
As Freightwaves.com says, "the world's most valuable resource is no longer oil, but data".
Use the data you collect to your advantage.
11. A February 5, 2018, article says, "Short-haul truck drivers who pick up and deliver containers at the ports of Seattle and Tacoma [are planning to] protest a proposed April 1 deadline restricting port access to allow only newer, cleaner-burning diesel trucks."
Independent drivers claim that "the cost of upgrading to cleaner vehicles will put many of them out of business."
Frankly, I see and appreciate both sides of this issue.
Be aware that Washington state officials may take the matter out of the hands of the local ports.
12. Be ready to pay a fine for damaging an overpass that your truck is too tall to pass under, especially if "significant damage to a steel structural beam" occurs.
One such incident was reported on February 6, 2018, here.
13. To celebrate National Pizza Day on Friday, Feb. 9, 2018, Pilot Flying J will be giving away free slices of pizza to truckers. Read more about the requirements here.
My husband Mike and I wish you — and all professional truck drivers — safe travels and lots of money saving opportunities on the road.
---
---
Return from TDMST Weekly Round-Up: 2018.02.10 to our TDMST Weekly Round-Up Trucking Commentary or our Truck Drivers Money Saving Tips home page.
---
Reference:
a. landlinemag.com/Story.aspx?StoryID=71664#.WnXRo3ZG3cs (no longer online)
b. landlinemag.com/Story.aspx?StoryID=71703#.WnxpR3ZG3cs (no longer online)