This is the TDMST Weekly Round-Up of news affecting professional truck drivers, written by Vicki Simons for the week ending October 17, 2020.
We welcome your comments, thoughts and feedback on the items of your choice below.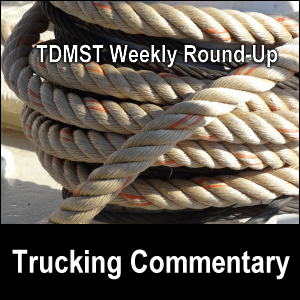 1. Regarding broker transparency, comments, and listening sessions:
There's been a great deal of angst regarding broker transparency, especially since the spring of 2020.
By way of background, on September 25, 2020, this article stated:
Last month, the FMCSA published into the Federal Register recently filed petitions by the Owner Operator Independent Driver's Association (OOIDA) and the Small Business in Transportation Coalition (SBTC) calling for new measures to ensure small business truckers have access to each transaction record.

The petitions stem from concerns that freight brokers are not complying with, or are circumventing, 49 CFR 371.3 which requires brokers to provide a copy of the transaction record to carriers, at the carriers request, upon delivery of the load.
First, I'm going to list the most recent articles about this — and then I'll list some specific helps from SBTC via Facebook.
---
Articles
---
Background
Courtesy of SBTC on Saturday, October 10, 2020
On August 5th, the Transportation Intermediaries Association (TIA) filed a petition with FMCSA to "Request to eliminate the requirements of 49 CFR §371.3(c) and asks the Agency to develop guidance on what legally constitutes a "dispatch service." Notice of receipt of petitions is required under the FAST Act to be published at:
https://www.fmcsa.dot.gov/regulations/petitions-0

You will be able to read and comment on the Petition on Tuesday by clicking the link to regulations.gov that appears at the bottom of
fmcsa.dot.gov/regulations/notices/2020-22482 (no longer online).

FMCSA has published this in stealth mode under the notice about the Listening Session rather than as a stand alone notice. Be sure to comment on this attempt to eliminate this transparency rule.

SBTC was the first trade group to bring the 371.3 rule to the forefront on social media back in April, after which, TransportationNation.com published this story on the rule
https://www.transportationnation.com/what-every-price-gouging-freight-broker-hopes-truckers-don't-know/

…setting off a chain of events that then lead to a late April SBTC antitrust complaint filed with USDOJ Antitrust Division over alleged price fixing and price gouging… Truckers then stormed the nation's capitol and held a three week long May Day Trucker Protest in DC over broker abuses and the resulting decline in spot market freight rates. Thereafter, the SBTC petition for rulemaking to stop brokers from evading regulation. OOIDA then filed a similar request. Comes now, the TIA asking the agency to repeal this rule. Drivers are advised to file their comments against the TIA proposal to repeal the rule. As for dispatch services, as indicated on the FMCSA Petitions page, FMCSA's then Acting Administrator Jim Mullen already advised the SBTC on January 28, 2020 that dispatch services are, in effect, illegal brokers.
---
SBTC's Comments
SBTC Drops Bomb on TIA Petition to Repeal 49 CFR 371.3(c) Transparency Rule, pointing to Federal "criminal" evasion of regulation statute… (Tuesday, October 13, 2020)
---
SBTC's Template
Courtesy of SBTC on Tuesday, October 13, 2020 (with extra formatting added for easier reading)
YOU CAN NOW FILE YOUR COMMENT AGAINST THE TIA PETITION TO REPEAL THE BROKER TRANSPARENCY RULE

File your comment here:
https://www.regulations.gov/document/FMCSA-2020-0190-0001

YOU MAY USE THIS TEMPLATE:

Dear FMCSA,

I understand that FMCSA received a petition on August 5, 2020 for rulemaking from the Transportation Intermediaries Association (TIA), asking FMCSA to eliminate the requirements of 49 CFR 371.3(c) and to develop guidance on what legally constitutes a "dispatch service."

TIA's petition asserts that its proposed modifications and clarifications would eliminate an outdated regulation that no longer applies to the current marketplace. TIA's request includes the promulgation of guidance to the public on what constitutes a legitimate "dispatch service" to remove, in its words, "unethical and unscrupulous actors from the marketplace" and eliminate an administrative burden on FMCSA to enforce outdated and unnecessary regulations.

I am writing to advise you I do NOT support the TIA's attempt to repeal this regulation.

The 49 CFR 371.3 (c) rule is the very safeguard the ICC put into place in late 1980 –after the onset of deregulation– to justify the 1980 relaxation of regulations on brokers, on the one hand, yet ensure a level playing field among all the players, on the other. To remove this safeguard now is imprudent. Such a move would essentially give brokers carte blanche to abuse owner-operators and small business motor carriers, moving forward, with impunity, and allow them to continue to unethically purport they have only 16% average margins… but secretly effect margins as high as 65% under the cover of darkness.

That kind of unethical, underhanded business practice has never been okay. It was not okay 70+ years ago, and the FMCSA should not conclude it is suddenly okay in 2020.

Times have not changed. Big corporate broker ethics have.

The ball is now in FMCSA's court and you have a chance to declare that broker exploitation will not be condoned.

I therefore echo the SBTC's call for you to deny the TIA petition as it:
– is not in the public interest,
– is not in accordance with Congressional intent dating back to 1935 and ICC regulatory wisdom dating back to 1949,
– does not reconcile with the National Transportation Policy, and
– does not protect shippers and carriers from an abuse of market power as witnessed in the Spring of 2020.

Thank you.

Sincerely,

<INSERT YOUR NAME HERE>
---
SBTC Broker Fun Fact
Courtesy of the SBTC (Wednesday, October 14, 2020):
SBTC BROKER FUN FACT: Here is an original ICC Broker Rule dating back to 1949 that TIA doesn't want you to know about. It was replaced in 1980 when ICC promulgated the new broker transparency rule that we now call 371.3c…

§ 167.5 Charges for brokerage service. (a) Each broker shall maintain and keep open for public inspection at each place of business which he maintains, a schedule stating his maximum charge for each brokerage service which he holds out to perform, and (b) No broker shall charge or collect any more for any brokerage service than his maximum charge therefor as contained in his schedules maintained pursuant to paragraph (a) of this section.
For your reading pleasure, please see:
49 CFR § 371.3 – Records to be kept by brokers.
---
Action Point
According to an October 15, 2020, article:
Comments can be sent by going to Regulations.gov, entering the docket number FMCSA-2020-0150 in the "Keyword" block and clicking "Search." From there, click on the "Comment Now!" button. FMCSA recommends that you include your name, email address, or phone number in the body of your document.

Also, comments can be made during FMCSA's virtual listening session on broker transparency. The listening session is scheduled for 1-2:30 p.m. Eastern on Wednesday, Oct. 28. Registration is required in advance at FMCSA.dot.gov. The docket number for the listening session is FMCSA-2020-0190.
Shortcut: Owner-Operator Independent Drivers Association, Small Business in Transportation Coalition Petitions for Rulemaking; Transparency in Broker Transactions
2. Regarding preventable accidents:
Perhaps you can see what the errors were that led up to these accidents and not repeat them:
3. Regarding autonomous vehicles:
I'm listing these articles just to help you stay up on this news:
4. Regarding drivers, owner-operators, drugs, operations:
Drivers
I'm including these articles because different truckers learn different ways and if you're not getting the kind of training you need, the information may help you understand what's missing.
---
Owner-operators
---
Drugs
---
Operations
5. Regarding the economy and trucker employment:
Economy
---
Employment
6. Regarding electric trucks and fuel:
Electric trucks
---
Fuel
From this October 15, 2020, article — Powering the Future — I found the following section very interesting (emphasis added):
"When we have those discussions about electrification, there seems to be an assumption that there are no emissions, that all electrons are clean and created with 100% renewable energy. And this is just truly not the case," says Allen Schaeffer, executive director of the Diesel Technology Forum. "There are some parts in the U.S. where most of those electrons are created from coal or natural-gas-fired power plants. We're just trading tailpipe emissions for smokestack emissions. There are always some impacts associated with whatever it is that's powering whatever vehicle you have."
7. Regarding routing and escape ramps:
Routing
---
Escape ramps
8. Regarding innovations and right to repair:
Innovations
---
Right to repair
9. Regarding technology:
10. Regarding tolls and pay:
Tolls
---
Pay
11. Regarding weather:
12. Regarding complacency and compliance:
Just because a trailer can roll down the road doesn't mean that it should!
VIDEO: 'If it rolls, it goes!'
Remember to be safe, legal and compliant with the law.
Driving or hauling damaged equipment is an open invitation to get a ticket, a fine, or worse.
Protect yourself!
My husband Mike and I wish you — and all professional truck drivers — safe travels and lots of money saving opportunities on the road.
---
---
Return from TDMST Weekly Round-Up: 2020.10.17 to our TDMST Weekly Round-Up Trucking Commentary or our Truck Drivers Money Saving Tips home page.
---