This is the TDMST Weekly Round-Up of news affecting professional truck drivers, written by Vicki Simons for the week ending February 17, 2018.
We welcome your comments, thoughts and feedback on the items of your choice below.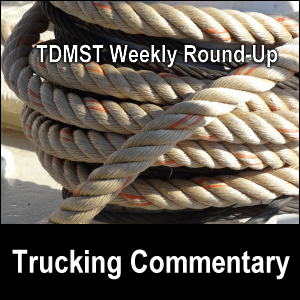 1. A February 16, 2018, article addressed how certain ELDs can help some fleets with certain runs, know "exactly the amount of time the delivery took — and if it's longer than it should be, the fleet now has documentation on detention."
fleetowner.com/technology/elds-harnessing-power-data (no longer online)
According to the article, with ELD documentation in hand, "you can show your customer the problem and go about working on a mutually beneficial solution — putting the onus on the shipper to speed the unloading process or agreeing on adding detention time charges."
Documentation can also be made on the loading side of things, what with shortage, breakage, billing, taking photographs, etc.
Other functions can also be added — or will be able to be added — on some ELDs that can help truckers work more efficiently and get paid faster.
2. In a separate article published on February 13, 2018, we read:
"Trucking companies known for serving major harbors are not only raising prices, but also intending to charge port customers for excessive wait times and increasingly extended turn times at thriving terminals, JOC reported."
"Chad Boblett, Kentucky-based independent owner-operator and founder of the active Rate Per Mile Masters Facebook group for business discussion" was interviewed (in part about detention) for a February 13, 2018, article.
"In 2018, with the ELD mandate in play, 'it is now 100 percent OK to bring up detention before you get off the phone' with any broker, no matter the load's origin".
Another article stated — regarding fleets offering pay increases — that one "company is… adding in detention pay, worth $20 per hour for all qualifying loads."
fleetowner.com/drivers/fleets-continue-offering-pay-increases (no longer online)
It is unfortunate, though, that many fleets are still paying on the basis of cents per mile when truckers often perform tasks for which they are not paid.
In my opinion, there should be certain base rates for essential "services" including:
– fueling,
– performing inspections (pre- and post-trip),
– having maintenance done, and
– cleaning the equipment.
Perhaps you can think of other tasks that truckers do for which they should be paid?
3. Have you ever worked to make sure that your truck is compliant with certain regulations and then the regulating agency gave more time to those who didn't make their trucks compliant to become so?
According to a February 15, 2018, article, that's an issue going on at the Port of Seattle.
All these folks want is "a fully, fairly implemented" emissions rule.
Some of the "4,500 trucks that operate out of the port" can afford
– neither to upgrade their trucks to be compliant with the emissions rule,
– nor to buy a new truck that will automatically be compliant.
Yet, those who complied with the new emissions rule feel that they're being penalized because of the consequences of that compliance, because all of these cost money:
– lower fuel economy,
– the need to add DEF, and
– the added maintenance required for the new equipment.
According to the article, 47% of trucking companies operating out of the port failed to meet the emissions rule by January 1.
That raises two questions:
– What would happen if the port truly required all trucking companies to be compliant by January 1?
– If non-compliant trucks were prohibited from operating at the port, would there be enough trucks and truckers to fill their places?
4. A February 13, 2018, article states, "The Minnesota Department of Transportation (MnDOT) is currently at work installing new technology at several rest areas throughout the state to help truckers find safe parking along high volume freight corridors."
When will this technology — and simply more truck parking — be available in other states?
5. "U.S. Xpress… announced a new bonus program for current and prospective team drivers called TeamMax, which rewards paired drivers with $50,000 in bonuses and up to four weeks of paid vacation within a single year", according to a February 15, 2018, article.
Wow! They sound desperate!
6. A February 15, 2018, article stated, "Georgia authorities are warning truck drivers to be on guard after a truck driver was robbed of hundreds of dollars by two armed suspects who broke into his truck while he was sleeping."
Actually, the article states that the truck was "accidentally left unlocked" when the trucker went to sleep.
The trucker woke up to two people having climbed inside his truck and pointing a gun at his chest.
Besides taking about $900 in cash, the thieves took "one of [the trucker's] debit cards … his whole wallet and his cell phone". The trucker also gave them his PIN number.
According to a different article, "Investigator Bryson said the men fled in a reddish 2015 Kia Sportage SUV." The original article said, "If you have information on the suspects, you're asked to call Bryson at 770-775-8216."
This situation is a classic example of why you must always lock your truck when you're both inside and outside.
If you're going to carry cash with you, it is a good idea to split it up, so that in case there's a robbery, thieves can take only part of it.
7. A trucker performed a "hard braking maneuver" that triggered a "critical event report".
However, he was vindicated by the dash cam recording that showed that his evasive maneuver saved two lives.
A four-wheeler passed the truck on a 2-lane road and would have hit head-on a vehicle just turning right into the opposing lane — had it not been for the trucker slamming on his brakes.
I wonder how well autonomous trucks will deal with situations like this.
Hmm…
8. A February 14, 2018, article provided a bit of detail about the petition to the FMCSA that the Owner-Operator Independent Drivers Association (OOIDA) has made, "to amend the existing federal Hours of Service regulations."(a)
Todd Spencer, acting president and CEO of OOIDA, correctly pointed out that despite "more regulations and greater enforcement and compliance with those regulations… crash numbers are going in the wrong direction."
The "new approach" involves flexibility that is described in the article.
Great idea!
9. "An annual report compiled by SensiGuard's Supply Chain Intelligence Center (SCIC) indicates that the number of recorded cargo thefts in the U.S. dropped to 649 in 2017, a 15% decline in volume from 2016…", according to a February 14, 2018, article.
10. One major trucking company once asserted (and possibly still does) that "every" truck accident is preventable. That assertion is simply not true.
According to a February 12, 2018, article, "A truck driver suffered [facial fractures and] a broken sternum when a man committed suicide by leaping off a bridge on Interstate 80" and crashed "through the windshield of [the] semi-truck".
Previously, we covered things that are thrown from overpasses, but we've never before heard of people leaping from an overpass.
Our condolences go to the family of the man who died. We also wish a speedy recovery to the trucker who was injured.
11. A new bridge in/near Murray, Kentucky, is being hailed as providing safer roads and cost savings to truckers.
According to a February 13, 2018, article, the new bridge will save Paschall Truck Lines "tens of thousands of dollars."(b)
Speaking of helps for trucks, a February 14, 2018, article stated, "The Georgia Department of Transportation continues to advance plans to build the first toll-free, truck-only highway in the United States."
The goal of building this proposed highway — estimated to be about 40 miles long and "built along Interstate 75 around the Atlanta area" — is to reduce congestion, improve safety, and "reduce traffic delays on I-75 by 40% in 2030".
Hopefully, it will also "ease traffic… along Atlanta's 'Spaghetti Junction,' the intersection of Interstates 285 and 85 North, named the most congested freight bottleneck for three straight years".
12. Hurray for one Illinois state trooper who posted the observations he made during his morning commute regarding safe driving.
He listed the speeds of passenger vehicles vs. the speeds of semi-tractor trailers:
– None of the passenger vehicles was going slower than 86 miles per hour; and
– None of the trucks were going faster than 70 mph.
In a Facebook post, he commented:
"I will let you make your own assumptions about what some of the primary causes of crashes on that stretch are. I'll give you one clue….. #Speeding"
My husband Mike and I wish you — and all professional truck drivers — safe travels and lots of money saving opportunities on the road.
---
---
Return from TDMST Weekly Round-Up: 2018.02.17 to our TDMST Weekly Round-Up Trucking Commentary or our Truck Drivers Money Saving Tips home page.
---
Reference:
a. www.thetrucker.com/News/Story/OOIDArequestssafermoreflexibleHOSfortruckdrivers (no longer online)
b. www.wpsdlocal6.com/2018/02/13/new-bridge-offers-cost-saving-route-local-truck-drivers/ (no longer online)