This is the TDMST Weekly Round-Up of news affecting professional truck drivers, written by Vicki Simons for the week ending March 10, 2018.
We welcome your comments, thoughts and feedback on the items of your choice below.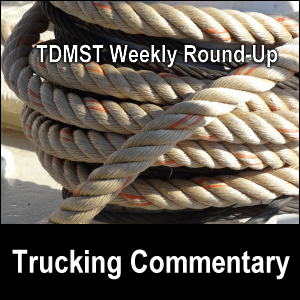 1. In a March 5, 2018, article about solving the detention problem, we read:
…Companies are paying detention fees but are not bothering to look into the details of those fees and sharing what they are finding. If they made detention and appointment scheduling one of their Key Performance Indicators (KPI) they would then have to review what their operation is doing in terms of quickly getting drivers in and out during the loading and unloading process.

Reviewing the detention KPI on a monthly basis would make it clear how many times the company is successful in getting the driver in and out on time and where they are falling short. Then they could dive into the details on those instances when detention exceeded the limit they had set. …

Solving detention problems will result in cost savings, smoother loading and unloading, and happier drivers. That's a winning combination.
I look forward to reading about how trucking companies will be standing up for their drivers in this regard.
2. Big news in the northeastern USA this week were the truck travel bans put in place due to a winter storm.
– A travel ban was issued in Pennsylvania and New York;
– Truckers were left stranded, some at a Pilot Travel Center which was described as "packed in tight" and "packed in like sardines";(a)
– Truckers hunkered down and waited out the storm, the latter article of which said, "Truckers we talked to say the money lost is worth the safety";
– Truckers were upset over the ban; and
– 65 truckers who violated the ban were ticketed, even though they claimed they didn't know about it.(b)
When there is inclement weather, be looking for potential travel bans.
Stay in touch with your trucking company and let them know if you have to shut down.
No load is worth your life.
3. In the "I Can't Believe You Did That, Trucker" Department were these articles:
– A trucker who "failed to maintain his lane" and consequently overturned his rig along I-10 in Okaloosa County, Florida, spilled "nearly 60,000 pounds of beer onto the highway" at 2:40 a.m.
This makes me wonder if the trucker was drowsy — and if so, why he didn't take a break.
– When a "train collided with a truck carrying hydrochloric acid in Centerville, Pennsylvania" on March 6, 2018, "Hazmat crews were sent to the crash scene … to stop 4,400 gallons of [the] acid from reaching the nearby Monongahela River".
Eleven people, including the trucker, were injured and nearby homes were evacuated.
Although the article says that "the cause of the crash was unclear", there is only one way for a moving train to hit a truck — and that is if the truck is on the tracks.
– A truck driver who struck "a low overpass in Philadelphia" on March 5, 2018, and stripped "most of the roof and the back door off of the big rig" ended up "dragging the 50 foot pieces … behind him and waking up dozens of people with the noise."
According to the article, damage could have been done to other cars and property in the trucker's wake.(c)
– A car hauler hauling brand new "Bentleys, Maseratis and Porsches" failed to make it "under the Lower Beech Street bridge in Wilmington, Delaware", according to a March 5, 2018, article.
The first questions that came to my mind were, "How low is the bridge?" and "Is the bridge clearance clearly marked?" These questions were not answered in the article.
However, just from the info in the article, my husband Mike was able to find — in about 5 minutes — a street level view image on Google Maps clearly showing on the sign on the side of the road that the Beech Street low clearance (as of September 2017) is marked at 12'6″ (12 feet, 6 inches).
Regardless of what the trucker thought, this overpass is clearly lower than a 13'6″ truck can go under.
4. Allen Smith covered a couple of different aspects of the Underride Guard Mandate topic on AskTheTrucker.com:
– A Counterargument to Industry Opposition; and
– Unknown facts about underride crashes and prevention.
One of my concerns is how these underride guard mandates will affect aerodynamic aids like side skirts and the under carriage units.
askthetrucker.com/underride-guard-mandate-a-counterargument-to-industry-opposition/ (no longer online)
askthetrucker.com/unknown-facts-about-underride-crashes-and-prevention/ (no longer online)
5. Here's one big "oops" for autonomous trucks:
"The world's first completely driverless semi truck came to a stop in the middle of a Florida highway during its test run last month after the headquarters controlling the vehicle lost power", according to a March 8, 2018, article(d).
Remember the October 2017 crash that happened in California when a trucker "fell asleep" during stopped traffic, and even after the traffic around him started moving again, a bus crashed into the truck at a high rate of speed? Yes, the trucker in that crash had some violations on his log book for which he is being held responsible.
But what happens when a "driverless" truck stops in the middle of the road? Who is going to be held responsible if there is a similar fatal crash sometime in the future?
6. On March 6, 2018, FleetOwner.com published an article entitled, "Collision mitigation, air disc brakes now standard on new Cascadia".
While I am in favor of preventing accidents, my concern with having "collision mitigation" technology installed on any vehicle is its potential ability to "take away" control of the vehicle from the human in the driver's seat.
I would like to see objective tests set up that assure me of the safety of such a system.
Perhaps professional truck drivers could design a series of "real-life scenarios" when a collision is in the making and where measurements could be taken on both a human and the system — including where a human might attempt to take corrective or evasive action.
Then, I would like to see those results made available in a whitepaper in easy-to-understand wording (not technical jargon).
Just saying…
My husband Mike and I wish you — and all professional truck drivers — safe travels and lots of money saving opportunities on the road.
---
---
Return from TDMST Weekly Round-Up: 2018.03.10 to our TDMST Weekly Round-Up Trucking Commentary or our Truck Drivers Money Saving Tips home page.
---
References:
a. nyt.com/news/travel-ban-stranded-tractor-trailers/4817451/ (no longer online)
b. livetrucking.com/truckers-ticketed-pennsylvania-travel-ban-say-didnt-know/ (no longer online)
c. livetrucking.com/truck-driver-drags-roof-miles-striking-overpass/ (no longer online)
d. livetrucking.com/54177-2/ (no longer online)