This is the TDMST Weekly Round-Up of news affecting professional truck drivers, written by Vicki Simons for the week ending March 17, 2018.
We welcome your comments, thoughts and feedback on the items of your choice below.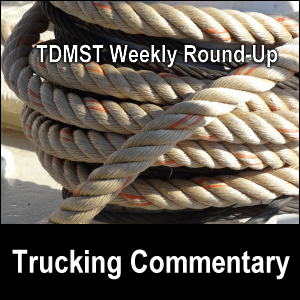 1. It isn't happening just in the USA. According to a March 14, 2018, article, a truck driver in Kent, U.K., who was "using his smartphone behind the wheel" to text about texting laws (of all things) was pulled over and given:
– "the current maximum six point penalty" and
– fined £200 ($275).(a)
Don't text and drive. It isn't worth it.
Even though this video from the NHTSA on distracted driving shows what happens when a four-wheeler gets distracted while texting, it can happen just as easily to a trucker.
Remember: when you're driving, keep your mind and eyes on driving.
2. "'The Hours of Service regulations for commercial truck drivers need to be updated to match the realities of freight movement and to truly improve highway safety,' writes columnist Todd Spencer" in this March 13, 2018, article.
In a related March 12, 2018, article, we read:
"Representatives of the National Pork Producers Council (NPPC) met recently with Federal Motor Carrier Safety Administration (FMCSA) Administrator Raymond Martinez, 'urging his agency to come up with equipment and rules related to interstate trucking that meet the unique needs of the livestock industry,' NPPC said in its weekly Capitol Report."(b)
It is obvious that there is a great deal of diversity in the truck industry, and that it is wrong for the FMCSA to treat all sectors exactly the same.
3. According to a March 13, 2018, article, "Truckers Against Reserved Spots recently formed to fight increased reserved spots for commercial vehicles at three large truck stops around the country."
The article stated, "Many of the truck stops have made the choice to take spots from their current locations and convert them into paid and reserved spots. Forcing drivers to pay fees of an extra $15 (or more) a night for a resource that is already dwindling."
The costs per week, per month, and per year were also listed.
4. A truck driver was "arrested after reportedly dumping [between 20 and 30] barrels of gasoline … into a pond" in Maringouin, Louisiana, according to a March 9, 2018, article.
He has been charged with:
– "Criminal trespassing";
– "Dumping a controlled product"; and
– "Criminal damage to property".
Never, ever dump something outside of approved receptacles. This includes bodily waste products.
5. "Pay and work conditions for truck drivers at [the Ports of Long Beach and Los Angeles] have been in the news since USA Today published an investigative report that looked into illegal subcontracting schemes that exploit truckers…", stated a March 9, 2018, article.(c)
The article further stated, "Some of the reports have said that there are truck drivers who are being paid $150 a day but have to pay $140 per day in leasing fees."
Beware of becoming entangled in such an exploitative work situation.
6. According to a March 9, 2018, article, this was the week that "Waymo's self-driving trucks [would] arrive on Georgia roads".
I will be very interested to read about what happened.
7. A March 14, 2018, article provided an overview of a 2016 crash where a tractor-trailer traveling at about 75 mph struck an SUV traveling at about 40 mph on I-70 near Goodland, Kansas, at about 2:15 a.m.
The SUV was designed for seven passengers but had 11 occupants and was experiencing "mechanical problems". The collision "killed six people and injured five".
"The NTSB said the [trucker] may have been fatigued, and that collision avoidance/collision mitigation technology could have prevented or reduced the severity of the crash."
No matter where you are driving, stay alert. If you are tired or fatigued, park in a safe and legal parking spot — and contact your company to let them know.
A March 2018 article addressed "How to Prevent Truck Driver Fatigue."
8. OK, this makes me a bit nervous!
A March 13, 2018, article described the "Pass My Physical" mobile app, which was created to streamline "the U.S Department of Transportation's medical examination process for drivers."
The article didn't address any specific personally identifiable information that the app would request or require.
Still, I don't see how it is possible for a "driver's information" to populate the exam form and be ready to print off "at any time" unless some personally identifiable information is included.
Drivers, any time you put your personally identifiable information "out there", you are giving another opportunity for your info to be intercepted and used against you.
Be on your guard against identity theft. Let every app installer and user beware!
9. There were two articles this week about states doing initial work on allowing autonomous trucks there:
– one in Minnesota and
– one in Wisconsin.
Regarding the latter, we read:
"Should freeway shoulders be set aside to run autonomous trucks? Wisconsin's Department of Transportation is considering doing that along a portion of Interstate 94 to support the carrying of machinery to a new factory south of Milwaukee."
Reasonable questions:
– What will happen if there is a breakdown of any kind along that stretch of road?
– If an autonomous truck is traveling at highway speeds and encounters a stopped vehicle on the shoulder, what will happen?
– Assuming autonomous trucks start to use freeway shoulders as lanes of travel, what will prevent other vehicles from using it, too?
– What will happen at the freeway exit ramp when vehicles from the "right lane" try to exit across the path of the vehicles riding on the "shoulder"?
A separate March 13, 2018, article addressed "truck-only lanes".
10. In what has to be the worst chain reaction accident I've read about in quite some time, we read in a March 14, 2018 article:
"Winter Storm Skylar reared up its ugly head 40 miles north of Columbus, causing an 81-car pileup on I-71 in Morrow County, Ohio Tuesday."
Maintain your following distance, always be prepared to stop, and if roads get too slick, pull over and park.
Don't wait for states to ban truck travel like Rhode Island and Massachusetts did on Tuesday.
11. "Tackling the parking problem within the trucking industry, the National Coalition on Truck Parking, organized by the Federal Highway Administration, is asking truck industry stakeholders, particularly drivers, for some good examples of truck parking beyond truck stops and rest areas", according to a March 16, 2018, article from OOIDA.(d)
This is what I submitted in the "Description" part of the form through the Google Doc entitled, "Truck Parking Solutions, In Practice":
"Many cities and counties have industrial parks, distribution centers, and major manufacturers where trucks continually go in and come out. Instead of focusing on trying to create more truck parking near residential or commercial neighborhoods that don't want them, why not just use land adjacent to these established truck-friendly locations for truck parking?"
My husband Mike and I wish you — and all professional truck drivers — safe travels and lots of money saving opportunities on the road.
Further, we also wish:
– everyone a blessed St. Patrick's Day; and
– all those attending the Mid-America Truck Show next week a great time of education and saving money.
---
---
Return from TDMST Weekly Round-Up: 2018.03.17 to our TDMST Weekly Round-Up Trucking Commentary or our Truck Drivers Money Saving Tips home page.
---
Reference:
a. foxnews.com/auto/2018/03/14/truck-driver-caught-texting-about-texting-laws.html (no longer online)
b. agweb.com/article/pork-producers-seek-fix-for-hours-of-service-and-eld-rules/ (no longer online)
c. landlinemag.com/story.aspx?storyid=71896#.WqqE2nYh3cs (no longer online)
d. landlinemag.com/Story.aspx?StoryID=71940#.WqyNhnYh3cs (no longer online)