This is the TDMST Weekly Round-Up of news affecting professional truck drivers, written by Vicki Simons for the week ending September 16, 2017.
We welcome your comments, thoughts and feedback on the items of your choice below.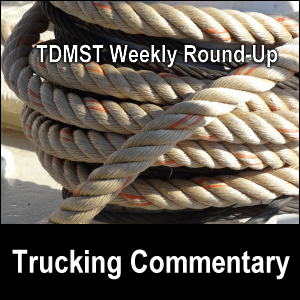 1. According to a September 12, 2017, article, "Hurricane Irma's late shift to the west seems to have spared Florida the worst of the storm, but even with reduced impact, its effects are widespread."
One estimate of Florida's total damage costs was $58 billion, "far less than earlier numbers, which reached as high as $200 billion".
All major interstates and turnpikes in Florida are open but residents in some places are urged not to go home until damage is assessed.
It may take weeks, months, or even years for some damaged areas to begin to return to being habitable.
According to a September 10, 2017, article, "agricultural officials suggested more than $1 billion worth of crops could be lost by the time the storm ends" and "Florida is among the top growers of fresh tomatoes, oranges, green beans, cucumbers, squash, and sugar cane."
fleetowner.com/operations/fuel-shortages-crop-losses-among-concerns-hurricane-irma-batters-florida (no longer online)
According to a September 11, 2017, article about Irma, "Reports are that as many as 6.5 million residents and businesses are without power."(a)
According to a September 12, 2017, article:
The Federal Emergency Management Agency (FEMA) along with other government agencies and military units continue to send relief supplies and personnel into areas affected by Hurricane Irma. Those efforts including staging such supplies at a variety of locations, including military bases, ahead of the storm's landfall at Cudjoe Key island off the western coast of Florida just after 9 a.m. on Sunday, September 10.
I anticipate that there will be a lot of loads like this in the coming days.
2. A Chiropractic Physician wrote on September 1, 2017, the following statements:
– "Many factors can increase wear and tear of the spine."
– "The good news is that there are several things you can do to lessen the risk of injury."(b)
The article provided "Seat Adjusting Guidelines" for trucks seats.
3. According to an August 29, 2017, article:
"A preliminary investigation showed that at 12:48 p.m., a Toyota Sequoia entered I-65 from the eastbound direction on Airport Boulevard and struck a Volvo tractor trailer tanker that was traveling northbound on I-65.

"Police said the tanker swerved left, jackknifed, struck the overhead sign posts anchored to the median wall and overturned over the median in the southbound lanes of I-65. The driver of the tanker was ejected and pronounced deceased on the scene."
Every single time we have read of a tractor trailer driver "swerving" to avoid or minimize a collision, there has almost inevitably been a resulting accident anyway.
In this case, it may not have been the collision that killed the driver, but possibly the fact that he was "ejected" from the vehicle.
What this usually means is that the driver was not wearing his or her seat belt.
If this was the case, then this was a preventable fatality.
Mike and I know of a trucker who was involved in a truck crash so bad that the front axle fell out from under the tractor when it was lifted off the guardrail where it had landed.
Yet, because the trucker was wearing his seat belt, he survived the crash!
When Vicki was in training with Swift, her trainer didn't like to wear a seat belt.
He made it a habit, though, of buckling up before entering a weigh station, to make it appear as though he wore it all the time.
Folks, wearing a seat belt may be uncomfortable, but in a situation where there is an impending collision, there isn't time to buckle up.
Please practice safety.
Buckle up before you ever release your truck parking brakes and don't take it off until after the truck's parking brakes have been reapplied.
Our condolences go to the family of the trucker who died.
4. I love it when people join private forces to help those in need, as this September 12, 2017, article reveals happened between a trucker and a pastor who joined forces to help hurricane victims in Texas and Florida.
Another article stated that about 450 truckers were helping victims of Irma, according to a September 12, 2017, article.(c)
Love it!
5. I hope that the "three-part series on how rapidly technology is changing the ways fleets can monitor driver fatigue" — that Overdrive announced — addresses the need for safe and legal truck parking as well as the fight that will take place between
– the technology that says a trucker is tired versus
– the hours that the log book or ELD says the driver has left to drive versus
– the opinion of the trucker's driver manager regarding freight movement.
This would seem to point to the need of driverless trucks that never get fatigued. And speaking of that,
– a September 7, 2017, article says, "legislation that would ease the application of autonomous driving technology to commercial trucks has so far failed to gain traction on Capitol Hill"; and
– a September 11, 2017, article states, "Senate to Hold Hearing on Automated Trucks".
Meanwhile, "Driver-Facing Cameras Get the Boot in Quebec" according to a September 8, 2017, article.(d)
Furthermore, a trucker who claimed that he was fired for taking rest breaks has had his matter taken to the legal system, according to a September 12, 2017, article.(e)
We read: "The Surface Transportation Assistance Act prohibits an employer from terminating an employee for refusing to operate a vehicle because 'the operation violates a regulation, standard or order of the United States related to commercial motor vehicle safety, health or security.' Driver fatigue falls within the protection of the Surface Transportation Assistance Act."
Additionally, the free TRELP Truck Parking App "plans on having 3,000,000 parking spots on its platform by 2019 so every trucker has a safe place to sleep", according to a 2017 article.
askthetrucker.com/trelp-truck-parking-app-could-be-solution-to-end-truck-parking-crisis/ (no longer online)
6. As much as I understand the need for truckers to provide direct assistance in emergency situations, I am always concerned whenever federal regulations are suspended in such situations, as has been done regarding the wildfire situation in Oregon and Washington state.(f)
7. Do you need updated road conditions in the state of Texas following Hurricane Harvey?
One article states, "visit DriveTexas.org or call 800-452-9292."(g)
8. Given the fact that Hurricane Harvey affected fuel refining capability, it is no surprise that "Diesel price averages were up in all 10 regions in the U.S., according to the Energy Information Administration", according to a September 11, 2017, article.(h)
9. A bill introduced in the U.S. House of Representatives that would have delayed the ELD mandate failed to pass, according to a September 7, 2017, article.
This topic is also covered here.
10. The "Run on Less" MPG Roadshow "closes during the inaugural North American Commercial Vehicle Show in Atlanta from September 25-28", according to this article.
Mike and I look forward to going to this show.
11. Some 143 million Americans (44% of the population) have been affected by a data breach at Equifax, one of the 3 major credit bureaus.
The types of data that may have been compromised were:
– Social Security numbers,
– driver's license numbers,
– dates of birth,
– credit card information, and
– more.
If you are among these folks, you are at risk of having your stolen data being used against your will.
One author wrote: "It could take up to 18 months or more to resolve, and you may need to take time off from work to deal with this issue."
A September 8, 2017, article shared "How to protect yourself from Equifax's data breach".
The interviewee in the video recommends putting a credit freeze in place.
My husband Mike and I wish you — and all professional truck drivers — safe travels and lots of money saving opportunities on the road.
---
---
Return from TDMST Weekly Round-Up: 2017.09.16 to our TDMST Weekly Round-Up Trucking Commentary or our Truck Drivers Money Saving Tips home page.
---
Reference:
a. www.landlinemag.com/Story.aspx?StoryID=70799#.Wbihw3Rrzct (no longer online)
b. www.roadking.com/health/keep-your-back-in-shape/ (no longer online)
c. www.landlinemag.com/Story.aspx?StoryID=70810#.WbihlHRrzct (no longer online)
d. www.landlinemag.com/Story.aspx?StoryID=70793#.Wbihu3Rrzct (no longer online)
e. www.landlinemag.com/Story.aspx?StoryID=70811#.Wbiht3Rrzct (no longer online)
f. www.landlinemag.com/Story.aspx?StoryID=70790#.WbihwnRrzct (no longer online)
g. www.landlinemag.com/Story.aspx?StoryID=70791#.Wbih1HRrzct (no longer online)
h. www.landlinemag.com/Story.aspx?StoryID=70801#.WbihznRrzct (no longer online)