This is the TDMST Weekly Round-Up of news affecting professional truck drivers, written by Vicki Simons for the week ending March 24, 2018.
We welcome your comments, thoughts and feedback on the items of your choice below.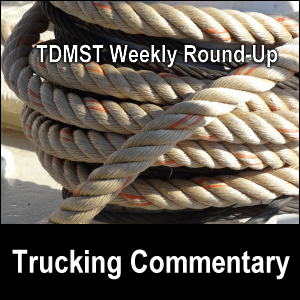 1. A March 20, 2018, article states:
"Truck driver pay is changing faster than it has in three years, according to the National Transportation Institute (NTI). According to the 4Q 2017 supplement, the average per-mile pay increase is currently at $0.029."
It was unclear to me as to whether this almost-3-cents-per-mile pay increase was within a year or a quarter (3 months).
So, truckers, please comment below to let us know if you have received a rate increase and if so, over what period of time. Thanks.
2. Numerous trucking websites stated that the annual international Roadcheck inspection is slated to take place over the 3-day period of June 5-7 — and this year's focus will be on hours of service.
During the annual inspection in 2017, the "top reason drivers were placed out of service" was because of "hours-of-service violations," according to CVSA President Capt. Christopher Turner of the Kansas Highway Patrol, who was quoted in a March 20, 2018, article.
A March 30, 2018, article covered "A refresher on roadside inspections" with the FMCSA's "seven-point checklist for inspections."
3. Speaking of Hours of Service, a March 18, 2018, article stated that a grandfathered AOBRD will have to be replaced by an electronic logging device (ELD) by Dec. 16, 2019.
4. "A car with the [Uber] ride-sharing service was operating in self-driving mode with a human in the driver's seat when it struck and killed a woman in Arizona overnight," according to a March 19, 2018, article.
While our condolences go to the family of the woman who died, this situation raises some questions that are not addressed in the article:
– If there was a "human in the driver's seat", did the driver see the pedestrian that the car was about to hit?
– If the driver in the car saw the pedestrian — and if it was apparent that a collision was imminent — did the driver attempt to take any corrective action (like applying the brakes)?
– If the driver applied the brakes, did the car "take over" or "override" the driver's actions?
I want to know more of the specifics on this because as the situation goes with autonomous cars, so will the situation go with autonomous trucks.
5. The Mid-America Trucking Show is being held this week at the Kentucky Expo Center in Louisville, Kentucky.
According to a March 21, 2018, article, the show "features a variety of educational sessions, the country's largest trucking expo, and other trucking festivities aimed at drivers, owner-operators, small fleets and other trucking enthusiasts."
On our website, we provide Trucking Shows Tips For Exhibitors, Truck Drivers to Save Money.
6. "Oh, thanks, Pennsylvania!" I mutter sarcastically under my breath.
We read in a March 20, 2018, article, "The Owner-Operator Independent Drivers Association has filed a class-action lawsuit against the Pennsylvania Turnpike Commission for what it claims are excessive toll increases that place 'an undue burden on interstate commerce while improperly diverting toll revenue to other projects unrelated to the turnpike.'"
According to a related article, the National Motorists Association has also filed suit.
7. A fourth winter storm "in less than three weeks" hit the Northeastern USA earlier this week and prompted Pennsylvania, New York and New Jersey to restrict tractor-trailer bans on interstates until the storm passed over.
If you're traveling in snow-prone areas, be watching for truck travel restrictions until there's no threat of winter weather.
8. A March 19, 2018, article stated that an owner-operator was accused of violating the ELD mandate even though "his truck's powered by a 1995 Detroit engine and thus exempt from the mandate."
The article further stated, "Come April 1, law enforcement officials will in fact be utilizing that violation code [395.8(a)], which comes with a 5 (out of 10) severity weight in the Hours of Service Compliance BASIC in the CSA Safety Measurement System, when issuing a no-ELD-in-use violation."
Check Section 395 of the FMCSR in order to make sure that you stay legal and in compliance with the Hours of Service regulation.
I read in a Facebook group this week that at least one state has inspectors who have been bullying drivers about ELDs.
Even though we are still in the "soft enforcement" period until April 1, from what I read, if truckers have not yet been compliant with the ELD mandate, the inspectors have told them that they will "find" something wrong with their trucks to put them out of service.
If you run into this kind of harassment, make sure that you get the officer's name, badge number, rank, and other identifying information, and report it to OOIDA. If there are enough complaints, OOIDA may work on behalf of all truckers to stop this.
9. Updated information about what ELDs must have just keeps coming out.
This must be very frustrating for those who have already purchased a system from a supplier listed on the FMCSA's website.
According to an undated page, there are 9 ELD requirements that some people didn't know about. Registration is required to get the whole list, but check these out (a):
An ELD must have:
– two separate visual indicators: one for malfunctions and another for data diagnostics";
– those visual indicators "must be visible to the driver while driving"; and
– "there must be a visual warning that a driver is not logged into the ELD other than on a screen".
10. Even though a New Jersey bridge had a marked clearance of 12 feet, 5 inches, the driver of a FedEx truck "struck the bridge with such force that the top of the trailer was sheared off and the trailer was split into two parts", according to a March 20, 2018, article.
If the bridge was struck with such force so as to destroy a trailer, then that meant that the trucker had complete confidence that he could get under it.
I feel compelled to ask the trucker two questions:
– Despite the fact that there was a clearly posted low clearance sign, in what were you placing your faith that you could get under the bridge?
– Were you using a GPS unit — and if so, was it the kind designed specifically for commercial motor vehicles?
Remember, I will reward the first professional truck driver who can sufficiently document through our CMV GPS Low Clearance Report Form that his/her CMV GPS unit routed his/her truck to a low clearance.
Always, always, always do the following when you're driving a commercial motor vehicle:
– use an up-to-date trucker's atlas to route your big rig around low clearances;
– pay attention to and heed low clearance signs; and
– if you use a GPS unit, make sure that it is designed and updated for commercial motor vehicles.
If you're driving a truck with a height of 13 feet, 6 inches, your truck won't fit under bridges lower than that. Make allowances for any accumulated snow or ice on the road.
Is there snow or ice on your truck's or trailer's roof?
Consult your trucking company for procedures and equipment on how to remove it.
11. Pay attention when you park your truck and make sure to set your truck brakes.
Our condolences go to the family of the trucker killed by his own truck after he failed to set the parking brake and was pinned between two trucks, as was reported on March 19, 2018.
12. On a positive note, "The Weather Company wants to provide truck drivers with a more detailed snapshot of weather information before they hit the road", according to a March 20, 2018, article.
Among the things that make this sound great are:
– the tracking of "six parameters that will affect truck driving, including fog, high winds, wet roads, puddling, snow and ice"; and
– "plans to add a predictive traffic service that uses weather data and machine learning to better forecast traffic speeds."
These days, getting weather forecasts is quick as a weather app on one's Smartphone. However, this service sounds even better!
My husband Mike and I wish you — and all professional truck drivers — safe travels and lots of money saving opportunities on the road.
---
---

Return from TDMST Weekly Round-Up: 2018.03.24 to our TDMST Weekly Round-Up Trucking Commentary or our Truck Drivers Money Saving Tips home page.
---
Reference:
a. www.ccjdigital.com/175442-2/ (no longer online)