This is the TDMST Weekly Round-Up of news affecting professional truck drivers, written by Vicki Simons for the week ending June 16, 2018.
We welcome your comments, thoughts and feedback on the items of your choice below.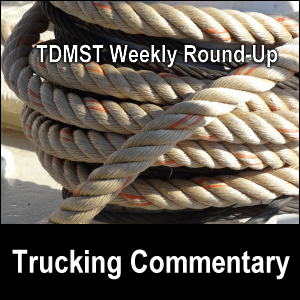 1. We're approaching 2018's summer solstice (June 21), the day on which
there is the greatest length of sunlight in the northern hemisphere.
Once we pass this date, the length of daylight starts to dwindle a bit day-by-day until we get to the winter solstice.
Please be on your guard for your own physical health and wellness at this time of year — as well as the needs of your truck and keeping the freight onboard safe.
2. LandLine Magazine reported on June 12, 2018, that the Rhode Island Department of Transportation brought their "first two truck-only toll gantries online" on Monday, June 11.(a)
"Another 12 toll gantries are scheduled to go live within the next 18 months", but legal challenges are "imminent".
3. A June 13, 2018, article stated:
"The Federal Motor Carrier Safety Administration has announced a public listening session to solicit information on issues related to the design, development, testing and integration of commercial vehicles with automated driving systems."
See the article for the date, time, location, and registration information for this event.
4. Speaking of "automated driving systems," don't limit your thinking regarding automation in logistics to ground travel only.
The bounty hunter chase scene from Star Wars Episode II — where lots of traffic in the air is moving in a fairly orderly manner
except for a couple of renegade drivers — popped into my mind when I read a June 13, 2018, article.
It stated, "Some companies are exploring using autonomous cargo drones the size of small airplanes to deliver packages."
Certain companies "are designing unmanned cargo airplanes to compete with short-haul trucks and small freight aircraft", the article stated.
Be watching for more "open skies", "cargo drones", and "unmanned aerial vehicle" talk in the months and years to come.
5. "A bill introduced in the [U.S.] Senate on June 12 is the latest attempt to repeal the 12% federal excise tax (FET) on the sale of heavy-duty trucks and trailers", stated a June 13, 2018, article.
6. Do you think it is expensive to drive through parts of West Virginia now?
Well, brace yourself.
"By unanimous decision, the West Virginia Parkways Authority recently voted to increase toll rates" by 100 percent for all vehicles.
However, a "new discounted E-ZPass program is also included" in the plan, according to a June 1, 2018, article.(b)
Toll rates will double effective January 1, 2019.
7. During Roadcheck 2018 — which took place on June 5 – 7 — Rhode Island State Police "inspected more than 400 commercial vehicles… uncovered almost 800 violations, [and put out of service …] Eighty-six trucks or drivers… [at a rate of] over 21%."
Some 565 vehicle violations and 116 driver violations were found.
You may read more of the details in this June 11, 2018, article.
8. An overpass strike that happened in Langley, British Columbia, resulted in a container becoming completely separated from the truck hauling it, according to a June 12, 2018, article.
In a related June 13, 2018, article, we read that the president and CEO of the BC Trucking Association "believes that each driver should have enough awareness to know the height, weight, length, and contents of their load. When a driver plans their route, they should know their limitations and plan accordingly."
Absolutely! How can a trucker not know the dimensions of his/her truck?
Plan your route according to a Motor Carrier or truckers' atlas.
And if you use a GPS unit, make sure that it is Commercial Motor Vehicle-specific.
9. Every year, the statistics on large truck crashes — and fatalities resulting from them — are published.
If such an accident is the fault of the trucker, then that needs to be addressed. That's reasonable.
However, a June 15, 2018, article states that the Iowa State Patrol is seeing more instances of "ultra-distracted" driving.
The article says that
– the practice "refers to motorists who are on their phones watching videos and TV shows while driving";
– "the number of [ultra-distracted] drivers continues to skyrocket as people can't seem to kick the dangerous habit"; and
– putting away one's phone can save not only a $100 fine but also people's lives.
Be on your guard.
10. Do you want to increase your truck's fuel economy by "a Fast 1 MPG"?
Read a June 15, 2018, article for the details.
11. To all professional truck drivers who are fathers, we wish you a Happy Father's Day!
My husband Mike and I wish you — and all professional truck drivers — safe travels and lots of money saving opportunities on the road.
---
---
Return from TDMST Weekly Round-Up: 2018.06.16 to our TDMST Weekly Round-Up Trucking Commentary or our Truck Drivers Money Saving Tips home page.
---
Reference:
a. www.landlinemag.com/Story.aspx?StoryID=72475 (no longer online)
b. www.landlinemag.com/Story.aspx?StoryID=72486 (no longer online)