This is the TDMST Weekly Round-Up of news affecting professional truck drivers, written by Vicki Simons for the week ending April 21, 2018.
We welcome your comments, thoughts and feedback on the items of your choice below.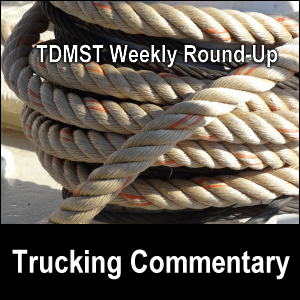 1. In the December 9, 2017, issue of TDMST Weekly Round-Up, I wrote: "[Indiana] Attorney General Curtis Hill asked for a delay on the mandate, citing the 'self-certification' provision in the current regulation that allows device manufacturers to claim their ELDs are compliant, without any government or third-party verification."
In my December 2, 2017, issue of TDMST Weekly Round-Up, I wrote: "[Hill] wrote that 'with no effective procedures seemingly yet developed to provide oversight over such self-certifying — drivers and operators are left without any way of ascertaining which brands and models of devices ultimately will pass muster … They must fly blindly into investing in products they are being required to purchase.'"
I asked other questions here.
We're now seeing that played out.
According to an April 18, 2018, article, "FMCSA rules allow ELD manufacturers to self-certify that their devices worked. There are now 330 devices on the approved federal registry."
Now that we're in the "hard enforcement" period of the ELD mandate, numerous ELD "technology issues" have been reported.
The article stated, "[Truckers] are reporting problems with the systems not tracking their accurate location, mileage and the hours they drive. Some of the devices simply don't work at all."
One Rand McNally ELD "caught on fire" while the trucker was driving!
Other issues include:
– inaccurate truck speed;
– inaccurate number of miles traveled during the number of driving hours; and
– problems with "transfer of data showing trucker driving hours for commercial vehicle inspectors to review at roadside"; and
– "problems with FMCSA systems."
This article was the first I've read about truckers quitting trucking over what I'll call "ELD frustration."
A number of frustrating situations include:
– the fact that the "issues should have been resolved before the devices were sold to truckers" during the two-year period they had to meet technical specifications, but weren't;
– some devices were sold with multi-year contracts with penalties for canceling early;
– the inability of truckers to get manufacturers' help with problem ELDs;
– returning to a manufacturer defective units, being sent refurbished units, and being charged full price anyway;
– having invested a lot of money with one vendor whose products haven't worked and then having to invest money again in products from another vendor.
It is upsetting to read the quote from a telematics consulting firm about it having "been understood all along that some of the self-certified ELD suppliers wouldn't fully meet the requirements"!
The FMCSA now "acknowledges problems with some of the devices."
In my opinion, it was reckless of the FMCSA to have allowed manufacturers to "self-certify" Electronic Logging Devices (ELDs) in the first place.
Truckers trusted the very organization that is holding them accountable for compliance to the law for having trustworthy information on its website.
Meanwhile, the cost of ELD violations includes:
– being put out of service for non-compliance with the ELD mandate; and
– points being assessed against truckers' CSA scores ("five points for not having an ELD and another two points for being placed out of service.")
Supposedly, ELD malfunction complaints can be emailed to eld@dot.gov.
Sigh.
2. An April 17, 2018, article stated that "April is Distracted Driving Awareness month."
Fleets were encouraged to develop a "written manual covering safe driving practices" and to include a policy on:
– cellphone use,
– speeding,
– seat belt use, and
– following distances.
Were I to write a safe driving practices manual, I would include such things as:
– distractions from entertainment, smoking, and eating and drinking while driving;
– what to do when one is cut off by another driver;
– the definition of hard braking and when it is and is not appropriate to use it; and
– the use of an engine brake in certain situations.
I would also make sure that truckers have the opportunity to undergo regular training, perhaps in a virtual environment.
3. There have been multiple articles recently about bad weather:
– High winds of up to 65 mph in the Pueblo, Colorado, area were reported on April 17, 2018, causing commercial truck drivers to sit for an entire day until the wind died down. One large truck flipped over "30 miles south of Pueblo" and shut down the interstate. One local resident said he'd never seen wind that bad in the 5 years he'd lived there.(a)
– Winter weather conditions — ranging from dangerous to blizzard-like from Winter Storm Xanto — were reported in parts of these six states in the upper midwest: Colorado, Iowa, Kansas, Minnesota, Nebraska and South Dakota. The combination of "gusting winds and heavy snow" created white-out conditions.
Another article stated that the "National Weather Service says more than 13 inches (33 centimeters) of snow had buried the Minneapolis area as of Saturday night, at times falling at a rate of 1 or 2 inches an hour."
Airports in Minneapolis-St. Paul and Sioux Falls, South Dakota, were closed for some time.(b)
One Idaho trucker lost his life in Nebraska when he lost control of his truck during the winter storm.
We extend our deepest condolences to his family.
Of course, the snow storm stranded many truckers.
Highways were even blocked to prevent travel in parts of South Dakota. One trucker stated, "It's horrible, it's a mess, it's just no fun at all."
Even though truckers who are paid by the mile or the load lose money when they're not driving — and even though being delayed by shutdowns puts truckers behind schedule on deliveries and pickups — it is far better to protect one's life, one's rig, and the freight.
FWIW, this kind of event is one reason why we offer truckers a way to earn a second income from the cabs of their trucks.
4. Two other reports this week concern ice falling from the tops of big rigs and landing on the windshields of vehicles near by.
– In an April 17, 2018, article, we read that police reported that "Ice falling off trucks broke the windshields of two cars on North Main Street near an industrial park on Monday, and a passenger's hand was cut in one of the accidents." The fines for a first and subsequent offences were listed.(c)
– In an April 19, 2018, article, we read, "A recent rash of car windshields shattered by ice and snow falling off of commercial vehicles has caused law enforcement agencies to issue warnings to truckers about clearing off their vehicles before hitting the road." A video embedded in the article showed what happened when a chunk of ice from a truck traveling in the opposite direction did to a Vermont motorist.
This is why my "No Snow Roof" idea is so important.
5. There were two "pinning" accidents in truck stops recently:
– An April 12, 2018, article says that when a truck driver's wife was helping her husband park at a Louisiana truck stop, "Somehow her right arm got pinned in between her husband's trailer and another trailer."
– An April 19, 2018, article reported that a truck driver "standing in the parking lot near the front driver's side of his truck" got pinned between his truck and the truck exiting a Walton, Kentucky, truck stop.
Always consider the way that trucks and trailers will move around other objects and give yourself "an out" so that you don't get pinned and injured.
6. Congratulations are in order for:
– the truck drivers recognized by OOIDA for their safe driving records ("truck driving excellence"), and for their having individually accomplished 7, 10, 13, 17, 21, 25, 28, 48 and 52 years of safe, accident-free driving. Wow!(d)
– the Houston trucker and military veteran who was awarded his own "'fully loaded' Freightliner … as part of Progressive's Keys to Progress Program in partnership with St. Christopher's Trucker Relief Fund."(e)
The trucker said that he was "blessed" with a truck and his own operating authorities, which will now "allow him to work for multiple companies, not only allowing him to make more money, but also allowing him to make his own decisions."
How exciting!
My husband Mike and I wish you — and all professional truck drivers — safe travels and lots of money saving opportunities on the road.
---
---
Return from TDMST Weekly Round-Up: 2018.04.21 to our TDMST Weekly Round-Up Trucking Commentary or our Truck Drivers Money Saving Tips home page.
---
Reference
a. www.koaa.com/story/37980213/winds-cause-damage-halt-truck-drivers-in-pueblo (no longer online)
b. www.whig.com/article/20180414/AP/304149907 (no longer online)
c. www.laconiadailysun.com/newsx/local-news/113498-ice-flying-off-trucks-breaks-windshields-one-driver-is-injured (no longer online)
d. www.landlinemag.com/Story.aspx?StoryID=72145#.WtlmqnYh3cs (no longer online)
e. livetrucking.com/houston-trucker-military-veteran-awarded-own-fully-loaded-freightliner/ (no longer online)