This is the TDMST Weekly Round-Up of news affecting professional truck drivers, written by Vicki Simons for the week ending September 1, 2018.
We welcome your comments, thoughts and feedback on the items of your choice below.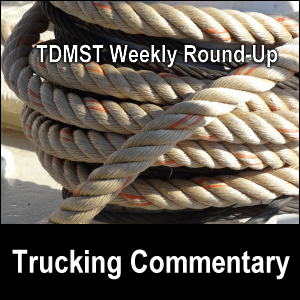 1. According to an August 29, 2018, article:
– "Trucker Path found that 80% of the 5,400 surveyed drivers reported that the ELD mandate made it more difficult to find truck parking";
– "Drivers listed truck parking as the number one cause of stress while on the job, followed by ELDs and hours of service"; and
– "… 70% of truckers admitted to violating HOS rules because they couldn't find parking, and 96% of truckers have parked in unauthorized areas when they couldn't find legal parking."
See the July 2018 "Truck Parking Report".
What about creating a better way of arranging for truck parking instead of the entire burden of finding a space falling on the shoulders of each individual trucker?
What if a new cottage industry of "truck parking space finders" was created that would (for a small fee) arrange to find parking for drivers based on their loads, routes, Hours of Service, and potentially other factors?
Wouldn't that relieve drivers of the "number one cause of stress while on the job" and free them up to concentrate on driving?
2. Many articles have been written — especially since the Electronic Logging Device (ELD) mandate went into effect — about the need to revise the federal Hours of Service regulations.
The FMCSA wants to hear from stakeholders, as written here, here(a), here and here.
Also, an August 29, 2018, article states:
The American Transportation Research Institute on Tuesday released results of a study that ATRI says lends strong credence to allowing drivers to break up their 10-hour off-duty period (and, thus, their 14-hour on-duty period) into segments. The study 'found that drivers could spend less time and money driving the same distances behind the wheel,' ATRI said in a press release Tuesday.
More about ATRI's position is written here and here.
The FMCSA comments form is here.
3. "Six FMCSA representatives participated in a listening session Friday at GATS about autonomous trucks and technology", according to an August 29, 2018, article.
A top concern expressed by several drivers was "the loss of truck driver jobs as more autonomous technologies enter the marketplace".
FMCSA Administrator Ray Martinez indicated that the jobs may be changed from trucker to "truck technician", the latter of which works "with truck technology".
He further stated that the agency is sensitive to the labor disruption, but doesn't see it happening "in this lifetime".
I am concerned about a truck being controlled remotely with no one in the truck.
Perhaps by the time remote control trucks are ready to go out on roads, vehicle-to-vehicle (V2V) technology will be so advanced that the cause of a majority of large truck accidents (other vehicles) will have been greatly reduced.
4. The North American Council for Freight Efficiency (NACFE) conducted a study that revealed an increase in fuel efficiency, but not to the extent that was desired: 10 mpg.
According to an August 29, 2018, article, "fuel savings strategies deployed by 20 fleets nationwide, found these carriers achieved 7.28 miles per gallon last year … a 2 percent gain [in 2017] over 2016 and 7.28 mpg is more than a full mpg higher than the U.S. fleet average of 5.91."
According to the study, available for free through NACFE's website:
– "Solar panels primarily used on trailers with telematics units showed a big gain from nearly none in 2016 to 9% in 2017"; and
– Among "Technologies with the Largest Decreased Adoption" (Table 3) were "Wide based tires – tractors" (down 12% from the previous year).
Another article on this topic said that the NACFE study showed a "High Adoption Rate for Trailer Side Skirts".
5. Are you wondering if the investment in a truck cam that records video of what is happening in front of (and potentially at other places around) your truck is worth it?
According to an August 24, 2018, article — and the video embedded in it — "A truck driver says that he got a $200 ticket for driving in the left lane dismissed after he showed the court this dash cam video."
6. I like the fact that the first of "5 Steps Fleet Managers Can Take to Improve the Driver Retention Rate" — as reported on August 29, 2018 — is "Earning the trust of your drivers".
Under this point, the article addresses:
– setting clear, unambiguous expectations;
– transparency; and
– leaving no room for confusion.
Years ago, the regional trucking company for which my husband Mike worked didn't explicitly state the terms for earning a performance bonus, and the bonus for which he'd worked all month didn't come through. Mike talked with his fleet manager about this and the situation never happened again.
Communication between drivers and driver managers is so very critical!
7. Statistics show that there is no driver shortage, says OOIDA in an August 28, 2018, article.
tandemthoughts.landlinemag.com/highway-safety/drive-safe-act/ (no longer online)
"According to the Federal Motor Carrier Safety Administration, there are 449,000 new entry-level CDL holders and 98,000 reinstatements ever year".
The problem is retaining the drivers.
The Governors Highway Safety Association reported that "more than half of 328,000 drowsy driving crashes each year in the United States were caused by drivers younger than 25".
So, H.R. 5358, the "Drive Safe Act" that would allow "younger drivers to operate a commercial motor vehicle in interstate commerce", truly is a bad idea.
8. Beware of a 28% higher potential for cargo theft over the Labor Day weekend, according to these articles here(b), here and here.
Whenever and wherever you park, secure your tractor, trailer and freight.
9. A photo embedded in an August 23, 2018, article shows a sign at the receiving office of a food distribution center in Texas, which states: "OUR COMPANY DOES NOT write TIME In/TIME Out On ANY BOLS."(c)
Protect yourself and your paycheck. If any company to which you are delivering freight refuses to write times in or out on bills of lading, do it yourself.
If you are required to use a lumper service, make sure that you get a signed receipt for any and all payments made.
And as the article states, if you're "negotiating freight rates", "take the lumper fees and load times into consideration."
10. Let's end on a positive note!
According to an August 29, 2018, article:
Throughout September, professional drivers stopping at Love's Travel Centers will have the opportunity to win 10,000 My Love Reward points (equal to $100), and one driver will win 1 million points (equal to $10,000). National Truck Driver Appreciation Week is celebrated Sept. 9-15.
Woohoo!
My husband Mike and I wish you — and all professional truck drivers — safe travels and lots of money saving opportunities on the road.
---
---
Return from TDMST Weekly Round-Up: 2018.09.01 to our TDMST Weekly Round-Up Trucking Commentary or our Truck Drivers Money Saving Tips home page.
---
Reference:
a. www.landlinemag.com/Story.aspx?StoryID=72888 (no longer online)
b. www.landlinemag.com/Story.aspx?StoryID=72895 (no longer online)
c. tandemthoughts.landlinemag.com/commentary/mclane-distribution-centers-truckers-time/ (no longer online)