This is the TDMST Weekly Round-Up of news affecting professional truck drivers, written by Vicki Simons for the week ending September 22, 2018.
We welcome your comments, thoughts and feedback on the items of your choice below.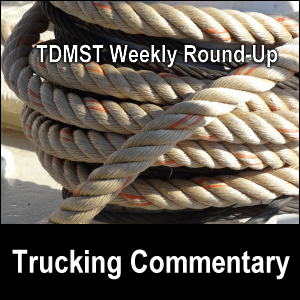 1. Although the storm system known as Florence has been over for days, her impact is yet to be fully felt.
A bridge and part of a road collapsed out from under a trucker in Chesterfield County, SC, on September 17, 2018. According to an article updated on September 18, 2018, the trucker "was so shaken by the wreck that he questioned whether he would continue in the trucking business". (A video shows the collapsed highway and the reason why the trucker was upset.)
www.thestate.com/news/state/article218551030/ (no longer online)
A September 17, 2018, article reported from the North Carolina Department of Transportation that "several sections of I-95 and I-40 are among nearly 1,100 road closures across the state."
An update on September 20, 2018, revealed: "About 750 roads remain closed (down from 2,200), including sections of I-40 & I-95."(a)
Another September 17, 2018, article gave a report from the South Carolina Department of Transportation about road closures due to Florence.
South Carolina's U.S. Senator Tim Scott issued a press release on September 17, 2018, with a list of resources regarding "Recovering from Hurricane Florence".
DAT Solutions reported that the effects of Hurricane Florence "will be felt for months to come". The article provided some specifics.(b)
2. A 35% increase in tolls in Indiana for commercial vehicles — but not passenger vehicles — is estimated to bring in "as much as $1 billion", according to a September 12, 2018, article.
Indiana's governor claimed that the truck toll was not a tax!(c)
A September 20, 2018, article stated, "In a letter to Indiana Governor Eric Holcomb, the Owner-Operator Independent Drivers Association attacked Indiana's 35% increase to truck tolls on the Indiana Toll Road, calling them ineffective, punitive, and discriminatory."
A September 19, 2018, article stated:
Because Indiana already has the fifth-highest fuel tax rate on diesel in the country, [OOIDA's Todd] Spencer detailed the financial burden the increased tolls would have, especially on small-business motor carriers. That burden creates a cascading effect of unintended consequences…"(d)
Todd Spencer also chastised Indiana's governor and those who pushed through the truck-only toll for making the "absurd and unsubstantiated claim that trucks do '10,000 times' more damage to roads" [than do other vehicles] and stated that "truckers already pay more than their fair share in state and federal taxes… [and] are not rolling piggy banks."
We agree!
We'll see what happens if truckers take OOIDA's advice about boycotting Indiana's toll road seriously.(c)
If you'd like to do more, this article says, "OOIDA encourages truckers to share their thoughts to the governor by calling his office at 317-232-4567 or emailing him via this form.(c) The Association also suggested now might be a good time to boycott the Indiana Toll Road and to use the following hashtags on social media: #BoycottITR and #TollsAreTaxes."
3. A September 21, 2018, article stated that "New Jersey police [found] $1 million worth of heroin and cocaine in [a] load of onions [and] … more than $100,000 in cash in the truck."
The article says that both the driver and his passenger were arrested and charged with:
– "two counts of first-degree Possession of a Controlled Dangerous Substance";
– "one count of second-degree financial facilitation of criminal activity"; and
– "two counts of third-degree Possession of a Controlled Dangerous Substance."
Hauling illegal drugs just isn't worth it.
Also, don't carry huge sums of cash in your truck.
4. "Operation Human Freight" was conducted at the I-5 rest area in Federal Way, Washington State (according to a September 20, 2018, article.
The goal of the operation — conducted with assistance from the F.B.I. and Truckers Against Trafficking — "was to identify and rescue women and girls caught up in human trafficking and prostitution."
The article stated that "within four hours, nine women had approached undercover officers to offer sex services [and] … were arrested and given the opportunity to connect to an welfare advocate."
5. Because of Hurricane Florence, the FMCSA canceled their HOS session in Washington, DC, on Friday, September 14.
According to a Sept. 17, 2018, article, the FMCSA "is planning to host a public listening session [about potential changes to its hours-of service rules] from 10 a.m. to noon Pacific Daylight Time on Saturday, Sept. 22 at the National Automobile Museum, 10 S. Lake St., Reno, Nev."(e)
Also, the FMCSA has extended the public comment period on Hours of Service reform until October 10, 2018, according to a September 19, 2018, article. There are "four specific aspects of the HOS rules that the agency is considering changing."
Do you think your input doesn't matter? A September 20, 2018, article bears the title, "Here's proof your input can be effective in changing regulation — for the better".
6. "A small group of Oklahoma-based grocers will be among the first to fully deploy autonomous delivery vehicles (ADV) as a normal part of their everyday operation", states a September 14, 2018, article.
And according to a September 12, 2018, article, Volvo debuted a cabless truck (meaning that they will be autonomous, too)!
What do you think about those tidbits?
7. Even though a trucker was hauling "hurricane relief supplies", he should have chosen a better parking place.
As it was, a September 14, 2018, article stated:
"A North Caroling towing company put the brakes on a truck driver hauling hurricane relief supplies yesterday when they booted his truck and asked for $3000 to remove the boot."
Signs were clearly posted, so there was no excuse. Ouch!
I think that truckers would be wise to start demanding that their companies arrange for — and if necessary, pay for — safe and legal parking places for them in advance of their arrival at target destinations.
8. "The NTSB says that video recorders can help with commercial vehicle crash investigations and significantly improve driver safety", says a September 14, 2018, article.
Do you have a truck cam or dash cam in your truck?
Why or why not?
9. A September 13, 2018, article entitled "How to Inspect Truck Air Brakes" stated: "Nearly 1,600 vehicles were put out of service for brake violations during the Commercial Vehicle Safety Alliance's unannounced Brake Safety Day in April."
10. And ending on a positive note, congratulations to Liberato Lupo, the winner of a 2014 Kenworth T660 from WTI Transport!
A September 21, 2018, article covers the news.
overdriveonline.com/owner-op-gets-truck-upgrade-in-company-giveaway/ (no longer online)
My husband Mike and I wish you — and all professional truck drivers — safe travels and lots of money saving opportunities on the road.
We hope you have a great start to Autumn 2018!
---
---
Return from TDMST Weekly Round-Up: 2018.09.22 to our TDMST Weekly Round-Up Trucking Commentary or our Truck Drivers Money Saving Tips home page.
---
Reference
a. www.ccjdigital.com/i-95-i-40-still-partially-closed-in-n-c-s-c/ (no longer online)
b. www.landlinemag.com/Story.aspx?StoryID=73018 (no longer online)
c. www.landlinemag.com/Story.aspx?StoryID=72986 (no longer online)
d. www.landlinemag.com/Story.aspx?StoryID=73004 (no longer online)
e. www.landlinemag.com/Story.aspx?StoryID=72991 (no longer online)