This is the TDMST Weekly Round-Up of news affecting professional truck drivers, written by Vicki Simons for the week ending October 6, 2018.
We welcome your comments, thoughts and feedback on the items of your choice below.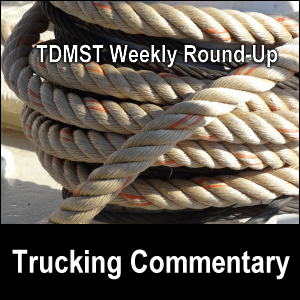 1. According to an October 3, 2018, article, the National Highway Traffic Safety Administration (NHTSA) reported the following:
"The number of fatalities in 2017 involving large trucks increased by 9 percent compared to 2016, while the total number of vehicle traffic fatalities dropped by 1.8 percent in the same time period…"
A related article stated, "Deaths from large truck crashes reached their highest level in 29 years in 2017…"
Truckers, please be proactive in your work.
In this column, I often provide commentary (as I will below) about some things that one can do to avoid accidents, injuries and fatalities — all of which are expensive.
Please endeavor to grow in your personal and professional development.
2. What if a program would guarantee a 20 percent reduction in collisions?
According to an October 2, 2018, article, "eDriving warranties organizations will reduce the number of collisions by at least 20 percent in the first program year or the program fees will be refunded."
That sounds impressive.
We're requesting product reviews of this program by truckers who have used it.
3. An October 3, 2018, article cited an analysis from the American Transportation Research Institute (ATRI) regarding truck operating costs.
The average cost per mile paid by motor carriers increased 6 percent in 2017. That was three times the rate of inflation. Driver wages rose 6.6 percent in 2017, Benefits climbed 11.2 percent.

Labor made up the biggest cost for carriers for the third consecutive year. Wages and benefits accounted for 43 percent of the overall cost per mile driven…
Furthermore, this article stated, "Higher spending on driver wages and benefits, as well as increasing fuel costs, caused carriers' per-mile operational costs to climb nearly a dime in 2017 compared to 2016" and "All other costs increases were negligible."
4. Will they never give up in their quest to cheat truckers of payment for their time?
According to an October 2, 2018, article, "the American Trucking Associations has turned its attention to the U.S. DOT in its quest to relieve carriers operating in California from the state's meal and rest breaks laws."
Of course, this issue is about far more than just meal and rest breaks. It covers pay for being detained in the docks, too.
The argument that federal law supersedes state law completely ignores the Tenth Amendment to the U.S. Constitution.
Do not let the ATA have an inch on this issue!
Fight for the right to be paid for all of your time as a professional truck driver!
How?
– Call your U.S. Senator and tell him/her "NO!" to the Denham/Fischer amendments to the Federal Aviation Administration Authorization Act (F4A); and
– Call the USDOT and FMCSA to urge them to say "NO!" too.
5. OK, it's time for some education:
– Learn the difference between a highway on-ramp and a bike on-ramp so you don't take the latter and strike anything. (link)
– Regardless of what your GPS says, when you encounter a "No Truck" sign, do NOT take that route because doing so will almost certainly lead you to being involved in an accident. (link)
– Know for certain the height of your rig at all times and if any part of it is higher than the maximum height for your route, do not take that route because if you do, you will almost certainly be involved in a low clearance accident (like the one that shut down the Chesapeake Bay Bridge-Tunnel (CBBT) in Virginia for 17 hours). (link)
– Always slow down your truck speed to match prevailing weather conditions so as not to trigger an accident or chain reaction crash. (link)
– Slow down in advance of curves and turns so as not to upset the center of gravity of your rig-freight combination and overturn. (link)
– Prevent freight from shifting, trucks overturning, and people dying as a result, by always securing your freight (and keeping it secured until it is delivered). (link)
– When you back your tractor under a trailer, always do a visual inspection of the fifth wheel to make sure that the locking jaws are around the king pin (so that there isn't a trailer separation en route). (link)
– When the ground is sloped near the place where a load is to be put on a truck, beware of the potential for a shift in the center of gravity and choose another loading point. (link)
6. Here are "5 Tips For Improving Fuel Efficiency".
7. There have been numerous articles over the years of truckers who have
– either gone on strike (usually at ports);
– or actually sued trucking companies over being misclassified and hence not being paid fairly.
On October 3, 2018, an article was published which stated, "The Supreme Court is currently hearing a case that could have a serious long-reaching impact on the way truck drivers are paid moving forward."
Another article about this was here.(a)
I'll be watching for more reports about the case of Missouri-based trucking company New Prime Inc. v. Oliveira.
8. The first paragraph of an October 1, 2018 article reads:
"The transportation workers' special standard per diem rate has been increased to $66. Outside continental U.S increased from $68 to $71 per day."(b)
Read more about this here.
9. Comments are due by October 10, 2018, on possible changes to the Hours of Service regulations.(c)
Land Line Magazine reported on October 1, 2018, what OOIDA President Todd Spencer told FMCSA leaders during a public listening session on Friday, Sept. 29 at the Guilty By Association Truck Show: "Current hours-of-service regulations force truck drivers to operate in adverse conditions or when they are tired."(d)
OOIDA asked the FMCSA to give truckers more control(e) with the next round of Hours of Service regulations and some truckers have pushed flexibility.
If you want to speak up, please file your comments electronically before the deadline.
10. "A proposed ballot initiative would require voter approval for tolls on existing roads or bridges [in Oregon]", stated a September 28, 2018, article.(f)
11. I was surprised to read of a high school that offers a CDL training program.
I wish all high school students who wish to pursue a career in trucking the best!
My husband Mike and I wish you — and all professional truck drivers — safe travels and lots of money saving opportunities on the road.
---
---
Return from TDMST Weekly Round-Up: 2018.10.06 to our TDMST Weekly Round-Up Trucking Commentary or our Truck Drivers Money Saving Tips home page.
---
Reference:
a. www.landlinemag.com/Story.aspx?StoryID=73066 (no longer online)
b. www.landlinemag.com/Story.aspx?StoryID=73061 (no longer online)
c. www.landlinemag.com/Story.aspx?StoryID=73078 (no longer online)
d. www.landlinemag.com/Story.aspx?StoryID=73056 (no longer online)
e. www.landlinemag.com/Story.aspx?StoryID=73034 (no longer online)
f. www.landlinemag.com/Story.aspx?StoryID=73050 (no longer online)